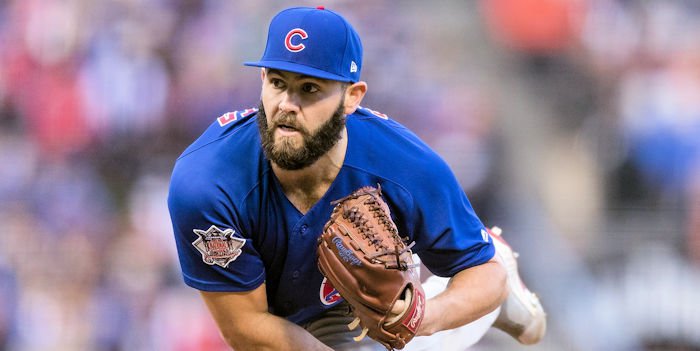 | | |
| --- | --- |
| Arrieta dominates as Cubs lay siege to Pirates | |
---
CHICAGO – Emotions ran high at Wrigley Field on Tuesday night, with a few meaningful moments and milestones setting the tone for what proved to be an excellent showing by the Chicago Cubs in their defeat of the Pittsburgh Pirates. Winning 4-1 behind a brilliant 3-4 performance from first baseman Anthony Rizzo and a dominant outing by ace Jake Arrieta, the Cubs sunk the Pirates for their fifth consecutive win at home.
Neither team was effective at converting scoring opportunities into runs in the early going, as several untimely double plays and strikeouts made for a defensive struggle through the first five innings. The Pirates left second baseman Josh Harrison stranded after he hit a one-out double in the opening inning, and the Cubs followed that up by wasting two decent scoring chances in the bottom half of the first. The Cubs' Ben Zobrist, who went 2-4 on the night, led off with a single, but left fielder Kyle Schwarber, who is hitting a woeful .197 right now, grounded into a double play thereafter.
Later in the frame, after third baseman Kris Bryant drew a walk and first baseman Anthony Rizzo collected a single, Pirates starting pitcher Chad Kuhl threw a wild pitch that moved the aforementioned baserunners to second and third. Nothing came of it, though, as second baseman Tommy La Stella grounded out to end the scoring threat. A similar situation came to fruition for the Pirates in the top of the second, as Arrieta erred by way of a wild pitch that enabled two Buccos to reach second and third. Ironically enough, Kuhl then struck out to bring the inning to a close, receiving a taste of his own medicine.
Both starting pitchers struggled with their command early on, with a slew of wild pitches, walks and HBPs plaguing them on the hill. In the third inning, however, they began to settle into a groove, resulting in neither batting order experiencing much success until the Cubs came alive in the sixth. Through five, Kuhl had a solid stat line, but he failed to make it out of the sixth after coming undone. Finishing with seven hits and three runs to his name, Kuhl, who also accrued seven strikeouts on the evening, was handed the loss to fall to 6-10 on the year.
Zobrist incited the Cubs by pounding a solo shot over the wall in right-center to lead off the bottom of the sixth for his 10th home run of 2017. After that, a visibly shaken Kuhl walked Schwarber and gave up a double to Rizzo two at-bats later. Then, following an intentional walk of La Stella, with runners on second and third and one out, Cubs catcher Alex Avila came up big with a two-run single toward the warning track in right field.
Blasted into Zorbit! pic.twitter.com/dzHj2e9dLI

— CSN Chicago (@CSNChicago) August 30, 2017
Leading 3-0 at that point, the Cubs were fully in control, having chased Kuhl from the game after turning it on at the plate. Nearing 100 pitches, Arrieta was relieved of his duties prior to the start of the seventh frame, ending his stellar performance with an impressive stat line of four strikeouts, two hits and no runs in six innings pitched. Arrieta earned the win for his efforts to improve to 14-8 overall. Sporting a 7-2 record in his last nine decisions, Arrieta has come on strong in the second half of the season, proving to be the Cubs' most reliable arm.
Jake. ?? pic.twitter.com/la0MLij5Bx

— Chicago Cubs (@Cubs) August 30, 2017
Chicago skipper Joe Maddon may have regretted sitting Arrieta not long after doing so, as Cubs reliever Koji Uehara gave up a solo blast to Pirates right fielder John Jason in the second at-bat of the seventh. However, that proved to be the last legitimate damage done by the Pirates at the plate. After Rizzo hit an RBI double to deep center in the eighth to score Bryant and put the Cubs up 4-1, Chicago's shutdown closer, Wade Davis, amassed his 27th consecutive save, a franchise record, by sitting down the Pirates in the ninth to secure the 4-1 Cubs victory.
Congratulations to Wade Davis, who has set a #Cubs franchise record with his 27th consecutive save! #CheckPlease pic.twitter.com/yInHc9ykVL

— Chicago Cubs (@Cubs) August 30, 2017
Marking a highly emotional night at Wrigley Field, in which Rizzo, a cancer survivor, donated $3.5 million to children's cancer research, the Cubs clearly lived up to the moment by making the most of Arrieta's great outing via several critical hits in the latter half of the contest. Chicago (71-60), which has outscored Pittsburgh (63-70) 10-2 so far in this three-game series, will be aiming for a sweep when the third and final game of the National League Central affair at the Friendly Confines takes place tomorrow night.
Lots of tears today. Big day for the Anthony Rizzo Family Foundation. Dreams do come true. #DreamBig pic.twitter.com/9JDzSm0pSd

— A. Rizzo Foundation (@RizzoFoundation) August 29, 2017