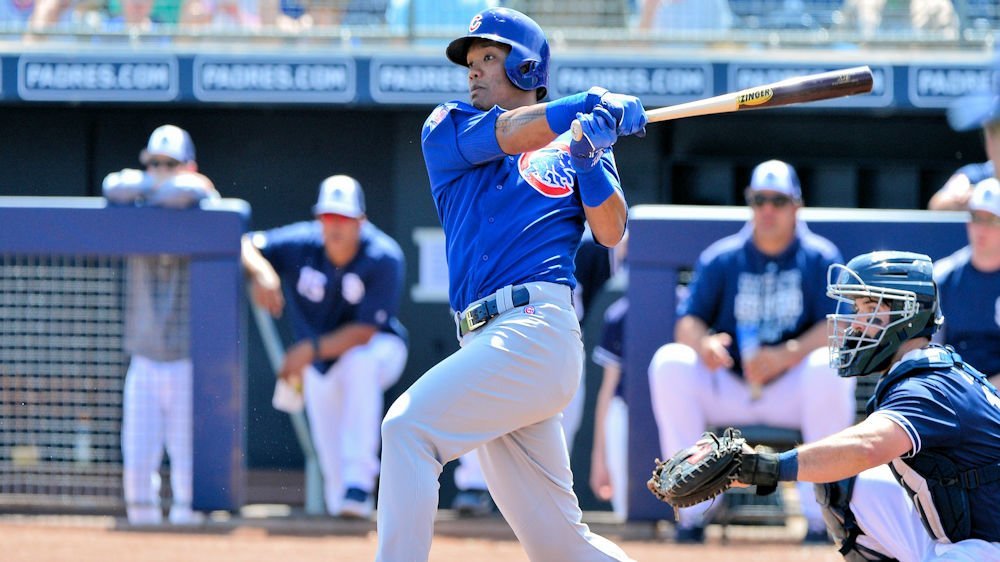 | | |
| --- | --- |
| BOOM! Chicago's offense explodes as Cubs destroy Padres | |
---
| | | |
| --- | --- | --- |
| Sunday, March 24, 2019, 6:55 PM | | |
After an ugly loss to the Rockies last night, the Cubs (16-13-2) attempted to return to winning as they visited the Padres (16-10) this afternoon in Peoria. In the final Cactus League game of the spring, southpaw, Mike Montgomery (0-0, 1.80 ERA), got the start for the Northside Nine, while lefty, Logan Allen took the mound for the Friars.
The Cubs got busy from the first pitch, then kept getting busy until the score read more like that of an NFL game. Final score: 24-6, Cubs.
T1: (SDP: LHP-Allen) Mark Zagunis wasted no time in making his bid to replace Ian Happ on the roster, smacking a first-pitch double into center. Cristhian Adames' single to right scored Zagunis, then David Bote singled up the middle before Jim Adduci's fanned. Addison Russell singled (scoring Adames and moving Bote to second), followed by Victor Caratini who finally doubled (scoring Russell and Bote) after running Allen's pitch-count up to 25. Johnny Field's groundout would move Caratini to third, then Phillip Evans cleared the bases with a homerun, chasing Allen from the game. (SDP: RHP-Mitchell) Wynton Bernard would flyout to end the inning. Cubs lead 6-0.
B1: LHP Mike Montgomery: Groundout, walk, groundout (runner advances), single (run scores, batter advances to second, then steals third), single (run scores), single (run scores, batter advances to second), (Mound visit- Tommy Hottovy), groundout. Montgomery: 26 pitches. Cubs lead 6-3.
T2: (SDP: RHP-Mitchell) Zagunis (groundout), Adames (flyout), followed by back-to-back doubles to center by Bote and Adduci (Bote scores). Adduci would then take third on a wild-pitch, followed by Russell's walk, but Caratini's flyout would end the inning. Cubs lead 7-3.
B2: Montgomery: Groundout, groundout, walk, pop-out. Pitch count: 43.
T3: (SDP: LHP-Solis) Field (groundout), Evans (strikeout), Bernard (strikeout). Cubs lead 7-3.
B3: RHP Tyler Chatwood: CHATTY! Strikeout, strikeout groundout on 15 pitches.
T4: (SDP: RHP-Reyes) Zagunis drew a leadoff walk, stole second and then scored on Adames' double to center. Bote would extend his day to 3 for 3 with his single to center, moving Adames to third. Adduci's double scored Adames and moved Bote to third, then Russell walked to load the bases. Caratini would get a sac-fly (scoring Bote), then Field would single to load the bases again. Evans bloop-single to right added another run, keeping the bases loaded and chasing Reyes from the game. (SDP: RHP-Maton) Bernard would hit a sac-fly to center (scoring Russell). Zagunis' infield single would load 'em up again, but Adames would fan to end the inning. Cubs lead 12-3.
B4: RHP Brad Brach: Strikeout, back-to-back homeruns, walk, walk, (Mound visit- Hottovy), force-play at third (Adames, unassisted). Brach removed (32 pitches), replaced by LHP Luis Lugo. Single (run scores, runner to third), groundout. Cubs lead 12-6.
T5: (SDP: RHP-Quantrill) Bote (groundout), Adduci (strikeout), but Russell reaches on a throwing error (E-6). Caratini's single moved Russell to third, followed by Field's walk to load the bases. Evans would sneak a single past two fielders (SS/3B), scoring two more, Bernard's single would score Field (Evans to second), then Zagunis walked on four pitches. Adames' double cleared the bases, chasing Quantrill from the game. (SDP: LHP Radke) Bote doubles to center. Scoring Adames, before Adduci, struck out to end the inning. Cubs lead 19-6.
B5: Just signed today in the wake of Duensing's DFA, lefty, Tim Collins, takes the mound: Strikeout, pop-out, groundout on 16 pitches. Welcome to Chicago, Tim.
T6: (SDP: LHP-Radke) Miguel Amaya hits an infield single, followed by Evans double to the left (Evans replaced by pinch-runner, Connor Myers). Bernard walks to load the bases, then Zack Borenstein's groundout scored another one. Jhonny Bethencourt's strikeout would end the frame, but not before the Cubs were winning 21-6.
B6: RHP: Allen Webster: Flyout, groundout, flyout.
T7: (SDP: RHP-Colletti) Andy Weber (pop-out), followed by Jared Young's walk. Aramis Ademan hit into a 4-6-3 double-play that turned into a force at second when the first-baseman dropped the ball on the relay throw, but then Aramis would be tagged out for turning the corner at first. Cubs are dominating 21-6.
B7: RHP Dillon Maples: Strikeout, strikeout, strikeout (17 pitches).
T8: (SDP: RHP-Colletti) Amaya would flyout to start the inning, but Donnie Dewees would single to the right, followed by Myers' double to center. DJ Wilson would draw a walk to load the bases, followed by Boresnstein's single to right, scoring two runs. Bethencourt would strike out, but Weber's double would add yet another run. Young would strike out to end the frame. Cubs lead 24-6.
B8: RHP-Craig Brooks: Strikeout, strikeout, pop-out. (12 pitches)
T9: (SDP: RHP-Belen) Ademan singled to center, followed by Amaya who grounded out to the pitcher (Ademan to second). Dewees would fan, followed by Myers who was hit in the elbow by a pitch. Wilson's strikeout would end the inning. Cubs lead 24-6.
B9: RHP: Alberto Baldonado: Pop-out, flyout, walk (Padres first baserunner since the fourth inning), single, groundout.
FINAL: CUBS 24; PADRES-6
Tomorrow night, the Cubs return to Sloan Park to host the Boston Red Sox (whom they will also host on Tuesday to close out spring training). Righty, Rick Porcello (0-1, 3.38 ERA) will get the start for the R-Sox, while Joe Maddon has named Cole Hamels as his starter. Game time, 8:05 PM (CDT), and this will be televised on NSCSCH, ESPN+, Cubs.com, MLB TV, Redsox.com and NESN+.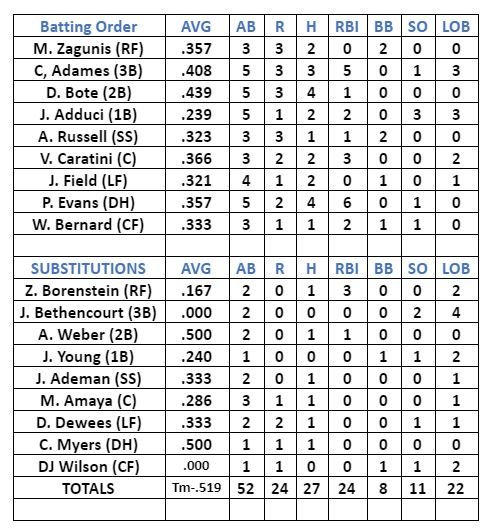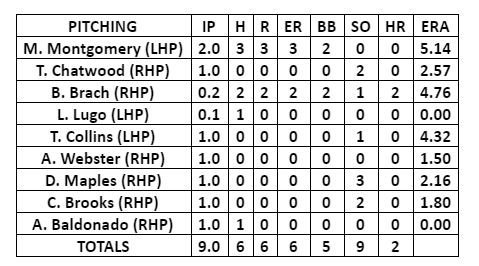 Cubs win!

Final: #Cubs 24, Padres 6. pic.twitter.com/OzP0yWpJOQ

— Chicago Cubs (@Cubs) March 24, 2019
Final: #Cubs 24, Padres 6

Chicago with three touchdowns and a field goal in the win pic.twitter.com/Qxb7tG0MQV

— CubsHQ (@ChicagoCubsHQ) March 24, 2019

Tags: Cubs Baseball
,
Mike Montgomery
,
Mark Zagunis
,
,
David Bote
,
Addison Russell
,
Victor Caratini
,
Tyler Chatwood
,
Dillon Maples
,
Cole Hamels
,
Joe Maddon
,
Tommy Hottovy