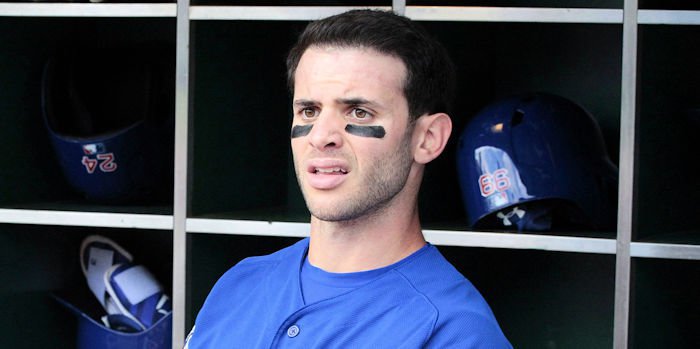 | | |
| --- | --- |
| Cubs News: Baez sits, La Stella scratched from lineup with injury | |
---
| | | |
| --- | --- | --- |
| Sunday, September 16, 2018, 2:03 PM | | |
Righty Luis Castillo is 9-12 on the mound for the Reds this year, with a 4.66 ERA, but that isn't stopping Joe Maddon from playing the matchup game today. With an ever-dwindling offense in a time of need, Maddon and the Cubs are scrambling to put a lineup together that works both offensively and defensively, as the Cubs grind on in pursuit of a fourth consecutive NL Central pennant.
With only three right-handed batters in the Cubs' lineup today (Bote, Almora and Russell…well, four if you count Quintana), the Cubs are looking to take full advantage offensively as they attempt to sweep the Reds for a second straight series. With the Reds already eliminated, Jim Riggleman has little to lose, as he starts trying to piece together what may work for next year.
Despite going 4-2 over the last week, the Cubs' offense has managed only 14 runs, while allowing their opponents the same, leaving fans, and (presumably) players alike, to wonder just what is going to work going forward. While it seems odd to see various core starters being benched for backups, the truth is, no matter how popular a player may be, actions speak louder than words.
Victor Caratini will start again today, giving Contreras his third day of bench time (as a starter) in the last four games. While Caratini filled in for Anthony Rizzo at first yesterday, one can only wonder who'd have caught had Rizzo played. The rest may be helping Contreras though, as Killer Willy went two-for-three yesterday, providing the Cubs' only run.
While the Cubs are now 148 games deep into the season, Tommy La Stella was initially scheduled to make only his 23rd start of the year today (the 25th if you count his two DH roles). La Stella was recently scratched due to lower back tightness and will be replaced by Bote at third.
There's no question that La Stella has been a godsend off the bench as a pinch hitter (slashing .324/.400/.423), but it's interesting to note that he seems to struggle the most offensively when starting at third. Through twelve starts at second base this season, La Stella is killing it offensively with a slashing line of .353/.405/.382, yet in his ten starts at third base, he's only managed a slashing line of .160/.222/.200.
I'll admit, I was a little surprised to initially see David Bote get the start in left field over Kris Bryant today, as KB has been more than reasonably productive at the plate since his return from the DL. Bote's bat seems to have cooled off considerably, but at the same time, it's only fair to note that Bote's offensive slowdown coincided with his reduced playing schedule.
I honestly have mixed emotions regarding Addison Russell. There's no doubt that Baez both needs and deserves some rest, especially if the Cubs' want him to be fast and furious come October, but while Russell's glove and arm lend power to the defense, his bat seems to leave the offense hanging. It's great that Russell can aid defensively, but with a zero gain in the batter's box, he seems to be a wash at best.
Two of the missing links to the offense certainly seem to be tied to Daniel Murphy and Jason Heyward. Murphy's arrival had the Cubs' offense on fire, but he's inexplicably grown cold over the last few weeks. Moving Murphy around in the batting order has failed to yield progress, but the Cubs' are maintaining faith in him, as he bats cleanup this afternoon.
The Cubs announced a short time ago that Jason Heyward would be activated from the DL for today's game. Despite slumping somewhat prior to his injury, Heyward's defense and overall attitude seem to bring more to the Cubs than a slumping bat has taken away; having him back is certainly a welcome sight.
With just sixteen games left, it's crunch time. St. Louis' elimination number is now down to eight, and the Brewers loss yesterday has them down to twelve. The Cubs' starting rotation has done a great job at going deep while limiting runs, but the truth remains that without an offense, it's hard to win.