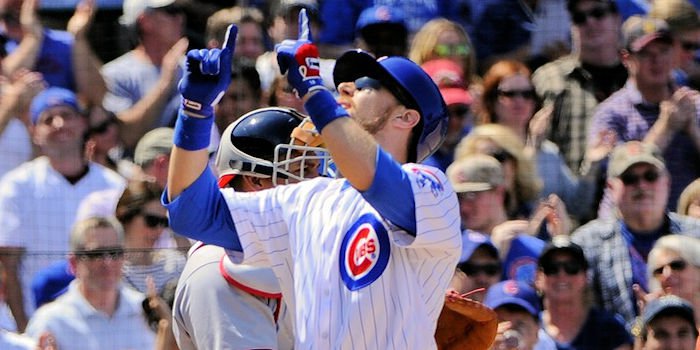 | | |
| --- | --- |
| Ben Zobrist should stay connected with Cubs | |
---
In the fall of 2016, after a brief rain delay, Ben Zobrist carved his name onto the hearts of every Cub fan. Behind in the count, Zo, as Cubs fans refer to him, laced a double down the left-field line that brought home the winning run in the top of the 10th inning and secured not only the World Series MVP for himself, a World Championship for the Cubs. After 108 years, the curse was broken by one man, Zo. Oh, it was a team effort, but it seemed in 2016, Zobrist was the guy at the plate when the Cubs needed a big hit, and most of the time, he delivered.
Now, three seasons removed from that glorious November evening in Cleveland, Ben Zobrist finds himself on the outside looking in. He continued his clutch hitting and being one of the core elements of the Cubs in 2017 and 2018, leading them to playoff berths both years. His leadership in the clubhouse, as well as his play on the field, helped groom the Cubs young core of players into winners. Regardless of where manager Joe Maddon played him, Zobrist came through. Second base left field, DH or PH, Ben always found a way to win the battle. Unfortunately, there was one battle that Zobrist had more difficulty with. In 2019, after an injury and brief comeback, Zobrist took an extended leave from his team to tend to family matters. It doesn't matter what the issue was as it was distracting enough for Ben that he had to step away from baseball.
As Cub fans watched the drama unfold with Zo's personal life, they also kept their eye on the calendar, waiting for an announcement on when Ben would be returning to the Cubs lineup. We needed his stabilizing force in the lineup to give us an edge over our rivals in the Central Division. The announcement came, but not the one we had anticipated. Ben was not coming back to the team in 2019. Much to the chagrin of Cubbie faithful, one of the holes that needed plugging to propel their team into the playoffs was not going to be there. The team never made the playoffs either. Most fans forgave Zobrist after hearing about his off-field troubles, but most fans still wanted to know his status going forward.
This week Zo was back in Mesa, in uniform, mixing it up with the boys…not for a roster spot but to see everyone and offer some tips to players and feel part of baseball once again. His visit sparked the Cubs faithful's curiosity to know if he was going to attempt another comeback. After his comments, however, it doesn't seem as if he will be on the active roster this season. Notice I didn't say, "Not in a Cub uniform this season," because manager Dave Ross might retain him as a special instructor or advisor to the team. It would be another great addition to the leadership to keep the young players focused and looking to play fundamental baseball, the way Zobrist approached the game.
So, although Ben will not be playing, at least maybe he will stay attached to the team this year and perhaps for a time to come as a coach of some sort. If the Cubs don't tap him to be a coach, some team will give him a shot. He was a favorite of Joe Maddon, and I am sure he would welcome Zo to Anaheim to be a part of the Angels organization. That would be a shame for the Cubs. Even though Dave Ross is in place, it seems as if more and more of the 2016 World Series team is slowly fading away from the Cubs. The MVP of that Series should not be one of them, especially if he is not playing and wants to coach.
It did cross my mind that even if Zobrist wants to play, he is getting older, and at age 38, he may not be able to live up to the standard he set as a reliable player. I like the type of player he is, but he is probably past his prime. Of course, the nay-sayers thought the same thing when the Cubs signed him as a free agent from Oakland in 2015. Boy, did he prove them wrong. This year and beyond are much different for a variety of reasons, and Ben may not be able to contribute on the field like he once could. I think I would still take 10 Ben Zobrist's in 2015-16 and see how we could compete defensively and offensively. He was THAT good, and the reason the Cubs inked him to a four-year deal in 2016. His contract ran out in 2019, and he is an unrestricted free agent.
We Cubs fans would love to have him part of the organization in the future, however, because he seems to exude positive vibes. That positivity is what this current group of players on the roster need to stay focused and compete for a 162 game season. Ben Zobrist can help with that. Dave Ross and Theo Epstein…are you listening? Probably not, but the fans are, and we can only hope for the best.
In Ben Zobrist's last moment as a ball player & Chicago Cub, he struck out Yadier Molina. Can't think of a better way to go out. What a career for @benzobrist18.

Thank you for everything, Zo! pic.twitter.com/04wQLQmTBh

— Cubs Zone ™? (@CubsZone) March 8, 2020