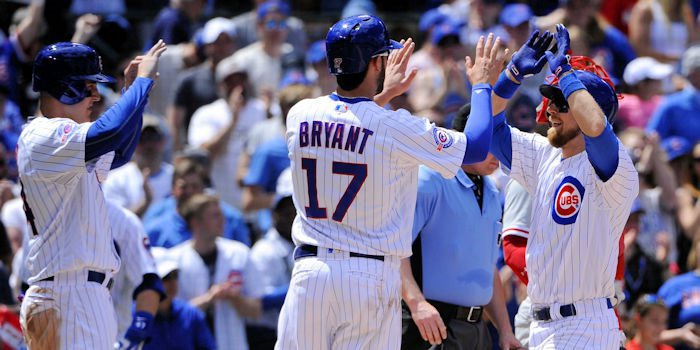 | | |
| --- | --- |
| Bryant makes MLB history with multi-homer, 5-hit game | |
---
CHICAGO -- The Chicago Cubs defeated the Milwaukee Brewers 9-6 on a sunny 84-degree Thursday afternoon in front of 41,407 fans at Wrigley Field.
The star of the day was certainly Kris Bryant who smashed two homers on the afternoon to make thirty homers for the year and to tie the National League lead. On the day, he was an impressive 5 for 5 with two homers, five RBIs, and four runs scored. He is the fifth Cubs player to hit 30 dingers by the age of 24.
He is the 1st Cubs player with at least 30 home runs in the team's 1st 120 games since Derek Lee and Aramis Ramirez in 2005 according to ESPN Stats. Bryant is also the third Cubs third baseman ever to hit thirty homers in a season.
Kris Bryant is the only player in MLB history with three 2-HR, 4-hit games in a single season prior to turning 25 according to ELIAS. He is also the first Cubs player with multiple 5-hit games in a season since Mark DeRosa in 2007.
Cubs ace Jake Arrieta got the win going 5.2 innings, scattering three hits, five runs, and a wild and uncharacteristic seven walks. The five runs given up snapped a 15-game streak by Cubs starters allowing three or fewer runs.
Ben Zobrist opened the game's scoring with a groundout single to score Kris Bryant in the first inning to make it 1-0. Addison Russell singled in Anthony Rizzo to put the Cubs up 2-0 later in the inning.
The play of the game was Kris Bryant's two-run homer to left center field that scored Matt Szczur to put the Cubs up 4-0.
Rookie catcher Willson Contreras hit a line drive double to right fielder Ramon Flores to score Ben Zobrist to give the Cubs a commanding lead at 5-0.
Bryant continued his impressive play with his 29th double of the season with a line drive to Ryan Braun to score Matt Szczur to put the Cubs up 6-3.
Rizzo followed Bryant with a double on a line drive to score Kris Bryant to add to the Cubs lead by four at 7-3.
Cubs closer Aroldis Chapman made an appearance in the ninth inning for the save.
The Cubs are now 45-19 at Wrigley Field which is the best home record in the majors and they are currently 9-3 against the Brewers. The streaky Cubs have won 18 of their last 21 games (best since 1945), including four straight against the Brewers.
Right-handed pitcher Kyle Hendricks will try to keep his impressive season going against Colorado's lefty pitcher Tyler Anderson at Coors Field on Friday evening at 7:40 CT.
Watch @KrisBryant_23's two-run homer in the 3rd: https://t.co/cx58rGoYC3 #LetsGo pic.twitter.com/UENQQtwt13

— Chicago Cubs (@Cubs) August 18, 2016
.@KrisBryant_23 goes bleacher bumming in the 3rd! His 29th homer makes it 4-0 #Cubs. #LetsGo pic.twitter.com/GzWO2jgTUM

— Chicago Cubs (@Cubs) August 18, 2016