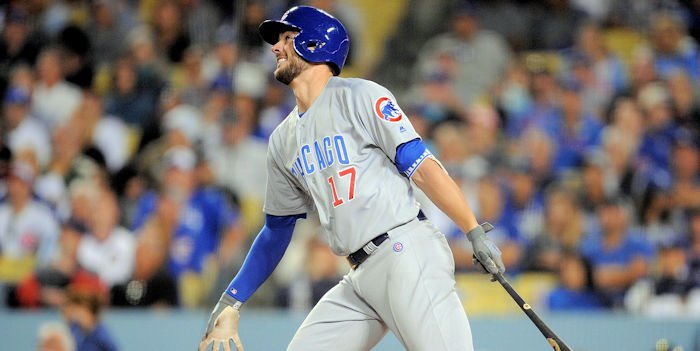 | | |
| --- | --- |
| Bryant's 37th homer leads Cubs to win No. 90 | |
---
Houston -- Kris Bryant hit his 37th home run of the year and Jon Lester pitched seven shutout innings to lead Chicago to 2-0 win over Houston. The Cubs victory gave them 90 wins in a season for the 24th time in
franchise history, and with 97 wins in 2015, marked the first time the team has recorded consecutive 90-win campaigns since a three-year run in 1928 (91), 1929 (98) and 1930 (90).
The Cubs made their first visit to Texas in four years to play the first of three games against the Houston Astros Friday evening. Dexter Fowler started the game with a leadoff triple, but the Cubs left him stranded. Jason Heyward showed his speed in the bottom of the first covering some ground over into foul territory to make a sliding play to get an out.
The game remained tied at zero after four innings as it was a battle on the pitcher's mound between Jon Lester (W, 16-4) and Joe Musgrove (L, 2-4). Bryant crushed a ball 370 feet over the left field barrier giving the Cubs a 2-0 lead in the 5th for the only runs of the game.
Addison Russell hit a ball 408 feet for an out, Javy Baez hit a ball 407 feet for an out, and Fowler earned a triple off of a ball hit 431 feet. If the Cubs were playing at home, the score could have been a lot different. The Astros threatened to score in the 7th, but Lester was able to get the Cubs out of the jam.
Lester pitched 7 innings allowing seven hits. He didn't walk anyone and struck out seven. He leads the league with 18 starts allowing one or less earned runs. Aroldis Chapman was able to get the last three outs of the game, giving the Cubs the win and his 33rd save.
The Chicago Cubs will play game two against the Astros tomorrow afternoon as John Lackey will face off against Collin McHugh at 12:05 p.m. CT.