| | |
| --- | --- |
| Bullpen doom Cubs, Addy's homer, KB and Baez streaks continue, Zo's situation, more | |
---
| | | |
| --- | --- | --- |
| Thursday, May 16, 2019, 7:41 AM | | |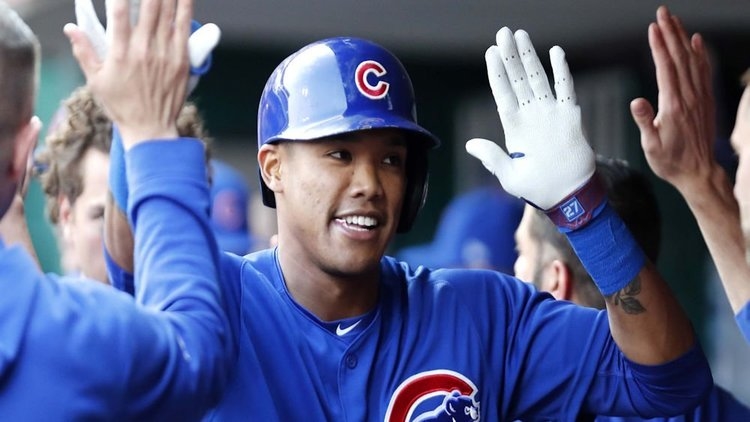 Next Game: Today, 5:40 PM CDT: Cubs vs Reds. LHP Jose Quintana (4-2, 3.50 ERA) vs RHP Luis Castillo (3-1, 1.97 ERA).
CUBS NEWS AND NOTES:
Wednesday's Game Recap: What started out looking like another win for the Cubs, turned into an ugly, extra innings loss. Darvish was on point with 11 strikeouts, but another early departure due to pitch count made it a bullpen game from the sixth inning on. The Cubs got four of their runs via a trio of homers from some unlikely sources- Addison Russell, Kyle Schwarber and Albert Almora Jr, but the Reds countered with a game-tying homer by Eugenio Suarez in the eighth. The Cubs offense couldn't produce in extras, and the Reds got to Brach in the tenth.
Final score: Reds-6; Cubs-5.

Cubs/Nationals Probable Pitchers: FRIDAY: LHP Cole Hamels (3-0, 3.08 ERA) vs RHP Max Scherzer (2-4, 3.64 ERA). SATURDAY: LHP Jon Lester (3-1, 1.16 ERA) vs RHP Stephen Strasburg (3-3, 3.63 ERA). SUNDAY: RHP Kyle Hendricks (3-4, 2.86 ERA) vs RHP Jeremy Hellickson (2-1, 5.52 ERA).
Weird night for the Cubs' offense: The top of any batting order is where the heart and soul of a team's offense lie, but that wasn't the case with the Cubs last night. In a 10-inning game, the 1-5 batters in the order (Jason Heyward, Kris Bryant, Javy Baez, Kyle Schwarber, David Bote and Willson Contreras as a pinch-hitter) went only 3 for 23, with two of those hits coming in the tenth. Meanwhile, batters 6-9 (Almora, Russell, Taylor Davis, and Yu Darvish) went 6 for 14 with two homers, and 3 RBI. Yu Darvish earned himself a single during one at-bat.
#Cubs lead 2-1 after two innings in Cincinnati. pic.twitter.com/C3qcPf7ecK

— Chicago Cubs (@Cubs) May 15, 2019
When in Ohio: pic.twitter.com/VWHbXFk7cL

— Chicago Cubs (@Cubs) May 16, 2019
Great night for pitchers: Despite a total of five home runs in last night's game (both teams combined), there were only a combined total of three walks issued the entire game, with two of those coming in the ninth and tenth from Brad Brach. The two teams also combined for a total of 25 strikeouts.
Streaks continue: It took them until the top of the tenth, but both Kris Bryant and Javier Baez continued their streaks. For KB, it's now a 24-game on-base streak, which is currently the best in MLB. For Javy, it's a 13-game hitting streak, which is a career best for him.
Does Yu know best? I've noticed something interesting about Yu Darvish, concerning how the Cubs fare when he's on the hill. Forget Darvish's 2-3 record this year, and let's focus on the Cubs' roster and 4-4 record (before last night's start) over those same eight games. Willson Contreras caught Darvish for his first five starts of the season, and the Cubs went 1-4 over that time. With Taylor Davis behind the plate for the last three of Darvish's starts, the Cubs went 3-0. As I started looking at various stats based on who was catching, some interesting things came to light, and last night's outing solidified my observations. Look for my commentary about it, coming soon.
Ben Zobrist: Unfortunately, some of us at CubsHQ had a bad feeling about what going on with Zo, and today, those feelings were validated. On Monday, Julianna Zobrist, Ben's wife of 14 years, filed for divorce in Cook County, IL, citing irreconcilable differences. Ben filed for a divorce yesterday, in Williamson County, TN, alleging that Julianna "has been guilty of inappropriate marital conduct, which rendered further cohabitation impossible."
I had a feeling when Zo was almost ten days late for spring training, that an impending divorce may have been the reason, but when he retook leave last week, I was almost positive. There have been subtle signs of marital discourse over the past few weeks for those that have paid close attention to social media. For now, all anyone can do is hope that they sort through this as amicably and expeditiously as possible, if for no other reason, then for their children. I wish them well.
Maddon on Zo: "I would absolutely consider [his leave] indefinite right now. I texted with him the other day and reminded him how much I care about him, how much we miss him." Speaking as someone who's been through a devastating divorce, it wouldn't surprise me to see Ben hang up his cleats for good over this. I certainly hope I'm wrong, but in a situation like this, Ben's future in baseball is trivial compared to what the family is enduring.
NL CENTRAL SCHEDULE (May 12 – May 18, 2019)
(Wins are in green, losses in red)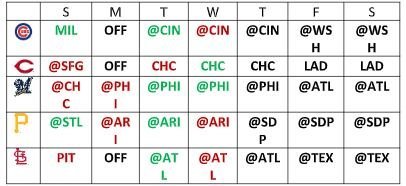 YESTERDAY'S NL CENTRAL SCOREBOARD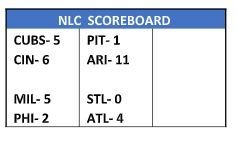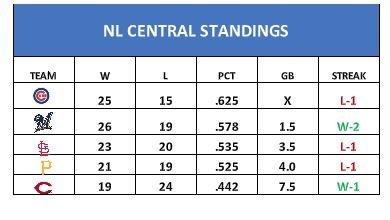 Tags: Cubs Baseball
,
Jose Quintana
,
Addison Russell
,
Kyle Schwarber
,
Albert Almora Jr
,
Cole Hamels
,
,
Kyle Hendricks
,
Jason Heyward
,
,
David Bote
,
Willson Contreras
,
Taylor Davis
,
Yu Darvish
,
,
Ben Zobrist