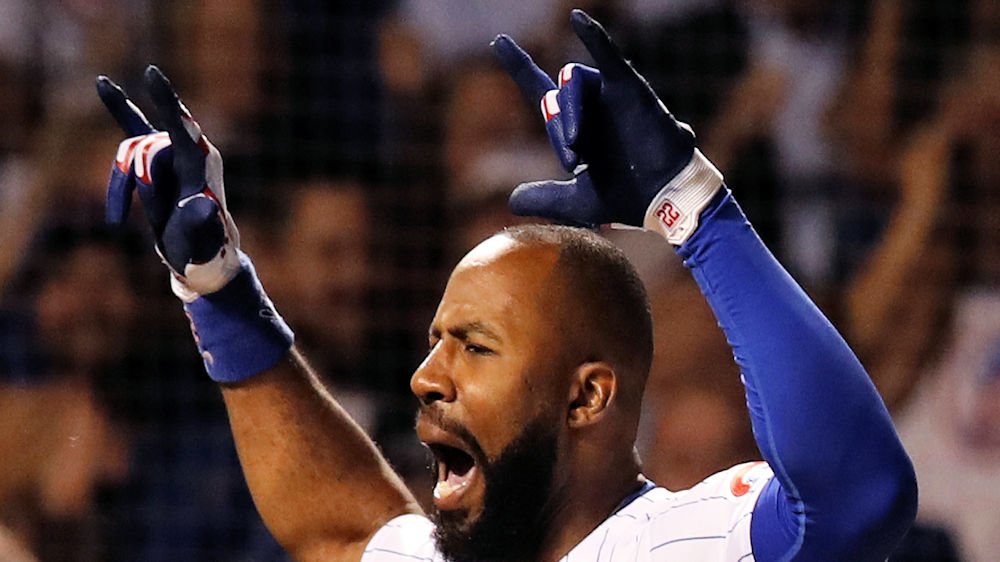 | | |
| --- | --- |
| Cubs News: Can improved J-Hey finally live up to monsterous contract? | |
---
| | | |
| --- | --- | --- |
| Monday, June 18, 2018, 10:24 AM | | |
Nobody needs to remind Cub fans that the Jason Heyward contract has been a disappointment.
After signing an 8-year, $184 million deal with Chicago prior to the 2016 season, the Cubs right fielder has been a liability at the plate, posting an underwhelming .230/.306/.631 slash line (71 wRC+) during his debut season in blue pins before only slightly improving in 2017.
But, yeah, overall he has just been pretty inadequate at the plate. It'd be hard to find anybody who would disagree with that premise.
And while his defense has been excellent, Heyward has been pushed out of the lineup on multiple occasions, including portions of both of his Chicago postseason runs, in order to allow for more productive hitters to take his place.
Entering this season, there was little to no expectation that Heyward would be able to reinvent himself and contribute to the Cubs offense and a permanently reduced role was becoming more and more likely. The Twitter countdown to "Cubs DFA Heyward" headlines was all but upon us.
However, flash forward to mid-June and a crazy thing has happened. Heyward is suddenly a central figure of the Cubs recent hot streak, paving the way with his timely hitting and leading some fans to believe that he has finally found his comfort zone in Chicago. You don't even need to squint to see that Heyward has been much better.
On the surface, it's easy to see to where Heyward has made his greatest improvements. His .407 slugging percentage, .335 on-base, and 102 wRC+ are all the high water marks with Chicago and his plate discipline is better than ever, as his strikeout rate is at a career low 11.6 percent along with a .74 BB/K ratio. He has been more efficient with his plate appearances and the results serve as evidence.
These numbers represent roughly league average offensive production, which, alongside his defensive prowess, make Heyward worthy of his place in the Cubs lineup and gives fans reason to believe that the next five years of his contract won't be the complete dumpster fire that the first two were.
That being said, as you dig further into the specifics of Heyward's current breakout year, there is even more reason for optimism and a continued resurgence at the plate. Take a look at the fancy Statcast statistics and the reason behind his production becomes clear.
Upon joining the Cubs, Heyward witnessed the 89.3 exit velocity from his year in St. Louis dip down to 86.6 in Chicago. Along with a six percent fall in his hard-hit rate, the result in 2016 was an ugly .303 xwOBA (league average is typically around .320).
2017 wasn't much kinder, as both the reduced exit velo and hard-hit rate remained nearly the same and only his improved barrel percentage (2.7 in 2016, 4.1 in 2017) allowed his xwOBA to climb to a more respectable .321, yet there was still plenty of doubt that Heyward would ever live up to his pre-Chicago reputation.
Yet, as we approach the midpoint of the current season, Statcast shows that Heyward's improved results are very real and likely to reach even greater levels as the season progresses.
As of June 16, Heyward's average exit velo is back to his St. Louis levels (89.2 in 2018), while his hard-hit rate (a career-high 42.7 percent), and his launch angle (a career-high 13.8 percent), project his xwOBA out to a .360 mark, held up in large part due to his .480 xSLG.
To put those numbers into context, a .360 wOBA in 2017 would've put Heyward into the company of hitters such as Corey Seager, Andrew McCutchen, Francisco Lindor, and Christian Yelich. Knowing that his plate discipline is improved and his glove is as good as ever, the new and improved Jason Heyward could potentially find himself as one of the most valuable players in Joe Maddon's lineup by the end of this season. Not too bad for a player who many were writing off only a few months ago.
If he can continue to swing the hot bat as he has been, Heyward could possibly even live up to the monstrous contract he signed as a free agent three years ago.