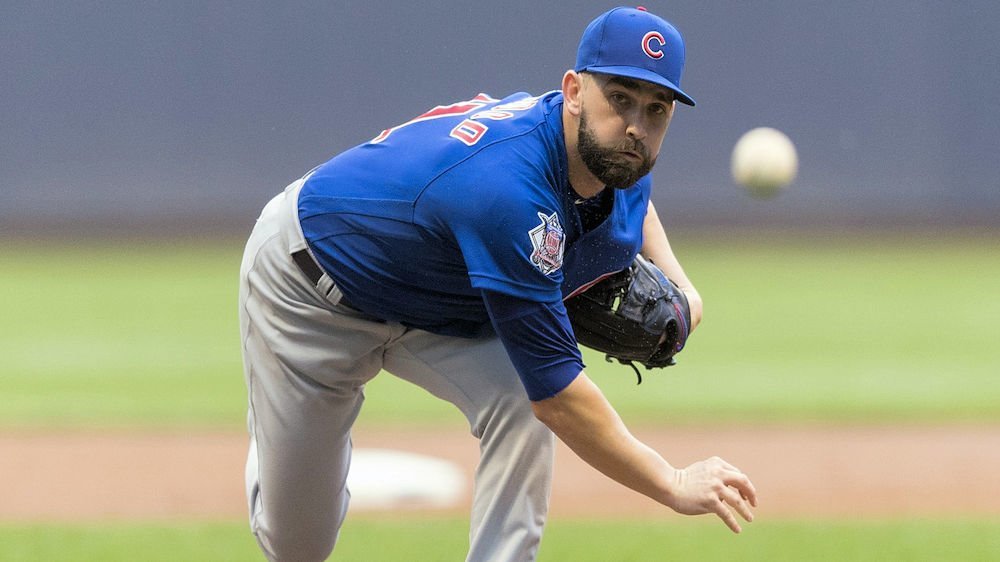 | | |
| --- | --- |
| Chicago Cubs: Chatwood is pitching: Hold me, I'm scared... | |
---
| | | |
| --- | --- | --- |
| Saturday, August 18, 2018, 12:59 PM | | |
For some reason, two consecutive 1-0 wins by the Cubs over the Pirates felt almost as good as some of those games where the Cubbies have just flat-out pummeled the opposition. Not nearly as exciting from an offensive point of view; but the pitching? PHENOMENAL.
Jon Lester looked like "Big Jon" again for the first time since the All-Star break. In six innings of work, he allowed no runs, no walks and he fanned eight men, which is good enough for an average of 1.33 strikeouts per inning. While the Bucs did rack-up a handful of hits against Lester, they all turned out to be benign, as Happ's solo shot in the top of the fourth was enough to win the game.
Last night it was Cole Hamels and Kyle Schwarber's turn to team-up to win a game. Hamels was almost flawless (as per the usual since becoming a Cub), throwing a total of seven, shutout innings. While his inaugural appearance as a Cub (vs. Pirates) saw Cole fan nine guys in just five innings of work, Hamels elected to become the ground-ball king of the rotation last night, prompting the Cubs' defense to turn seven double-plays in nine innings, tying the MLB record. I was cringing every time the Cubs looked like they'd get a second out without a DP, as I was hoping they'd turn that eighth one and set a record.
With two games left to play in Pittsburgh, the smoothness that has been the Cubs' starting rotation is about to hit a speed-bump. Jose Quintana was scheduled to get one of the remaining two starts, and Mike Montgomery was initially scheduled to start tonight, but due shoulder inflammation, Monty has been placed on the 10-day disabled list, meaning none other than Tyler Chatwood is going to be on the bump tonight for the Cubs.
Every ounce of confidence that I had about the Cubs winning at least three of four against the Pirates has now dissipated…
I have to admit, I've been almost sympathetic towards Chatwood over the last few weeks, as he sits in the bullpen, waiting for (more like praying for) his turn to try and contribute. The guy always looks like that kid in the sand-lot game who shows up every day, hoping to get picked, but never does. Chatwood's last start was on July 26, and since that time he's only had three relief appearances.
While we never know what version of Quintana to expect (guess we'll find out tomorrow), we've unfortunately all come to know what to expect from Tyler Chatwood. Pittsburgh's pitching has stifled the Cubs' bats, so far during this series, and we can't afford to be spotting the Bucs three or four runs and still expect to win.
With St. Louis handing the Brewers a loss last night, the Cubs managed to add another game to their divisional lead, which now stands at 4.5 over Milwaukee and 5.0 over the Cards. Let's not just give those games back… please?