| | |
| --- | --- |
| Commentary: A different take on Baez or Russell at SS | |
---
| | | |
| --- | --- | --- |
| Monday, April 29, 2019, 3:35 PM | | |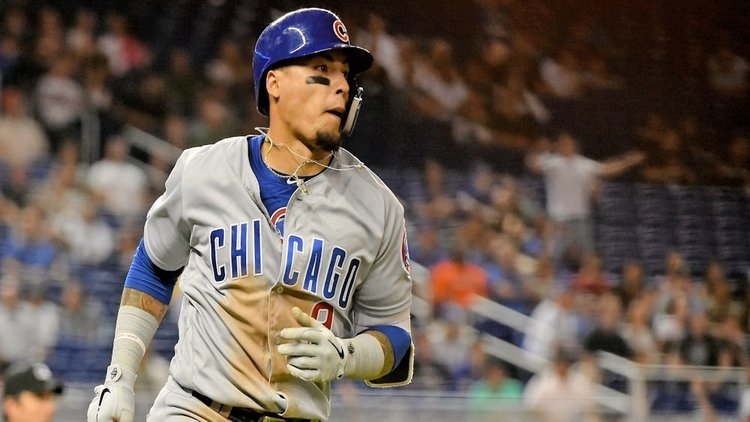 Most days I love what I do for CubsHQ.com. Writing has always been a passion for me and to have an outlet not only to write but to do it for my favorite team and sport is pretty special. Except for the constant arguing with fellow writer Ken Allison, things are pretty good here.
Today is one of those days I've dreaded since last fall.
Addison Russell is coming to the end of his scheduled rehab assignment in Iowa, and whether it's this week or next week or the week after that, the Cubs will have to make a couple of decisions that will have both short term and long term impacts on the team.
We have detailed extensively the issues that brought us to this point, and I'm not going to rehash those here. Everybody knows what happened and everybody has their opinion on it. I'm not going to change anyone's mind on this, nor do I want to do so.
Decision number one for the team is a big one. Do they bring Russell back or not?
According to Theo Epstein in a Chicago Tribune story by Paul Sullivan: "I told him the other day, seven days doesn't necessarily get someone ready for the season," Epstein said Thursday at Wrigley Field. He said it's still "day to day" with Russell and foolish for anyone to "get ahead of the story" and assume anything about his return. "Addison has a lot of work to do going forward," he said. "There is no finish line here. He's being compliant; he's put a lot of work in away from the field to grow as a person and improve his relationships."
Based on the Cubs making a big deal to say they were going to support him and make domestic abuse awareness a significant effort by the team, I don't see how they can release him right now after going out of their way to give him a second chance. It seems pretty likely that he is going to be called up at some point and his career will continue.
Decision number two will have an impact on at least one player currently on the major league roster. Who gets sent down when they bring Russell back up?
As an infielder, it makes sense that a corresponding infielder will be sent down, but I don't think so. David Bote has become a fan favorite, and they just gave him an extension, so he stays. Daniel Descalso isn't going anywhere either and unless Ben Zobrist decides to retire to his place in Tennessee the odd man out is going to be Mark Zagunis. This leaves the team with only three full-time outfielders and two part-time guys which is fine until someone goes into a prolonged slump.
Decision number three is more of an emotional decision as opposed to a physical decision. Who is going to play shortstop?
Fans have embraced Javy Baez as the next great thing, and while I agree he does some extraordinary things on a baseball field, the cold hard reality when looked at with a clear mind is that the best defensive team the Cubs can field has him playing second base and Russell at shortstop.
According to Steve Greenberg of the Sun-Times, Since the Cubs' World Series win in 2016, a steady drumbeat of support for the electrifying Baez as a full-time shortstop has grown louder among fans and some in the media. But the Cubs — particularly Maddon — long maintained that the team's snazziest look was with Russell, also an excellent defender, at short and Baez alongside him up the middle.
Jeff Arnold quotes Joe Maddon in Forbes Magazine, "That's still a discussion we have to have," Maddon said on Wednesday when Baez helped spark a come-from-behind win over the Dodgers with a three-run homer. "We've got to see how well Addison does. I don't want to make any kind of jump-the-gun kind of thing without discussing it in detail with the players themselves. It's a great problem to have."
If you agree that defense up the middle is a crucial factor in winning baseball games, and most baseball scholars do, then the Cubs are at their best with Willson Contreras catching, Albert Almora playing centerfield, and Russell at short, and Baez at second. With that configuration, the Cubs have, maybe, the most robust defense in baseball up the middle.
Taking Baez off shortstop is going to release an unbelievable onslaught of insanity from the Cubs faithful and be assured this is an underlying issue with the Cubs brain trust. They are anxious about fans reactions; however, they are more worried about how Baez reacts. He is one of the stars of this team right now and doing anything that will cause him to go into funk will not be a good thing. That said, they have to do what is best for the team and moving him back to second is a no brainer.
A tough column to write because I had to put aside my personal feelings on this issue and look at it clear-eyed. It still doesn't make it easy or fun.
Addison Russell is playing second base for Iowa tonight #EverybodyIn pic.twitter.com/fDDFTwHClX

— CubsHQ (@ChicagoCubsHQ) April 29, 2019