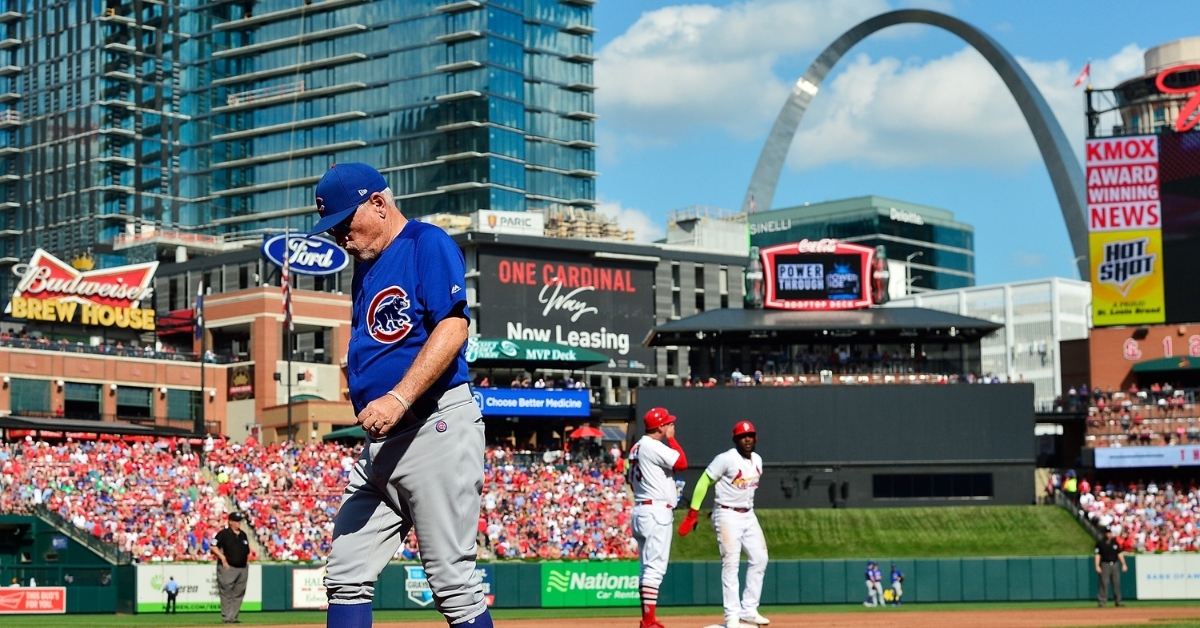 | | |
| --- | --- |
| Commentary: A year of goodbyes in 2019 | |
---
| | | |
| --- | --- | --- |
| Monday, September 30, 2019, 8:01 PM | | |
Every year we see people in baseball come and go, but somehow, 2019 seemed like a real gut-punch. It wasn't just players saying goodbye as the season ended, it was managers, announcers, and even entire networks.
It began with WGN saying goodbye after 72 years of broadcasting the Cubs' games. Long before Dish, Direct TV and MLB TV- in fact- long before color TV, the Cubs could always be found by Chicagoans on WGN. The voices of Jack Brickhouse and Harry Caray are just memories now, but I never thought I'd see the day that WGN became a ghost when it came to the Cubs.
April 16, 1948: @WGNTV broadcasts its first #Cubs game.

Thank you for bringing baseball fans some of the most memorable Cubs moments over the last 72 seasons. pic.twitter.com/NLpSWZS6pt

— Chicago Cubs (@Cubs) September 27, 2019
NBC Sports Chicago also said farewell, joining WGN in becoming the ways of the past, as the Cubs gear up for their Marquee Network which is supposed to premiere in February. There's little doubt that Len Kasper and Jim Deshaies will move over, but what about Tony Andracki, Kelly Crull, and others? Is Doug Glanville transitioning? And what about David DeJesus and David Kaplan? Every fan has their own tastes, but no matter which media personnel you prefer, there's undoubtedly a ton of people who will get caught in the fallout of change, and all of us are bound to miss someone.
I spoke to Tony on Sunday night, and no- he's not going to the new Marquee Network, but instead, he's staying put at NBC Sports Chicago. Tony will still cover the Cubs, but not as you're used to seeing him. That man has become such an excellent source for me- providing stats, quotes, and thoughts that I frequently quote or share links to in my daily column. Even though he'll still be around, it will seem odd, not seeing Tony or Kelly Crull together on the Cubs' pregame shows.
For the record, neither Kelly, nor David Kaplan are going to the Marquee Network, and the same holds true for Doug Glanville. New faces, new names, new styles, and new beginnings are coming along with the Marquee Network, and of course, we'll all adjust, but in the meantime, some outstanding folks got left in the wake.
Joe Maddon said goodbye after a five-year run that left Cubs' fans wanting more. I was among those that thought a change was needed, despite Joe's accomplishments, but I could never have anything but respect for the man, as he brought a championship to Chicago- something that neither my father nor grandfather ever got to see. Joe won't be unemployed long, and he'll undoubtedly have his choice of teams to go to. Maybe the Angels, where he spent 31 years of his life, or perhaps the Phillies or Pirates, both relatively close to Joe's home in Pennsylvania.
"It's a good moment for everybody." —Joe Maddon pic.twitter.com/bRAENyFJ89

— Jordan Bastian (@MLBastian) September 29, 2019
Tommy Hottovy and Anthony Iapoce may be on the chopping block, as whoever the next Cubs' manager is, will have a say in the matter, but they still have to answer to Theo Epstein, who is due to meet with all of the Cubs' Coaches on Tuesday.
Ben Zobrist and Cole Hamels may play next year, with Cole being the more likely of the two to continue, but either way, it's highly unlikely that either will remain with the Cubs in 2020. Hamels mesmerized fans for almost a year-and-a-half, adding some foundation to a starting rotation that struggled frequently in both 2018 and 2019. Ben? He's just Ben. The epitome of leadership. A guy who overcame personal adversity so that he could return to his team (if for no other reason than to say goodbye); a friend to fans, players and the media.
Then there was Clint Hurdle- the embattled Pirates manager who was fired on the season and refused to manage the team's final game, and Pittsburgh's pitching coach, Ray Searage, expects to be joining Hurdle in the unemployment line.
Clint Hurdle gets fired, chooses not to manage season finale: https://t.co/YFNhXfkToX pic.twitter.com/A8ozjHSjY7

— CubsHQ.com (@ChicagoCubsHQ) September 29, 2019
And Bruce Bochy, the long-time Giants' skipper who perhaps feigned retirement to seek a new job. The Padres fired Andy Green with just a couple of weeks to play, and Ned Yost of the Royals threw in the towel and retired after nine years with KC, while no less than a half-dozen other managers will be packing their bags after ugly seasons with their respective teams.
Another Bruce- Bruce Miles of the Daily Herald, said goodbye to his readers after 22 years' worth of articles, and almost simultaneously, Wrigley Field's organist, Gary Pressy, played his last tune during the Cubs' final home game this season, amassing more consecutive games than Ironman Cal Ripken.
While I never got a chance to speak to Gary, Bruce Miles, and I occasionally chat on social media. When I asked him for a comment for this piece, he said, "It's been a great run. I write only to serve the readers and Cubs fans. I've learned a lot from them." Happy trails, my friend.
King Felix Hernandez is officially done after 15 seasons. I recently asked Anthony Bass what it was like to be in the bullpen for King Felix's final out, to which he replied, "Surreal."
So many other players are likely to say goodbye; CC Sabathia, Melky Cabrera, Chris Ianetta and Curtis Granderson, with still others likely to announce their retirement in the coming days, weeks and months.
Marty Brennaman said goodbye after 46 years as the voice of the Reds, and Steve Blass called it quits after 60 years in baseball, as either a player or as the Pirates' announcer.
How can you not be romantic about baseball? ?? (Sound ??)#ThanksMarty ??? pic.twitter.com/wW2Xpdb1Pg

— Cincinnati Reds (@Reds) September 26, 2019
The Angels lost pitcher, Tyler Skaggs to what would eventually be ruled an accidental death, involving an overdose on Fentanyl, Oxycodone, and alcohol. Somehow, that one still seems among the worst, as nobody even saw that "goodbye" coming.
Closer to Chicagoans, long-time Cubs' first baseman, Billy Buckner, died on May 27, 2019. Buckner was always a childhood hero of mine, but he'll always be infamously remembered as the guy that let the ground ball roll through his legs.
This list of mine hasn't even scratched the surface of those who said goodbye this year. Some popular, some not, but altogether, 73 players and former players died in 2019 and there's still three months left in the year.
I tip my cap to each and every one of you. To the players, the reporters, the entertainers, the announcers, and the networks who all said goodbye to us in 2019- Thank you.