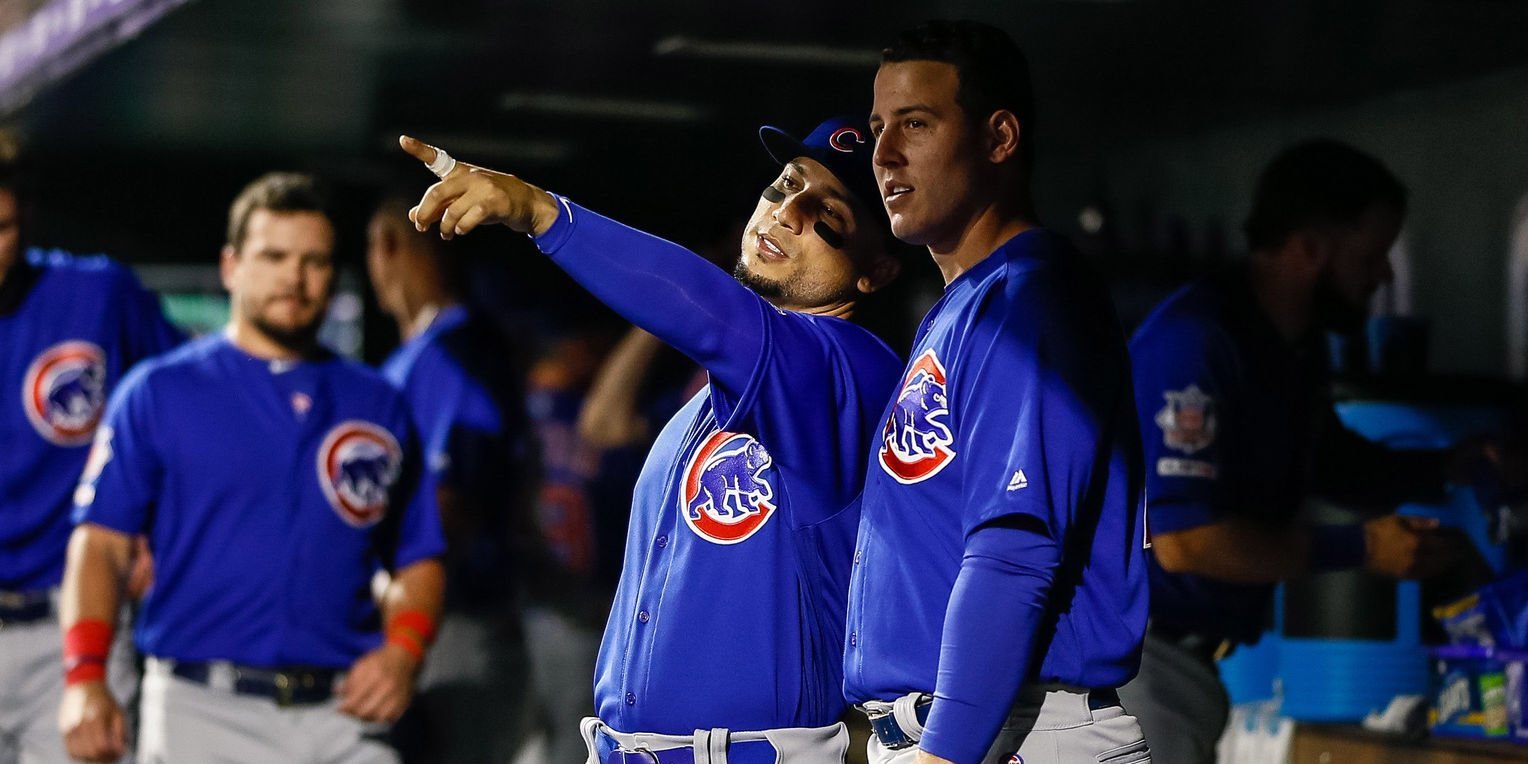 | | |
| --- | --- |
| Commentary: Analyzing CarGo's impact and Ben Zobrist's future | |
---
| | | |
| --- | --- | --- |
| Tuesday, June 11, 2019, 5:03 PM | | |
When the Cubs won the 2016 World Series, the MVP was not awarded to Kris Bryant, Anthony Rizzo, Jon Lester or even a young Javy Baez - Ben Zobrist earned that accolade.
Zobrist will forever be cherished with the most clutch hit in Cubs history, and will forever be praised for punching a ball down the third base line to drive in Albert Almora, send Anthony Rizzo to third with a stunned look on his face and only the words "wow" and "oh my god" coming out of his mouth.
Zo began this season as the Cubs' veteran voice and most frequent leadoff hitter, jumping between the outfield and second base as well.
He has played and hit just about everywhere in his three-plus year tenure under Joe Maddon, who he turned down more money from other teams to reunite with his skipper from Tampa Bay.
Due to extremely unfortunate circumstances, and an excruciating divorce with his wife Julianna, Ben Zobrist has been away from this current Cubs team for a little
over a month now.
And while it has been expressed that the Cubs miss Zobrist and would love him back, a return seems unlikely at this point - especially since Zobrist has likely not swung a bat in a month and will need time to ramp it up. Not to mention the fact that there has not yet been any time table for his return.
In one positive of this situation for the Cubs, Zobrist being placed on the restricted list and thus not earning money reportedly freed up just enough money to sign elite closer Craig Kimbrel.
Zobrist's absence has been a window for Addison Russell's return to the big league club, and a message to the Cubs' front office to get some leadership help as well.
Enter Carlos Gonzalez, a big league pro in his 12th season in the show, known best for his ten seasons on the Rockies. CarGo is a three-time all-star, two-time silver slugger winner, and recipient of three gold gloves. Gonzalez has been renowned by Nolan Arenado among the other Rockies as being a phenomenal leader in the clubhouse.
CarGo also arguably owns the sweetest left-handed swing in baseball, and beyond all of the on-field attributes, he has a sparkling smile that nearly rivals that of Dexter Fowler which has led Cubs fans to say: CarGo We Go.
Although CarGo most likely will not be the leadoff man as Kyle Schwarber has performed admirably from that spot, he can provide solid at-bats and quality defense in either of the corner outfield positions.
As a left-handed bat, Gonzalez gives Maddon a lot of flexibility in designing his lineups. Against a righty pitcher, the Cubs could opt for an all left-handed outfield with Schwarber and Gonzalez in the corner spots and Jason Heyward out in center field. This virtually gives Joe Maddon a lineup where he can alternate each batter lefty-righty starting at the top with Schwarber and Bryant down through Rizzo, Baez, CarGo, Contreras, Heyward, Bote/Russell and then a pitcher.
Maddon also raves about the added protection that Gonzalez gives Javy Baez. Since Cargo's first game on June 3rd, Baez is hitting .330 with three homers, and 10 RBIs and the Cubs are 6-2.
Some might argue that this acquisition is taking playing time from Albert Almora, and although it looks that way initially- Almora is merely going back to playing as frequently as he did when Ben Zobrist was in the mix in right or left field (which would push Heyward to center anyway).
This also gives Almora a chance to play against more left-handed pitching and some right-handers, as Joe Maddon said he will pick his matchups there. However, expect Almora to be in center field at the end of nearly every game, with Gonzalez in left and Heyward in right, giving the Cubs an outfield with eight gold gloves and arguably the best of the three not playing enough to have one.
Joe Maddon, the Cubs, and I are very high on CarGo, who many predict will go 2008 Jim Edmonds this year and help propel the Cubs to a division title and beyond. Gonzalez launched his first homer in a Cub uniform on Sunday.
As for Zobrist, who continues to deal through divorce proceedings, the Cubs have made it clear that no move (Kimbrel, CarGo or otherwise) can impact his future with the Cubs. Theo Epstein has said they will welcome him back with open arms if an appropriate time presents itself for Ben Zobrist and his family. Why wouldn't they? The 13 players on the Cubs current roster who have World Series rings have him to thank.
This fan base and organization owe it to Zo to give him a proper send off if this is it for the 38-year-old, he did play a crucial role in what is most likely one of the best days of their lives, that one Wednesday night in November of 2016.

Tags: Cubs Baseball
,
,
Anthony Rizzo
,
,
Ben Zobrist
,
Addison Russell
,
Dexter Fowler
,
Kyle Schwarber
,
Jason Heyward
,
Joe Maddon
,
Theo Epstein