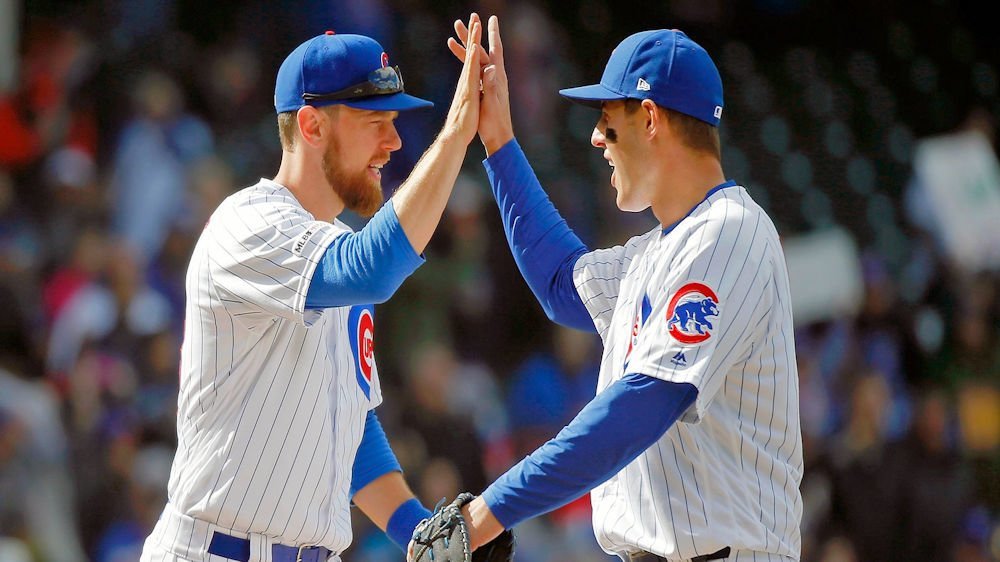 | | |
| --- | --- |
| Commentary: Are Cubs expecting too much from Ben Zobrist? | |
---
| | | |
| --- | --- | --- |
| Saturday, August 24, 2019, 1:50 PM | | |
An ESPN 1000 poll recently, asked whether or not fans thought Ben Zobrist "could save the leadoff slot." Two hours into the voting, 76% (out of 222 votes) felt there was no way Zo could fix the issue with the Cubs needing a solid and dedicated leadoff man, and I'd have to agree.
I saw an article somewhere on Friday, that said Joe Maddon wouldn't discuss what the Cubs' plans were for Zo, once he returns sometime in the next week, but I can't see where the Cubs can either ask or expect Ben to come in and save the day. I believe his presence alone will boost morale, but unfortunately, Ben was thrust into a position by his now ex-wife (Julianna), which caused him to have to spend a lot of time away from the team this season. He's missed over half the season, and I'm not entirely confident that one month of minor league assignments will be enough for him.
While fans and media alike (not me) continue to scream about how Theo Epstein has screwed up by not acquiring a "leadoff man," I've quietly maintained that all the Cubs have to do is look within the 25-man roster. Albert Almora Jr. wasn't that guy, nor do I believe Ian Happ can fill the role. Kyle Schwarber appeared to solve the problem, but Schwarbs could never hit consistently enough out of the first spot to establish himself as a leadoff guy.
Now, Ben Zobrist will enter the mix, most likely assuming the role in whatever games that he starts.
Ironically, when ESPN asked fans on social media what they felt would likely trip up the Cubs over September and October (should they make it), only 3% out of 385 votes) thought that the leadoff man situation would cause the Cubs to be eliminated from the playoff scene.
Ben Zobrist has been around the block a few times, and I'm sure he'll do his best to adapt to whatever situation Joe Maddon chooses to put him in, but there seems to be this overinflated opinion (fans, media, and even the teams) about having to have a dedicated leadoff man, and I feel there's an equally exaggerated amount of pressure that organizations place on the lineup spot.
Although the Cubs excused his absence due to "personal matters," Zo reported a week or so late for spring training, then left the team for over 3 ½ months, as he attended to his family crisis. Zobrist has played in only 26 of the 128 games (20.3%) that Chicago has played this season, totaling 83 at-bats in 99 plate appearances (.241/.343/.253) and has logged 170.1 innings of defense (57.2 innings at second base, 85.1 in right, 27.1 in left). Throughout those innings, Zobrist remained error-free, which is absolutely a plus, but we must focus on his offense, as the Cubs haven't had any defensive crisis arise.
Once Zo dedicated himself to returning to the Cubs, he began what has now been three weeks of his maximum allowable 30 days in the minors before the Cubs have to reactivate him. Thus far, during his rehab journey (not sure what to call this adventure), Zo has appeared in just 11 games, encompassing every level from A to Triple-A. His offensive numbers? Um, .212/.366/.455. The detailed breakdown is 33 at-bats in 41 plate appearances, accruing 19 singles a double, no home runs and 19 RBI. Zo has drawn eight walks (19.5% walk rate), and although his seven strikeouts give him a very respectable strikeout rate of 17%, the fact remains that while he's putting the ball in play, he's not producing hits.
I'm sorry, but Ben Zobrist is no longer leadoff material- at least not for the remainder of this season, and Zo becomes a nearly 38 ½-year-old free agent after 2019 ends. I don't think it's fair of the Cubs to rely so heavily on Zo at this point, as his personal issues this year have broken his stride and disrupted his concentration.
Former Cubs reliever, Anthony Bass, once told me (during Zo's hiatus) that Zo was a guy who'd do it 100%, or he wouldn't do it at all. Ben's trying, and I hope that the Cubs don't start lumping the team's failures and shortcomings this season onto Ben's shoulders, the minute he walks into the clubhouse. If they do so and Ben fails to solve the problems, they're inevitably going to further push Zobrist into retiring after this season though I believe he likely will be doing so anyway.
Zobrist is expected to return to action Sept. 1 against the Brewers. I firmly believe this is unfortunately Zo's farewell tour, being more about closure for Ben the team and the fans, as it is anything else. Godspeed, Zo.
Do you think Ben Zobrist will save the leadoff slot?

— ESPN 1000 (@ESPN1000) August 24, 2019
What can trip up the #Cubs most in Sept/Oct?

— ESPN 1000 (@ESPN1000) August 24, 2019

Upgrade Your Account
Unlock premium boards and exclusive features (e.g. ad-free) by upgrading your account today.
Upgrade Now