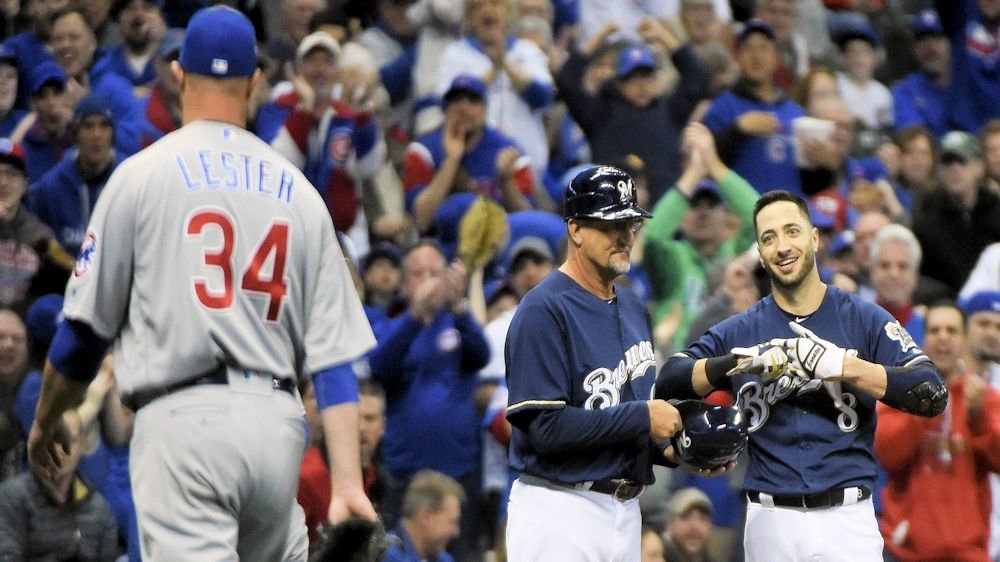 | | |
| --- | --- |
| Commentary: Bring on the Brew Crew | |
---
| | | |
| --- | --- | --- |
| Monday, October 1, 2018, 10:22 AM | | |
With the way this season has gone for the Cubs, I guess having to play a 163rd game is only fitting. At least they're not alone though, as Colorado and the Dodgers are having a similar party this afternoon out west.
A recent article on CubsHQ suggested that the Cubs "forced a tiebreaker" with the Brewers, but I disagree. The Cubs have held first place for several months now, so I'd submit that the Brewers have forced a tiebreaker with the Cubs. It may just be a matter of semantics, but I'm feeling positive this morning (besides, my colleague Dan Marich has been recently nominated "Mr. Negativity").
While I was originally thinking that today's game was almost a worst-case scenario, adding to the multi-day grind that the Cubs have faced for almost a month and a half now, I've reconsidered my position.
Today's game shouldn't be thought of as just a one-game, sudden-death match, but rather the ultimate version of a Game 7. These two teams have traded punches and division leads, back and forth, all season long, and right now, they each share a record of 95-67 (.586). If this isn't the equivalent of being tied at three games apiece in a best of seven series, what is?
There is one huge difference though: the loser doesn't go home for the season- at least not yet.
Barring any last minute changes, Jose Quintana takes the mound for Chicago this afternoon, while Milwaukee's starter will be Jhoulys Chacin. Despite people grumbling about him, Q has been quietly solid all year (13-11, 4.09 ERA) and has performed well against Milwaukee including a 4-1 record with a 2.17 ERA in six starts. He will be the first Cubs pitcher to face a team seven times in a regular season since Don Cardwell in 1961.
In my estimation, this may be the biggest game of Quintana's career. A win today spares the Cubs the expense of having to worry about the outcome of a wildcard game tomorrow and allows them to rest up and reset the rotation for the NLDS, which starts Thursday night. A loss today potentially spirals the Cubs rotation out of control, with Lester being the likely starter tomorrow, should the Cubs be forced to play either the Dodgers or the Rockies in a wildcard matchup. Not that Big Jon wouldn't be my first choice for the WC game, but I'd much rather see him rested and facing off in Game 1 of the NLDS.
If the Cubs are to win today, they'll need to pound the Brewers' starter hard, and they need to score early. In the Brewers blowout, 11-0 win over Detroit yesterday, Craig Counsell had no reason to use ace relievers Josh Hader, Corey Knebel or Jeremy Jeffress, so they'll all be ready to try to further the Brewers quest for a division title this afternoon.
Staying alive and chewing up innings is a must for Quintana if the Cubs are to pull this off. With the way that Carl Edwards Jr. and Steve Cishek have been pitching, six innings-plus is almost a must for Q this afternoon, and God help us all if the offense can't lend run support. Edwards Jr. and Cishek combined for only one inning of work yesterday, and the walks, hit-batsmen, wild pitches and control issues continued for the two. Neither gave up an earned run, but the appearances were anything but pretty.
While De La Rosa and Garcia chipped in for an inning each on Sunday, they should be good to go again this afternoon. De La Rosa has been a blessing, and once the Cubs got past an ugly, ugly start by Garcia, they've reaped the benefits of him pitching out of the pen. Perhaps the best news out of the bullpen is that Jesse Chavez is fully rested, healthy and ready to further the Cubs agenda.
Just under three hours 'til game time. Let's. Do. This.