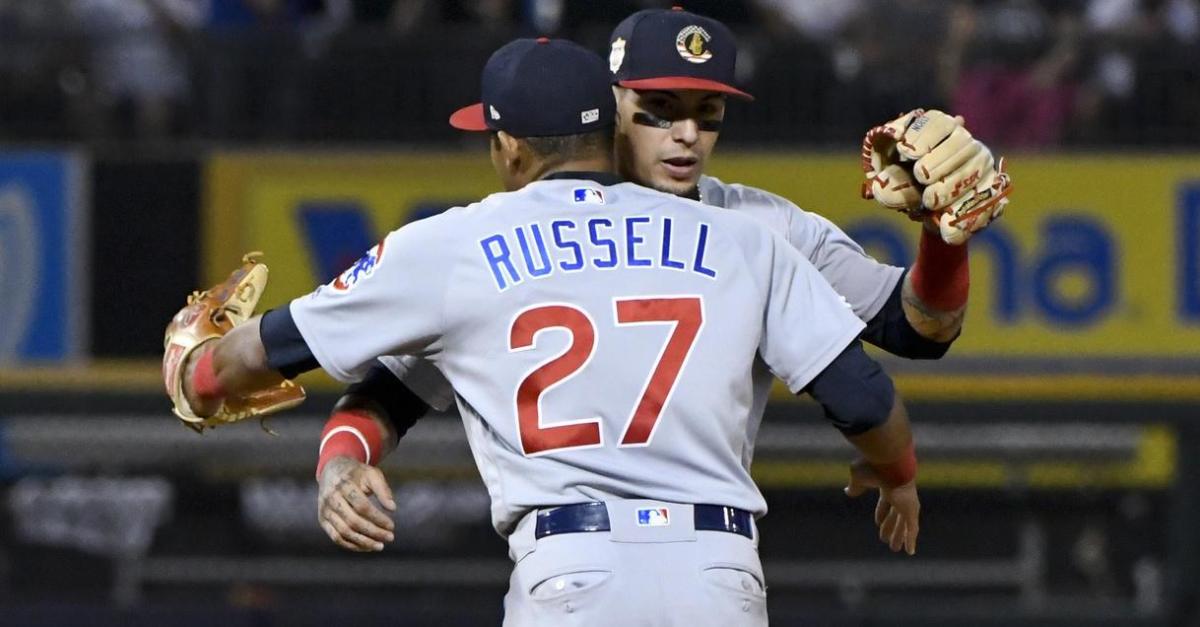 | | |
| --- | --- |
| Commentary: Can the Cubs make it without Javy Baez? | |
---
With the news on Saturday that Javier Baez suffered a hairline fracture of his thumb, Addison Russell became the Cubs "everyday" shortstop; but can the Cubs afford this?
Addison Russell hasn't been the same guy for the past couple of years. He was on the decline before his suspension for domestic violence, he was optioned to Iowa mid-season for failing to comprehend the baserunning signs, his bat has remained fairly idle, and his error rate continues to climb. Not a pretty picture for a Chicago team who not only faces another second-place finish but also the possibility of total elimination from the postseason, as the Arizona Diamondbacks now trail Chicago by just a game-and-a-half for the second National League Wildcard spot.
Somehow, Russell expects that he can fill the cleats of Javier Baez.
"It's a huge blow, what happened to Javy," Russell said. "I'm happy to step up and take on that role. I have a lot of confidence in myself and my ability."
On Saturday night, Addison Russell committed a throwing error in the ninth, which would end up costing the Cubs the game. This was Russell's third such error in as many games, and following Saturday's game, Russell had this to say:
"Got to it, the ball's hit pretty good, in-between hop. I just didn't want the ball to get by me. Did a pretty good job of gloving it. Even though the ball is struck pretty well, I tried to take my time, and I just sailed it. I just sailed it. In that situation, you have to be on point, especially where we're at during the season, coming down to the wire. But it's good to have that happen. I hate that it has to happen that way, but moving forward for September, I think that's just going to be more motivation to get better and work on some things."
Here's Addison Russell's comments after he butchered an easy throw to 1B in the bottom of the 9th to allow Christian Yelich to bat & win the game.

"It's good to have that happen."
"It's just more motivation to get better."

The Cubs are a 2nd place team in Sept. Figure it out. pic.twitter.com/iZz5Bw5Mi8

— Cubs Live (@Cubs_Live) September 8, 2019
What in the hell? "It's good to have that happen"? On what level? It's not even so much the error itself, but the fact that you're defending it, minimalizing it and justifying it, that sort of irritates me.
Both Russell and Joe Maddon say that Russell just needs time to get used to the throwing angles from the shortstop position, but time is something that the Cubs don't have. While I'm referring to this season, time may not be something that this group has after September.
"At some point, they might just drown -- likely leading to massive offseason changes that will turn over the 2016 World Series champions, " ESPN's Jesse Rogers wrote.
That makes twice this year that Russell has provided a soundbite which somehow defends poor playing on his behalf. As you'll recall, earlier this year Russell fired a ball home to try and stop a run from scoring, when he should have thrown to first for an out. Even Maddon admonished Russell's decision, but when interviewed after the game, Russell announced that in the same situation, he'd do it again.
I'm not sure where this attitude arises from, as Russell is not some wily veteran who commits an error twice a year. We're talking about a player with 4-½ years' experience, and one who, despite being a great defenseman, provides mediocre offense at best. Even his defense has slipped, as Russell has now compiled a total of five errors this season, in just 51 games. While he has only one as a second baseman, he's managed to tally four at shortstop (17 games played).
Beyond Russell, the choices get even thinner for Chicago. David Bote has been error-free, but he only has a total of seven games' (30.1 innings) worth of experience in two years at the position. Ben Zobrist has played shortstop in his career, but not with any regularity since 2014 with the Rays. Then there's Tony Kemp. While Kemp has never played at short, he was taking some groundballs from that position during the Cubs batting practice on Saturday. His arm seems strong, and his slender build provides quickness when ranging, but he's certainly no Javy Baez.
The Cubs are now (once again) in a situation where they find themselves scrambling to be able to adequately cover a position, which seems somewhat odd considering their depth.
I'd agree with Jesse Rogers, that this latest upset will trigger sweeping changes to be made to the Cubs in 2020, but then again, I thought last year was enough to warrant change. Just as I did last year, I'll have an extensive article after the season ends, illustrating what went wrong in 2019, and where the Cubs will go from here. I'd initially planned to start writing this near the end of September, but unfortunately, I suddenly have a sense of urgency…

Upgrade Your Account
Unlock premium boards and exclusive features (e.g. ad-free) by upgrading your account today.
Upgrade Now