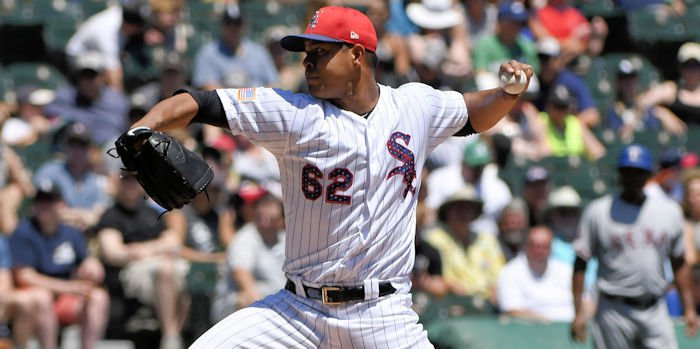 | | |
| --- | --- |
| Commentary: Cubs made the right move getting Quintana | |
---
| | | |
| --- | --- | --- |
| Thursday, July 13, 2017, 2:06 PM | | |
CHICAGO -- Around 11:30 AM, the Chicago Cubs released an announcement that they had traded top prospects Eloy Jimenez and Dylan Cease plus two other prospects to the Chicago White Sox for ace Jose Quintana. It is the first blockbuster move of baseball's annual trade season and sets the market for controllable, talented starters.
Last year, the North Siders sent top prospect Gleyber Torres to the Yankees for a three-month rental of flamethrowing closer Aroldis Chapman. It was a steep price, but it raised the price for other closers on the move such as Mark Melancon and Andrew Miller.
Many fans would say that trade was worth it since Chapman was the only relief pitcher manager Joe Maddon trusted in a tough spot during the playoffs. The pending question is whether the Quintana trade will prove to be just as helpful to the Cubs this time around.
The good news is Quintana has looked impressive in the month of June. After a rocky start to the year, his 2.70 ERA last month is in stark contrast to the rest of the 2017 season. The strikeout numbers have been up which is always good, but so are his home run rates which is a huge negative. As it stands, the Cubs were in need of long-term starting pitching and they got it at a low monetary price.
To put this in perspective, let's take a look at the other ace traded by the White Sox, Chris Sale. Sale is a perennial All-Star (he started this year's All-Star game in Miami), has never had a losing season, and has never had an ERA over 3.41. He had one incident last year where he cut up some throwback uniforms, but that is hardly enough to devalue a player significantly, if at all considering his on-field performance.
With all of that in mind, Sale was traded for number one prospect Yoan Moncada and a guy named Michael Kopech who can hit 100 mph on his fastball. Essentially, Sale was traded for the number one and number 20 prospects (according to Baseball America), and now Quintana has been traded for the number five and number 83 prospects.
Quintana's only advantage over Sale is his consistency. He is well on his way to his fifth consecutive year of 200 innings pitched and an ERA below four. Is the consistency afforded by Quintana worth two top 100 prospects? Yes, absolutely. Jake Arrieta was really good, but he is faltering and coming up on free agency. The Cubs haven't locked him down, and while they still could, super-agent Scott Boras will try to get him as much money as possible. John Lackey is retiring soon, so being able to have a controllable starter in his prime for just ten million a year for the next three years could keep the Cubs in contention even if they don't make the playoffs this year.