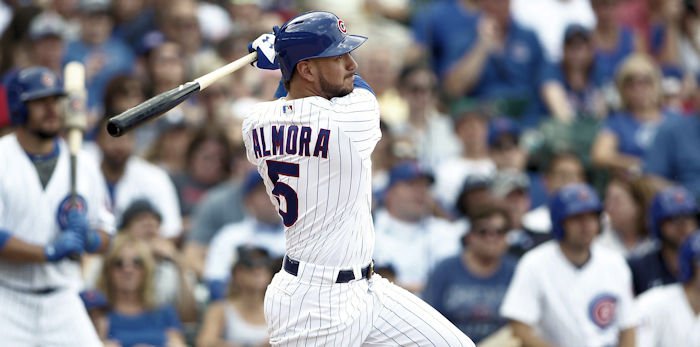 | | |
| --- | --- |
| Commentary: Cubs need more Almora Jr. | |
---
| | | |
| --- | --- | --- |
| Friday, April 20, 2018, 3:12 PM | | |
CHICAGO -- The Cubs have had some issues early on in the 2018 season, but one of the most significant issues facing the Cubs is their lack of a pure leadoff hitter. The Cubs have experimented with several leadoff hitters since Dexter Fowler left and joined the Cardinals, all of which have been more or less failures. Ian Happ, Kyle Schwarber, Anthony Rizzo, and more have had the opportunity to hit leadoff for the Cubs, and none have had much success, except Rizzo who deemed himself the best leadoff hitter of all-time. The Cubs leadoff woes have been especially apparent this year with Ian Happ starting the season 10-49 (.204 avg) with 25 strikeouts. The Cubs need a solution for their leadoff hitter, and in my opinion, Albert Almora Jr. should get an opportunity to prove his worth.
Almora is hitting .350 in his five starts this season; overall, he is hitting .265 in limited playing time. Almora's OBP (on-base percentage) is a good .324, only .005 lower than his career OBP of .329. Almora also has a career 2.1 WAR with a 0.4 WAR this season. Almora has proven that he is a solid player with the chance to develop into an all-star caliber center fielder.
The final reason the Cubs should be playing Almora more is they need to see him develop and see what he is worth to the team. The best way to develop a young player is giving him at-bats against major league pitching. Almora has more than proven his abilities in his limited playing time this year and should be the everyday center fielder with Happ rotating in until he gets out of his terrible slump (Happ could also rotate in LF, RF, and 2B).
Why isn't Almora getting an opportunity to show what he's got? He's not a "Joe" guy. Cubs manager Joe Maddon loves players who can play multiple positions, hit anywhere in the order, and hit from both sides of the plate (Zobrist, Happ, La Stella, etc.). If Almora were able to play the infield, then he would probably get more playing time, but because he can only play the outfield and the Cubs have an extremely crowded outfield Almora's playing time is reduced. The problem of Almora not receiving "enough" playing time is a great problem for the Cubs to have. Every MLB team would love to have too many young and talented players to rotate into the starting lineup every day. I have faith in Joe Maddon and Theo Epstein; they will find a way to put the best lineup on the field.
Comment below and hit the message boards or on Twitter to me to discuss Albert Almora and how much playing time he should be receiving!