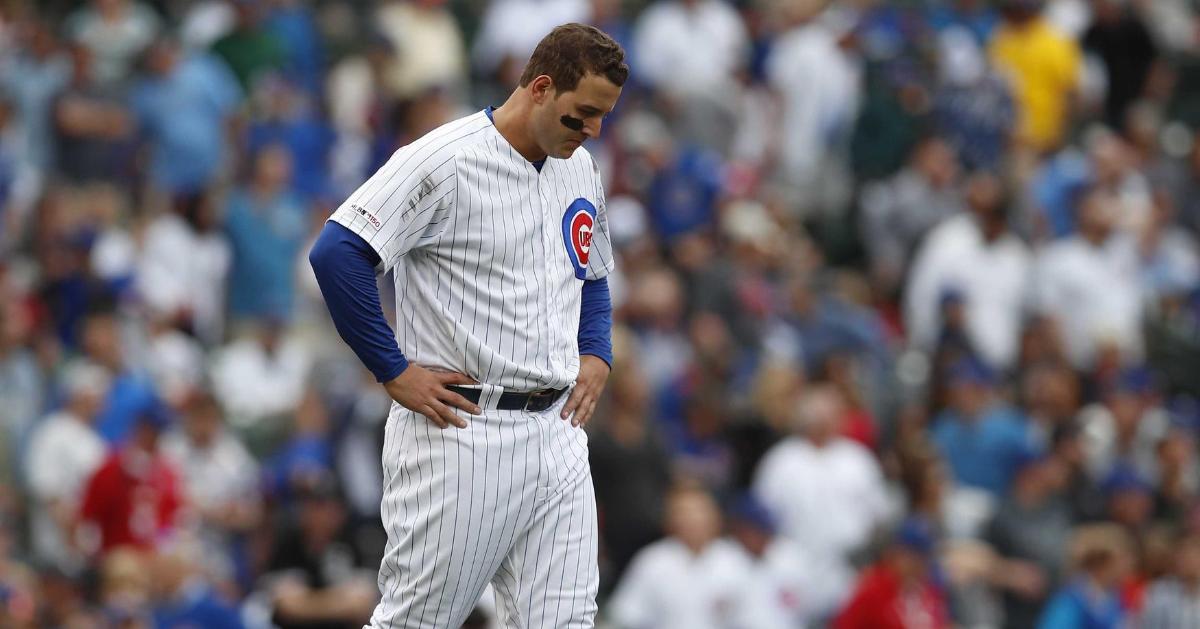 | | |
| --- | --- |
| Commentary: Cubs need to hit the road | |
---
| | | |
| --- | --- | --- |
| Thursday, August 15, 2019, 5:14 PM | | |
I've just about gotten to the point where I'm afraid to say anything at all about Chicago's offense, as their unpredictability has become mind-boggling. Sure, they've done well at home, but this "road-woes curse" is something else. While the away losses are a common problem, nothing can be corrected unless the offense can produce. Period. The starters and pen can go out there night after night and give up just one run, but if the Cubs can't score two or more, they can't win. At this point, the Cubs will need to go 18-4 on the road, just to have a winning road record, and that's NOT going to happen.
The Cubs share first place in the division with the Cards after leading the division by 3.5 games just a week ago, and there's a likely chance that by the Cubs return to Wrigley next week, they have fallen to second place, with the Brewers looming large. Currently, Chicago possesses a 64-55 record (.534), and while their home record is a dominant 34-23 (.596), their road record reflects a terrifying 23-37 (.383).
The Cubs started this season with issues surrounding their ability to win away from home, but the situation has gotten entirely out of hand. Over the first two months, the Cubs posted a road record of 13-14 (.481), but since May 31- brace yourselves- the Cubs have gone just 10-23 (.303) while on the road.
I'll be the first to concede that some of the recent outings by the Cubs' starters have backed Chicago's offense into a corner, as no matter who's in the lineup, they won't be able to overcome early 10 and 11 run leads, but it's these close games that hurting Chicago.
Although this has gone on all year, let's look at the last two weeks. After going 5-1 (.833) in their most recent homestand, the first six games of the road series have netted a 2-4 record (.333). In those six road games, the Cubs were outscored 38-24, while going 9 for 49 (.184) with runners in scoring position. If you factor out the 12-5 win over Cincinnati to start the road trip, you're looking at a first-place team who 's gone 1-4, and being outscored 33-12, while going just 5 for 38 (.132) with runners in scoring position. I'm sorry, but this is not conducive to either entering or advancing in the playoffs.
Take a minute and look at the splits for how the offense has performed at home versus on the road… it's staggering. While the everyday players are far better at home, the bench players put up better numbers on the road. Note: I did not include Nicholas Castellanos or Tony Kemp, as they joined the team recently and the sample size would be small. Likewise, Ben Zobrist was excluded due to a disrupted season.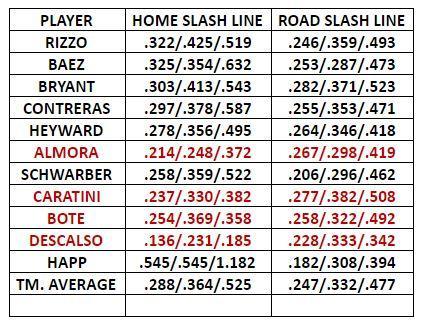 As the season continues to dwindle, the Cubs have half of their remaining 42 games at home, with the other half away. If that's not bad enough under the circumstances, seven of the 21 road games will be played against the Cards during the final ten games of the season, while an additional seven games will be played against the Brewers at Miller Park from August 30 through September 8.
I think it's fair to say that by the time you hit 120 games in a season, definitive patterns have been established, and nothing major is going to change. Based on the current record, the Cubs remaining 21 home games would break down to an expected record of 13-8, while the 21 road games will probably shake out to a record of around 8-13. Assuming this is close, the Cubs look like they'll be finishing the year somewhere around 85-77.
The funny part is, the team isn't making a lot of noise concerning the road struggles. Jon Lester has criticized himself, and Anthony Rizzo says the team needs to do better, but the overall tone seems to be "what will be, will be," and that all fits right into Joe Maddon's style of dialogue. I've criticized Maddon for three years now, about his laissez-faire attitude and how it wasn't good for this (or any other) team, and the declining results over those same three seasons are becoming increasingly evident.
I heard a saying a long time ago: "When a farmer is complaining, he's making money." The mindset behind that theory is that when people are in trouble, they tend to get quiet; therefore, a guy who's complaining a lot is probably doing alright.
I think it's excellent than fans want to believe in the team and want to remain optimistic, but I've always tried to separate the emotion from the numbers, and these numbers just don't bode well for any run in October. Optimism doesn't always equate to realism, and realistically, this team's in some serious trouble.
Why Don't They Win It On the Road #Cubs parody song. pic.twitter.com/piEJwdKpyj

— Danny Rockett (@SonRanto) August 15, 2019