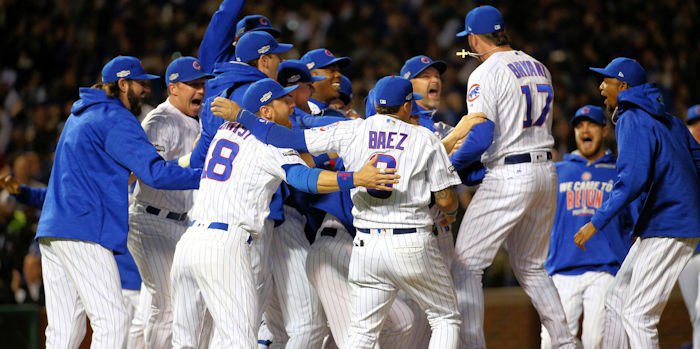 | | |
| --- | --- |
| Commentary: Cubs to win division for 3rd straight season | |
---
Call me biased all you want, but the Chicago Cubs are winning the National League Central for the third consecutive year.
The Cubs have three legitimate MVP candidates in Kris Bryant, Anthony Rizzo, and Wilson Contreras. Back them up with other big bats like Kyle Schwarber and Ian Happ and you've created a pitcher's worst nightmare. It's possible that these five guys will all hit 30 home runs, making the Cubs the first team to ever have five 30+ home run players in the same year.
Defensively, there's five-time gold glover Jason Heyward and possible future gold glovers in Javy Baez and Albert Almora Jr. Wilson Contreras has one of the best arms from behind the plate (remember when statcast had him at 90+mph throwing to 2nd?) and not to mention that deadly back pick he throws to first.
While I'm not entirely sold on Brandon Morrow as the closer, the rest of the bullpen makes up for it. Carl Edwards, Steve Cishek, and Pedro Strop will likely carry most of the load en route to Morrow. If we can get the Justin Wilson the Tigers got to see, that will only help our cause.
The rotation looks like the best in the National League right now. Jon Lester is a year in year out Cy Young candidate, and I expect nothing less than that out of him again. Kyle Hendricks will likely be dominant again in his emotionless, Greg Maddux esque way. Yu Darvish has looked great this spring, bouncing back from his terrible appearances in the World Series last fall. Jose Quintana would be the ace if he was on one of about twenty other teams. Thankfully, his home is in the friendly confines, and I wouldn't be surprised if he turns out to be our best starter this season. Tyler Chatwood hasn't been talked about too much. His numbers as a Rockie were good but not great due to half of his starts coming at the hitter-friendly Coors Field. If you look at his numbers away from Coors Field, he is much better than perceived. In his five seasons with Colorado, he had a 3.18 ERA away from Coors Field as opposed to his 5.17 ERA at home. That can only mean great things with the majority of his starts coming at Wrigley, and potentially none of them coming at Coors Field. I don't see a way any team in the Central can catch the Cubbies besides injuries, and I think this could be another 100 win season.
Again, I am biased in favor of my hometown team. As a fan of baseball though, I think the division could mirror 2015 and have three teams playing in October. Three teams with 97 wins is a stretch though baseball is crazy. It's happened before, and it may happen again in 2018.
2nd place projection for St. Louis Cardinals
As much as it pains me to say, the Cardinals are going to be good again. They've watched October ball from the couch for the last two years, and I know they will come out gunning for it this year. They patched some holes in the bullpen by adding Brett Cecil and Bud Norris this winter. They also got Marcel Ozuna from Miami which gives them another significant bat in their lineup to follow Matt Carpenter. The Cards have a dangerous offense from top to bottom that will keep opposing pitchers up at night. Defensively, however, I don't see anything too special here. Up the middle, they are strong with Kolten Wong at second base, Paul DeJong at shortstop, and either Dexter Fowler or Tommy Pham in centerfield. Yadier Molina is a solid defensive catcher but is on the wrong side of 30, and will likely need something stickier on his chest plate to remain dominant. The rotation here looks strong if they remain healthy. Carlos Martinez, Michael Wacha, and Luke Weaver are capable of carrying the platoon. The Cardinals will undoubtedly give the Northsiders a run for it, but I see their ceiling as the top Wild Card team in the National League.
3rd place projection for Milwaukee Brewers
In 2017 the Brew Crew surprised everyone and held the division lead into September. The additions of standouts Christian Yelich and Lorenzo Cain boost their offense and outfield defense immensely. Their rotation is solid, but nothing more than that. Headlined by Chase Anderson, Jhoulys Chacin, and Zach Davies, I would expect them to improve on the 4.00 ERA the rotation put up last season. The bullpen has Corey Knebel. Unfortunately for them, that's all they have. Depth is an issue for the Brewers, but if they can stay healthy, they are a wild card caliber team.
4th place projection for Cincinnati Reds
The Reds won't finish last this year. Not because of their talent, the Pirates are just that inferior. Joey Votto will be an MVP candidate again, and Luis Castillo should have a solid year on the mound. Billy Hamilton will steal another 50 bases, but outside of that, the Reds don't have much going for them. The departure of Zack Cozart hurts but that's their only significant loss. They went 72-90 last year, and I would expect a similar result in 2018.
5th place projection for Pittsburgh Pirates
What can I say about the new look Pirates that hasn't already been said? They're going to stink, and they're going to reek badly. They traded away the declining star Andrew McCutchen and followed it up by trading away ace Gerrit Cole three days later. They retained their core of Josh Harrison, Starling Marte, and Josh Bell, but it won't be enough to carry them through. Jameson Taillon looks like their "ace" for the year which says enough about their rotation. To me, the Pirates are staring a 100 loss season dead in the eyes.