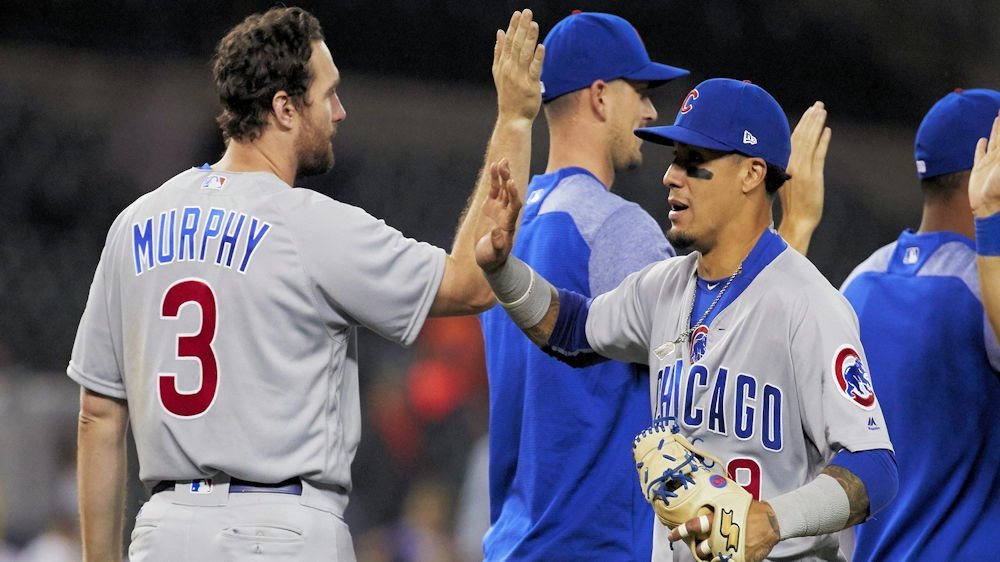 | | |
| --- | --- |
| Commentary: Daniel Murphy to the Rescue | |
---
| | | |
| --- | --- | --- |
| Thursday, August 23, 2018, 9:10 AM | | |
Any good NHL team goes out and gets themselves an "enforcer" after they've been knocked around on the ice one too many times, and while I don't think Theo Epstein was looking for a bruiser for bench-clearing brawls, an enforcer of sorts is exactly what he got in Daniel Murphy.
Before last night's win in Detroit, the stifled Cubs' offense had managed to tally only five runs in the last five games, each coming via the solo long-ball, so the fact that the cubs were even 2-3 going into last night's game was somewhat of a miracle.
It was no secret that Daniel Murphy was a hitter, and the damage he'd done against the Cubs has been well documented. Murphy has carried a .301 batting average over the last few years, placing him atop MLB in that time frame, and Joe Maddon did not doubt that he would hit last night. Hoping to spur the offense, Maddon not only started him but batted him in the leadoff spot.
Before the lineup was ever even announced, I predicted that Murphy would bat first and play second-base, possibly splitting the DH duties and second base with Ben Zobrist. I was almost right- Murphy led off and played second, but the switch didn't come until the bottom of the ninth, and by that time Murphy wouldn't need to bat again.
I went on to predict that if Murphy could go .500 on the night, the Cubs' offense would rally behind him and end up going .375 as a team. I went so far as to predict they'd go 12 for 32 (which is .375) for the night – again; I was close. Murphy ended the night 2 for 5 (.400), and the Cubs collectively went 11 for 37, which only equates to .297; but who cares? The CUBS WON.
@Sdwat58 @DEvanAltman @bradrobinson8 @wischlist @JosephMaddon Call me brazen, but I'm making a prediction... IF MURPHY can go 2-4 or better tonight (.500+), the Cubs offense wakes up and bats .375 or better as a team. That's probably gonna equal 12 for 32 as a team.

— Ken Allison (@KenAllison18) August 22, 2018
Murphy did his job last night, and he did it well; he acted as a catalyst for an offense that has struggled to say the least. When interviewed before the game, Murphy said he intended to "play like a maniac" for the Cubs, which dovetails nicely into my last article about the Cubs needing players to motivate them on the field. (It sure is nice to be right about the positive stuff for a change)
Next, it's time to see if Daniel Murphy can continue to spur the Cubs when they play Cincinnati at Wrigley field tonight. The Reds have been problematic, and it's about time that the Cubs show them exactly why they are in first and the Reds are in last.
I'm feeling lucky here: Murphy to lead off again (as he will throughout the series), playing second base. He goes 3 for 5 (.600) today, the Cubs bat .350 or better as a team, and they win by five-plus runs. Cubs take this series by no less than 3-1.
Speed-Demon Billy Hamilton (Reds) was also a waiver-claim on Wednesday, again by a mystery team. While the Cubs could certainly use Hamilton's speed on the bases, I would be shocked if the Cubs claimed him, following their acquisition of pinch-runner/pinch-hitter Terrance Gore from the Royals last week. In addition to his speed, Hamilton brings a personality that's second to none- always happy, always smiling, and THAT is something the Cubs could use. Can we get a refund on Gore?
The Cubs have very quietly put together a solid, yet inexpensive, set of trade acquisitions with Hamels, Chavez, Kintzler, Murphy and Gore (Gore was optioned to Iowa). After the team got Jesse Chavez, I predicted that the Cubs weren't done dealing and that the remaining starting rotation issues would be addressed before the season ended. I've been on a bit of a roll, and I'm feeling confident… Get ready Chicago; I have a feeling another move is on its way.