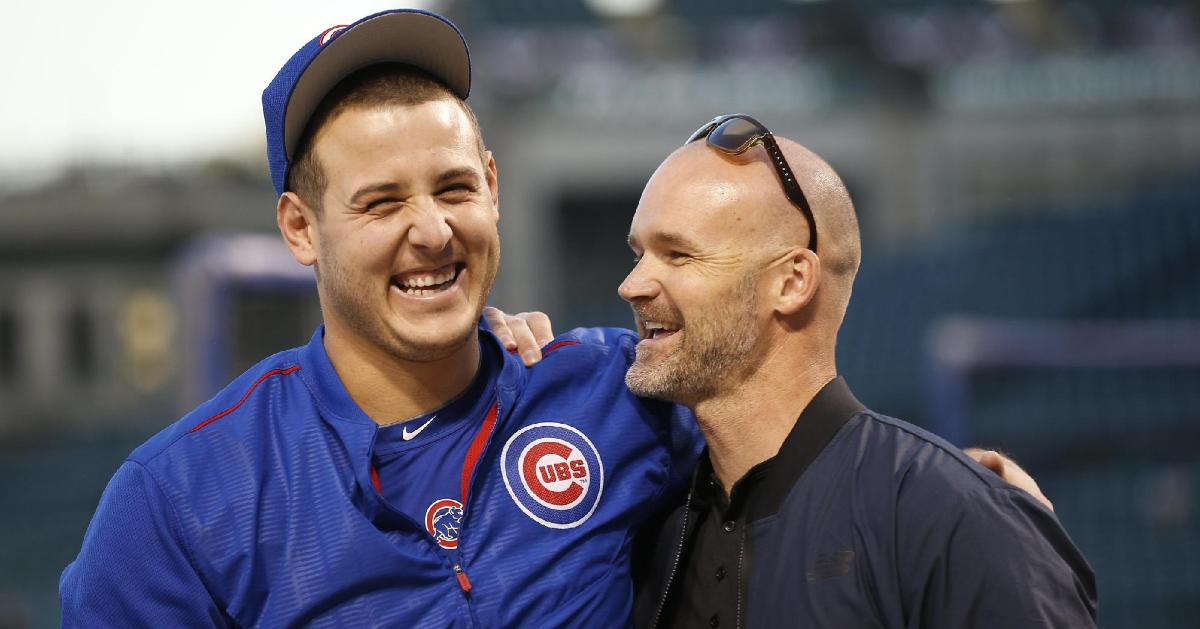 | | |
| --- | --- |
| Commentary: David Ross or Joe Espada? | |
---
With eight teams looking for new managers this season, the Cubs happened to be one of them as former manager Joe Maddon has inked a three-year deal to become the Los Angeles Angels new man in charge. As of right now, that has been the only team to sign a new manager as the rest continue their extensive searches for who they would like to lead their organizations moving forward.
For the Cubs, it has been no secret as to whom many people think would get the job, but that man wasn't the only candidate looking to impress Theo and company. Will Venable, Mark Loretta, Joe Girardi, and Gabe Kapler all had interviews with the Cubs making good impressions, but two names continue to stand out as the clear front runners for the job.
Those two candidates are Astros bench Coach Joe Espada and former Cubs catcher and current ESPN broadcaster David Ross. It appeared this weekend that Espada was the front runner, as the Cubs publicly announced they were bringing him in for a second interview, which usually indicates a decision shortly after. However, Ross was also given a second interview as they did not publicize that one as much as Espada.
Both men have appeared to impress the front office quite a bit, which is why they were given those second interviews. Who gets the job is now the question. Here are some pros and cons about both men with my prediction on who will lead the Cubs in 2020.
Joe Espada:
An unknown to maybe some fans before the managerial search began, Espada's stock is quickly rising as he thoroughly impressed Theo in both of his interviews. Currently, the Houston Astros bench coach, Espada, has also spent time in the Yankees front office while also holding multiple positions in the Astros organization. Those two teams alone have given him an idea of how to win, which is something the Cubs are considering moving forward.
In terms of the pros regarding Espada, all you must do is look at his role with the Astros right now. Not only is he part of what many call the model franchise in baseball now, but he is next in line behind manager A.J. Hinch meaning he has his hands-on things daily. In a way, bench coaches can be looked at as second managers because they are being groomed to get their own job someday.
Another pro is that he has front office experience with perhaps the most successful franchise in MLB history. Working in the front office with any organization is a huge step, but working for the Yankees now that is a significant plus. Espada knows what it takes to build and sustain a winner and doesn't have a losing attitude in his DNA.
Espada has also held various positions with the Astros, meaning he can be extremely hands-on with current players. Not only would he oversee everything as a coach, but he would be able to help the rest of his staff perform tasks as he has held different jobs. One of the biggest things the Cubs are looking for is accountability, which he certainly would bring.
The final pro for Espada is his work with the Hispanic player community. It is no secret that the Cubs have not had a manager that can speak the Spanish language fluently. Sometimes it is hard to get on the same page with someone of that language if the barrier is too fine. Espada will not have that problem and would immediately get alone great with those who use Spanish as a first language.
With every pro, there is also a con, and Espada does come with some. The first and most obvious negative is he has zero MLB managing experience. Granted, when you look at the Managers in the playoffs this season, almost all of them had zero managing experience before hooking up with their current teams, so that is not necessarily as important as some may think. However, given the pressure the Cubs put on their organization, it may be a little much for someone with no experience to handle.
Another con facing the Cubs in terms of Espada is that he is such a highly demanded candidate for many organizations. Not only has he interviewed with the Cubs, but with the Giants also and may have others down the road. For him to sign with anyone, the world series must be finished. The only problem is, the longer he goes unsigned, the better chance of the Cubs not getting him as he will continue to grab interviews.
The final con I see with Espada is something he has no control over, and that would be expectations. The Cubs have great expectations for their new manager, given the current run of success they are in. However, considering Espada has been part of an excellent Houston team, his expectations may be the highest among all candidates as the Cubs may want him to win 95 games from the day he walks in. That doesn't seem realistic to me, and we need to walk a fine line about what to expect from him early on.
Switching over to fan-favorite David Ross:
You hear plenty of arguments on both sides as to why or why not he should get the Cubs job. Much like Espada, Ross is a great candidate for this team and comes with plenty of pros as well as cons. Here is why I think Ross makes a good fit for this team.
He knows this organization inside and out: Not only was Ross, a player on this world series team, but he has also been a part of the Cubs front office the past two seasons, so he knows this organization inside and out. They have been preparing him for a manager role behind the scenes, and this may be his gig of choice.
Ross also knows this roster as a large chunk of it remains intact from 2016. When part of that team as a player, Ross knew exactly what buttons to push or when to get on top of his teammates to bring out the best in them that season. He will have no trouble doing that again as a manager.
The second pro for Ross is a benefit for the Cubs, and that is Cost. It is no secret that Theo doesn't want to be elite money for a Manager given how Maddon was making six million a season. Ross, will not come close to that and could probably be had for real cheap, maybe two million at max. That leaves more money to field Ross the best coaching staff and players possible to make things easier for him in terms of transition.
A third pro is that Ross is a former catcher. You may wonder why that is a pro, but if you look at the facts, people tend to say catchers make the best managers. Look at the playoffs this season. Hinch, Kevin Cash of the Rays were former catchers, and they led their teams to 96 wins or more this season. Maddon was also a former catcher and look at the success he had with the Cubs.
For some reason, catchers are very successful as managers because they have seen the game a different way than most. Not to mention catching games gives them a better feel for what pitchers like to do, meaning Ross should be able to work with and relate to the pitchers on the staff to help them reach their potential.
The final pro I have for Ross is that everyone in the organization embraces and adores him. I am not talking just the players, but the front office also does, which is why they have kept him part of this team in some capacity. Many players, including his former Boston Red Sox teammates, had often said he would make a great manager and looked at him as a manager when he played. He has the respect of a lot of people and maybe what the Cubs need going forward.
With every good pro comes a con for Ross too, as no managerial candidate is perfect. The question is, can the Cubs see past his flaws when it comes time to make their decision.
The first con is right there with Espada in terms of no experience. Ross is just 43 years old and has no managerial experience. Furthermore, he has never been a coach at the big-league level, meaning he has less experience than Espada. Granted, many viewed him as a second coach when he was playing, but that is nowhere near the same thing as actually being a coach.
The second con can be looked as a pro and con as he is friends with a lot of players on this team. Why that can be looked at as a good thing is because he knows what these players do well and what they don't do well. He also knows what buttons to push to motivate them and isn't afraid to get in their face to challenge them.
Some people also see this as a con because they don't think you can be a boss if your friends with people. What that means is they don't think the players will respect Ross as a manager since most of them still consider him a friend. Should Ross come in and not get the respect he is owed, it will be a disaster from the start, and he will be gone within two seasons.
A third con I see is his current position at ESPN. It is no secret that Ross has a cushy job with ESPN and has the freedom to so many more things. He also has tons more time to spend at home with his small children, which is something he won't be able to do as a manager. I know Ross has the itch to get back into the game as a manager. The question is, how bad is that itch?
The fourth and final con I see with Ross is more on the organization. I feel that this job is his to have if he wants it bad enough. As much as I love Ross, should he not be the right candidate, I still feel he would get this job if he shows he wants it bad enough. To me, that would be taking the easy way out, but I am not the front office, and I don't make those decisions.
Prediction David Ross:
I have said it since Maddon was let go that Ross would be managing the Cubs in 2020. I didn't think it would take this long to announce that, however, as I knew nothing about Espada at the time until he started to generate interest from the Cubs. For me, it only makes sense for Ross to be the replacement of Maddon, given his current role with the team and the role he played in 2016.
The team respects him more than anyone in that organization, and he helped keep them together during their playoff run. Not to mention, he was also the first one to get on those same players and hold them accountable that season, which is something the Cubs desperately need going forward. There is a reason Ross has been with the Cubs front office the past few seasons as they have been grooming him for a manager role. However, it hasn't been any role they are grooming him for.
The Cubs' role is what their plan for him all along is, and I feel it is only a matter of time until he is announced new skipper for the Cubs. The players endorse him, former players and coaches support him as a manager, the fans love him and always wanted him back, and most importantly, the front office loves and respects everything about him as a person, player, and probably next manager.