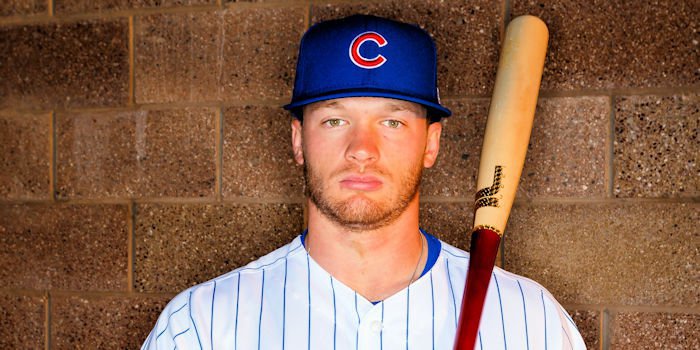 | | |
| --- | --- |
| Commentary: Happ should start over Heyward | |
---
Since the departure of Dexter Fowler, the Cubs have struggled to find a consistent bat to sit atop the order. Going into the 2018 season, I see four logical choices with Ian Happ, Albert Almora Jr., Kyle Schwarber, or Jason Heyward. Some have said that Kris Bryant would be another quality choice to leadoff but having him hit second gives him more RBI chances, resulting in more fun for one of the best offenses in baseball.
Ian Happ was a pleasant surprise to Cubs fans last year, belting 24 home runs in just 364 at-bats. He's shown his ability to cover the field as well, making him that much more attractive to crack the starting nine on a daily basis. The most prominent flaw that comes with Happ hitting leadoff is his astronomical strikeout rate and his low walk rate from 2017. He struck out during 32% of his plate appearances last year while only drawing a walk 9.7% of the time. A leadoff man needs to be one of your most disciplined hitters, and I just didn't see it out of him last year. On the contrary, Happ has had the spring of his life, hitting .341 with six long balls so far. Granted he's faced a combination of aces and minor league duds, his strikeout rate has dropped, and his walk rate has gone up, both positives heading into his sophomore season.
Albert Almora Jr. has amazed Cubs fans with his glove for the last year and a half, and I would expect more of the same from him in 2018. Last season he hit .298 but was lacking in the power department, with just eight home runs in his 2017 campaign. Consistency has been key for Almora Jr. though. While his 2016 season was a small sample size, he still hit .277 through 47 games at the major league level. While he has had a rough spring to date, I'm not worried that he won't find his stride once March 30th rolls around. The one knock that comes against Almora Jr. leading off is the desire to develop his bat. At just 23 years old, he only has 440 plate appearances at the major league level under his belt. Joe Maddon may choose to keep Almora towards the bottom of the order to allow him to develop quicker as a hitter by seeing better pitches. His low strikeout rate paired with his consistently high average makes Albert Almora another great candidate to leadoff in the future.
I'll say it. Kyle Schwarber was an absolute bust hitting leadoff last season. 2017 never got the chance to see a skinny Schwarber lead off though. His transformation this offseason was well documented, and it has shown with his FOUR stolen bases this spring. There were doubts about his power since slimming down, but this spring he has shut down any questions about that as well. Schwarber is a safe bet for another year of at least 30 home runs and does an exceptional job seeing the ball and drawing walks. His batting average is the only thing holding him back from owning the title of leadoff man. He hit an abysmal .211 last season and was well below .200 before being sent to Iowa. I'm willing to bet he bounces back, and we will get to see the best version of Kyle Schwarber yet in 2018.
If it were 2015, there would be no debate, and Jason Heyward would be leading off for the Cubs. Unfortunately, that version of J-Hey seemed to have stayed in St. Louis. The best thing about Heyward at the plate for the last two years is his strikeout rate. For his career, his strikeout rate is 17.6% and his two years with the Cubs have been better, sitting around 15%. Much like I am with Schwarber, I'm a firm believer that Heyward will continue to improve and rebound from his previous two seasons. The downside here is his past two seasons have been preceded by poor performances at spring training. This year is no different, with him hitting a mere .206. If Heyward can return to the hitter he was in Atlanta and St. Louis; there's a strong argument for him leading off. Heyward will have to prove his worth before he captures the leadoff spot and quite frankly, even before he seizes a starting spot.
If I'm Joe Maddon, Ian Happ is my go-to leadoff man. He's earned it this spring. He could very well hit .275 with 30+ home runs in 2018 and improve his ability to get on base. He should be in right field alongside Almora and Schwarber. I think Maddon will find Schwarber more useful hitting out of the five spot this year behind Wilson Contreras, giving him a shot at a 100 RBI season. Almora is tough for anyone to figure out. He could easily be hitting leadoff by the end of the year, or he could be sitting in the eight spot, getting more quality at-bats. But one thing is for sure, Ian Happ has earned the role of an everyday player, and should leadoff in 2018.
My Opening Day Lineup:
Ian Happ RF
Kris Bryant 3B
Wilson Contreras C
Kyle Schwarber LF
Addison Russell SS
Albert Almora CF
Javy Baez 2B
Who would you start if you had 1 outfield spot?

— CubsHQ (@ChicagoCubsHQ) March 25, 2018

Upgrade Your Account
Unlock premium boards and exclusive features (e.g. ad-free) by upgrading your account today.
Upgrade Now