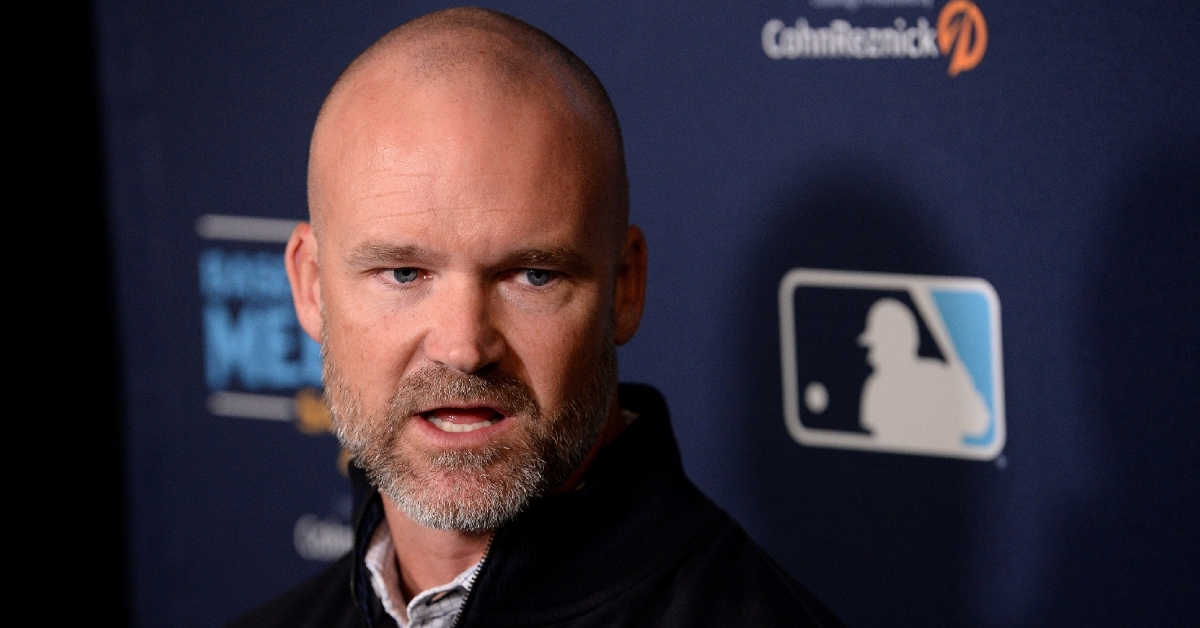 | | |
| --- | --- |
| Commentary: If Cubs win in 2020, you can thank David Ross | |
---
| | | |
| --- | --- | --- |
| Sunday, January 19, 2020, 12:39 PM | | |
With the 2020 Cubs Convention now in the books, the next landmark is Spring Training. Theo Epstein, Jed Hoyer, and Tom Ricketts all seemed to spread the same message this weekend: we probably aren't signing anyone of note, and we're going with the status quo.
For the last two seasons, the status quo has meant minimal action in the free agent and trade markets, along with early exits from the playoffs – that is, if they made the playoffs. Status quo was the theme for 108 years, and now we've added two -arguably three – years to that. Nobody wants the status quo anymore after winning it all in 2016.
Too much happened this weekend to mellow the mood.
Jed Hoyer said that the Cubs may be past the window to sign the core players to extensions. Javier Baez didn't get the extension ironed out that the Cubs had promised would be their primary objective, and Anthony Rizzo said he thinks players were smart for not signing team-friendly extensions. The lack of a decision on Kris Bryant's grievance loomed heavily over the convention, and illness kept KB from even speaking about it.
From the upper levels of the Cubs, the highpoint of the convention seemed to be Tom Ricketts' fully unveiling the new Marquee Sports Network, but even that was met with boos and remains somewhat ambiguous. Several deals are supposed to be in the process of being finalized, but that leaves little confidence for hundreds of thousands of fans who still have no answers with a month to go (on Comcast, etc) before the network hits the air.
David Ross? His message was clear: Damn the torpedoes, full steam ahead.
Ross fired up the crowd when he walked into a standing ovation and took the stage with his coaching staff for the coaching panel. He sang nothing but praise for his new coaching staff, and in turn, they sang nothing but praise about Rossy and the Cubs. Ross brought humor to the panel while maintaining an upbeat attitude about his job, his team, and the 2020 season.
Ross makes no bones about it – he's going to depend on his coaching staff as he navigates his first 162 games (and maybe beyond) as a manager, and people will be held accountable for their actions.
Ross now needs to transfer that upbeat message and his momentum to a clubhouse that has so many questions about the future hanging over their heads. One day at a time may be the key, as the Cubs immerse themselves into a new era without the laissez fares attitude that Joe Maddon infused into the clubhouse, the roster, and the game for the last half-decade.
While Rossy is quick to point out some of that he'll "piggyback" some of Maddon's ways, he also says that he'll be doing a lot of things differently. Ross seems to keep that part of the story to himself, though, perhaps out of respect for his former manager, but it won't be long until payers and fans alike see what differences David may bring to the table.
Little doubt remains that Maddon's constant rotation and bullpen shuffles cost the Cubs many a game, and one can only hope that the word consistency is part of the accountability factor.
The Cubs still haven't found their leadoff man for 2020 – which is something that Ross admits – but I have a feeling that it won't be "one and done" if a newcomer to the position fails to produce on his first attempt. Ross seemed to have some confidence that either Rizzo or Kyle Schwarber could handle the job, and it sounded like maybe he had some hope for Jason Heyward to resurrect himself.
There's no shame in admitting that you're new and need to learn, but Rossy has bridged that gap by surrounding himself with guys who do know – guys who've already been there. You can expect to see Rossy rely heavily on bench coach Andy Green, in part due to Green's managerial experience in San Diego, in part because of their relation as friends and former teammates while on a rehab assignment together in Louisville. Never mind Green's 274-366 record with the Padres, that team has been undergoing an annual rebuild for the last handful of years.
Re-instilling confidence will be necessary to win, but Ross will also have to figure out how to downplay the questions and atmosphere surrounding Kris Bryant's service time grievance. An answer in that matter should come soon, but the questions regarding KB being traded may continue for a while yet. The excellent news for KB fans is that with each passing day, the likelihood of Bryant being on the roster come Opening Day increases, but brace yourselves, as his name will begin floating again before the July trade deadline.
To start the season, Ross would be wise to play around with other options at third base, because if and when the Cubs trade Bryant, their highly unlikely to receive MLB ready players – that is, unless KB goes to Atlanta, with the Cubs receiving Austin Riley as part of the return package.
I've said it 100 times, and I'll say it 100 more: This team, as it is right now, can win, but they've got to set aside the things that linger. They have to move past their shortcomings of 2018 and 2019, they have to move past the Maddon Era, and they have to put the thought of their next contracts aside. The focus needs to be on letting Ross lead, the 2020 season, and winning, to increase their chances of staying together beyond 2021.
If the Cubs have any chance of being successful in 2020 and beyond, David Ross is going to be the saving grace.