| | |
| --- | --- |
| Commentary: Is 2019 the end for Joe Maddon? | |
---
| | | |
| --- | --- | --- |
| Monday, November 26, 2018, 10:15 AM | | |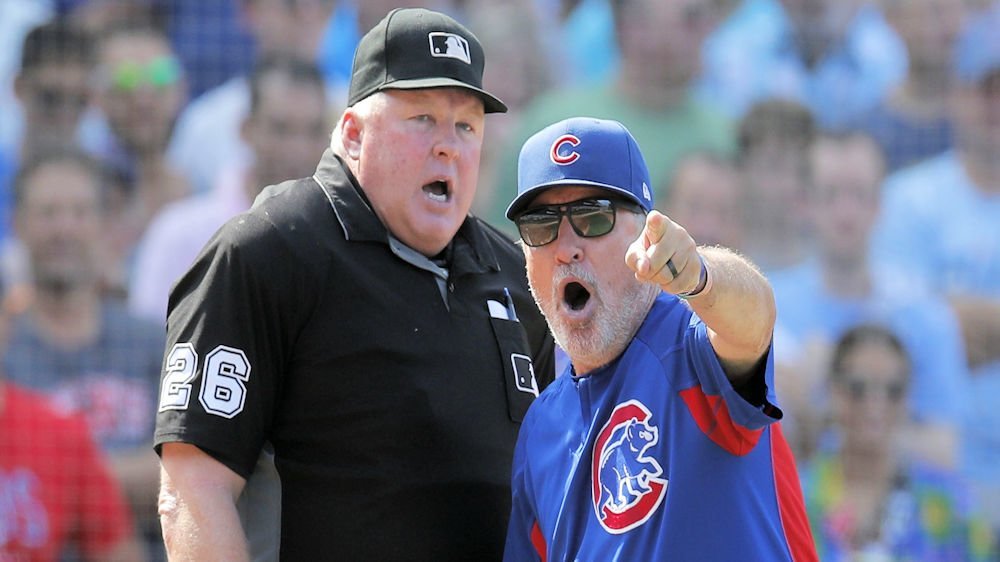 " Joe Maddon is a lame duck manager." "Joe Girardi may have passed on the manager's job in Cincinnati in anticipation of getting offered a job in Chicago next year." "By hiring John Farrell as the Cubs' pitching coach, the Cubs may have a manager-in-waiting." All of those are statements that I've seen in the last week.
What is it about Joe Maddon that has people, and perhaps ownership, feeling that Joe's job may be done in Chicago following the 2019 season?
Maddon's accomplishments in Chicago have been undeniable: Two NLCS appearances, a wild-card appearance, and a World Series championship since he took over in 2015. Four post-seasons in four years for Maddon's Cubs, and if you want to know about the teams previous four post-season spots, you'd have to look back literally a quarter-century.
While Maddon seems to have a different style of managing, there's little doubt that it works- at least most of the time. Since 2015, the Cubs have managed a 387-261 (.597) record.
The chief complaints against Big Joe seem to be the insanely high amount of batting orders that he used in 2018 (152 different lineups in 163 games- 160 if you factor in the individual pitchers), and what many deem as "mismanagement" of his starters and bullpen.
I like Maddon, and I (initially) applauded his mindset to "mix things up," but 152 different batting orders? One order was used a total of five times (not counting the pitcher) and three other orders were used twice each- that's it for continuity. Certainly, matchups play some part in designing your lineup and batting order, but when it throws the players off kilter, it's time to settle into a routine. By the end of the season, even Theo Epstein was starting to become concerned, as players were beginning to complain.
When it comes to the starters and bullpen, most would agree that there were times when starters came out too soon, and relievers were left in too long. I'm not complaining about Maddon pulling Hendricks in the ninth, although I think Kyle could have gotten a complete game out of that, rather it concerns me when Quintana (or the like) is pitching solidly and gets pulled in the fourth for a six-man bullpen effort.
I think Jesse Chavez was pulled way too soon in a lot of instances, and that Brandon Kintzler was often misused. Kintzler was a guy that had only inherited something like nineteen men on base all season before joining the Cubs, and he was thrust, time and time again, into dirty innings. I'm not arguing that a reliever should be able to handle whatever situation he inherits, but would it not have been better to use a guy more adapted to pitching out of jams?
I tend to believe that while on-field, managerial decisions by Maddon may play a role in his contract not being extended, the more significant deciding factor may have to do with money. Clubs seem to be moving away from the high-dollar managerial contracts, and Maddon ranks right up there for the highest paid ($6M for 2018), tied with Mike Scioscia (LAA) and Bruce Bochy (SFG). The bottom of the pay-scale saw interim manager Jim Riggleman (CIN) and the Cardinals Mike Shildt earning $700k (prorated) last year, while Alex Cora (BOS) made a relatively low salary of $800k for 2018.
I tend to believe upper-management and ownership are going to reign Maddon in for 2019, and I'd expect to see more continuity with the batting orders. Managing the starters and bullpen more effectively is more of a judgment call, but perhaps a new pitching coach will help to level that out.
I've speculated that anything short of an NLCS title and perhaps even anything short of another World Series win, may spell the end for Maddon's time in Chicago, but even those may not help, as Big Joe may have priced himself right out of the organization.