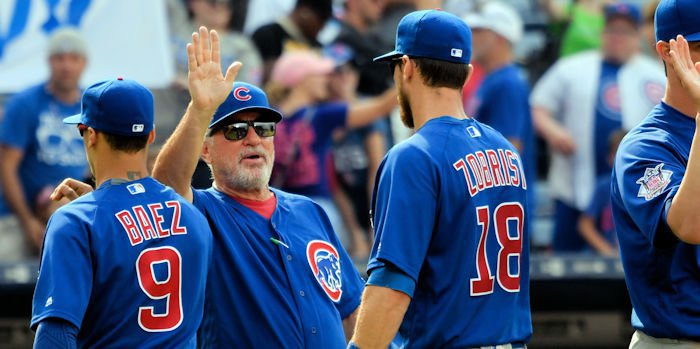 | | |
| --- | --- |
| Commentary: Is Joe Maddon crazy or a mad genius? | |
---
CHICAGO -- When I watched baseball, as a little girl, I remember Billy Martin, the manager for the New York Yankees. He was always getting thrown out of the game because of his infamous temper. I assumed growing up; he was as hard on his players as he was the umpires. To me, that's how a manager did his job, not like the manager's in the movies like "Bull Durham" or "Major League." Then in 2015, Chicago was introduced to its new manager of the Cubs.
Joe Maddon is a unique individual as some people think he's crazy and some people think he's a genius. I call him a "Guru."
When Joe Maddon became the manager in November 2014, the Cubs finished with a record of 73-89, .451 and landing in fifth place. They needed help, but that was nothing unique. Theo Epstein had put together the players, and now it was time for Maddon to work his magic, and he was up to the challenge.
The thing about Maddon is he doesn't treat the guys as just players to be coached. It's like they're all one big family and Joe Maddon is the father. In any interview, he refers to the players as his boys, which must make the players feel more than just "team comradery." Then there are his ways to make road trips, more fun and less stressful. Players can often become too caught up in their swing or pitch, stressing them out and end up not doing as well. So Maddon came up with themed road trips. He had done this when he was managing Tampa Bay. It's kind of like Halloween for baseball players. Maddon chooses a theme, and then everyone dresses up in something fitting the theme. Just recently, the players dressed as the main characters in the Anchorman movie. If you haven't seen the movie, look it up to get an idea what the guys looked like.
Joe Maddon also likes to mix up the players that are on the field too. Some he doesn't mess with, so then he just puts someone in their place. If the opposite team thinks they have the Cubs lineup figured out, guess again. It might start out one way, but if it's not working, Maddon will pull someone which shakes things up.
Then there are the slogans or quotes, he comes up with, which are referred to as Maddon-isms. These get everyone involved: players, front office, and fans. In 2015, it was, "Don't ever let the pressure exceed the pleasure." What a great quote; it can be applied to just about anything in life. The Cubs listened though, and for the first time in a very long time, they played cohesively. They made it into the playoffs with a regular season record of 97-65 and in third place, in the NL Central Division. They went as far as playing against the New York Mets for the NLCS, but lost 4-0. Joe Maddon knew his unique managerial style was hitting home with the Cubs.
Joe Maddon with all his mixing of players and themed road trips and memorable quotes, did what some called impossible, helped bring the 2016 World Series to the Chicago Cubs after 108 years. Joe Maddon is a manager, a genius, a crazy person and the Cubs Guru. #EverybodyIn

Upgrade Your Account
Unlock premium boards and exclusive features (e.g. ad-free) by upgrading your account today.
Upgrade Now