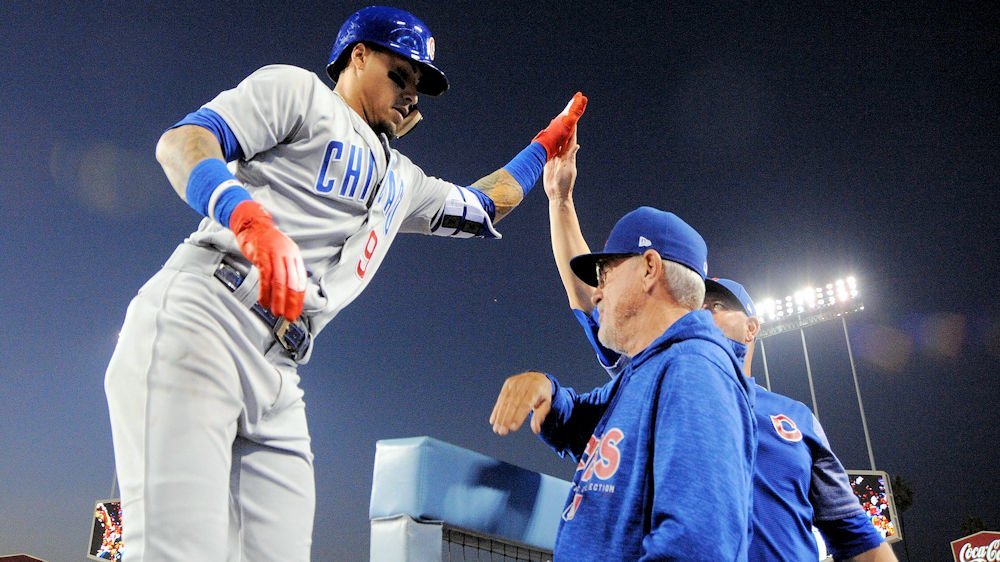 | | |
| --- | --- |
| Commentary: Is this the start of something better? | |
---
There is no way of knowing how the rest of the season will play out until it does, but for these eyes, last night was a turning point for the 2018 Cubs.
For the past week, this team has looked tired, lost, uninterested, and confused on the field. They certainly did not look like a top-tier club that could go all the way to the World Series and bring home their second title in three years.
With the exception of Albert Almora Jr., Javy Baez, and Jason Heyward, the whole team has been in a collective funk, especially with runners in scoring positions. The Dodgers announcers pointed out that over the past two weeks the Cubs are setting records for striking out in these situations. The team can't even hit a fly ball for goodness sakes.
As a fan, it has been painful to watch these guys every night as they struggle to find a rhythm that will carry them forward. While the starting pitching has been more or less decent enough, with a couple of notable exceptions, the bullpen has really struggled as half the guys are on the DL, one has been moved to a starting role, and the rest are moved in and out of the roster daily. Hitting has been a mess and defense has been scattered.
So, you can see why I'm optimistic based on last night's game.
Here is the thing I saw that filled me with hope last night. For five innings it was more of the same old same old. Solid starting pitching and no hitting with terrible at-bats and an inability to move runners along. But then it was like a lightbulb switched on and suddenly this team looked like a winner again.
Forget the home runs and focus on the bunting for a hit, moving a runner along, taking a walk, hustling down the line, hitting a sacrifice fly, and all the other little things they did to take the lead and then extend it to a well-needed win.
This is what a great ballclub does to win a pennant and the Cubs, maybe for one night or maybe going forward, looked like a great ballclub last night.
If they make it back to the NLCS and World Series, last night will be the turning point of the season in my mind. They proved to themselves that they remembered how to win and how to stomp on the neck of the other team when taking the lead.

Upgrade Your Account
Unlock premium boards and exclusive features (e.g. ad-free) by upgrading your account today.
Upgrade Now