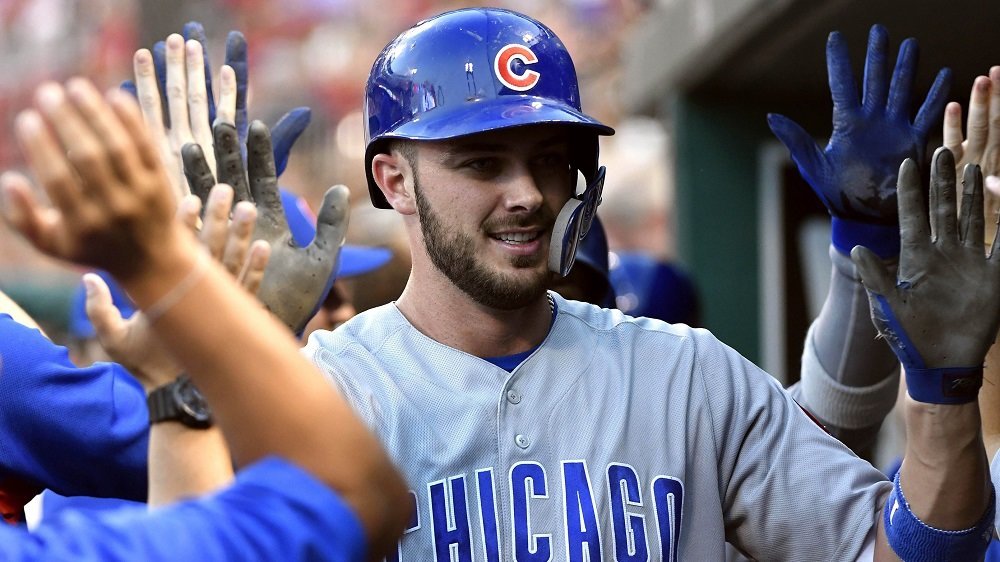 | | |
| --- | --- |
| Commentary: Keep Kris Bryant in three-hole with Cubs | |
---
| | | |
| --- | --- | --- |
| Wednesday, July 24, 2019, 10:13 AM | | |
Back on July 2nd, I talked with Mike Bryant ( Kris Bryant's dad) about where he would like to see his son bat in Joe Maddon's lineup.
Without hesitation, Mr. Bryant raves about his son in the three-hole. The following day Bryant received an off day, and somehow Joe Maddon must have listened to the Cubs Corner podcast because Bryant was slotted in the three-hole on the 4th of July, sandwiched between Javier Baez and Anthony Rizzo.
Bryant smacked a homer in his first at-bat and fell a triple away from the cycle, tallying four hits in the three-hole.
Yesterday marked the 14th consecutive time Bryant has received a start in the three-hole, and he has reached base in all 14 games. Yesterday the former MVP went 3-6, with a double, two RBIs and a run scored. KB is 20-53 including yesterday which equates to a .377 batting average. Bryant has also earned a .476 on-base percentage since the lineup change. His slugging percentage is .717, which levels out to a whopping 1.193 OPS. Not only that, but Bryant has blasted four homers, driven in seven runs, and came around to score 15 times.
Bryant has returned to his MVP caliber self this year has paid dividends to the team, already with 4.0 wins above replacement this season according to fan graphs, which ranks eighth in the MLB and third in the NL.
The three-time all-star is putting up numbers similar to that of his MVP campaign. It looks like he may fall short in home runs and RBIs, but he is right there if not better in terms of hits, batting average, on-base percentage, slugging percentage, OPS, runs, doubles and strikeout percentage.
However, Bryant's immense success is flying under the radar in part to the Cubs not being quite where they'd like, and Cody Bellinger, Christian Yelich and Josh Bell having historic seasons to jam pack the MVP race without Bryant's name currently in it.
Though in talking with his dad two things are clear, Kris expects to put up those historical kinds of numbers, and he likes to do so under the radar.
Sahadev Sharma of the athletic wrote of how tough Bryant is on himself, and how good he believes he can be- confirming what his father told me.
Growing up in Vegas, Mike Bryant told me on the Cubs Corner Podcast that Kris always lived in Bryce Harper's shadow...but it is clear there is nothing Harper does that Bryant can not do, or potentially do better.
Since the shift in lineup spot, the Cubs are also 9-5 which could be coincidence or have to do with one of their best players hitting in a place where he can do more damage. The Cubs have also scored 5.2 runs per game when Bryant is in the three-hole.
Moving forward, this seems to be the best spot in the lineup for Bryant. Baez, Bryant, and Rizzo are all hot as of late and represent one of the most dangerous 2-3-4 combos in all of baseball. Just imagine how much more lethal this team would be with a leadoff hitter to set the table more consistently for those three perennial MVP candidates plus all-star Willson Contreras upon his return from the IL this week.
Kris Bryant has been steadily getting better all year long, and with a recent switch in the batting order, Bryant's elite talent is turning into peak performance for the Cubs here in 2019.