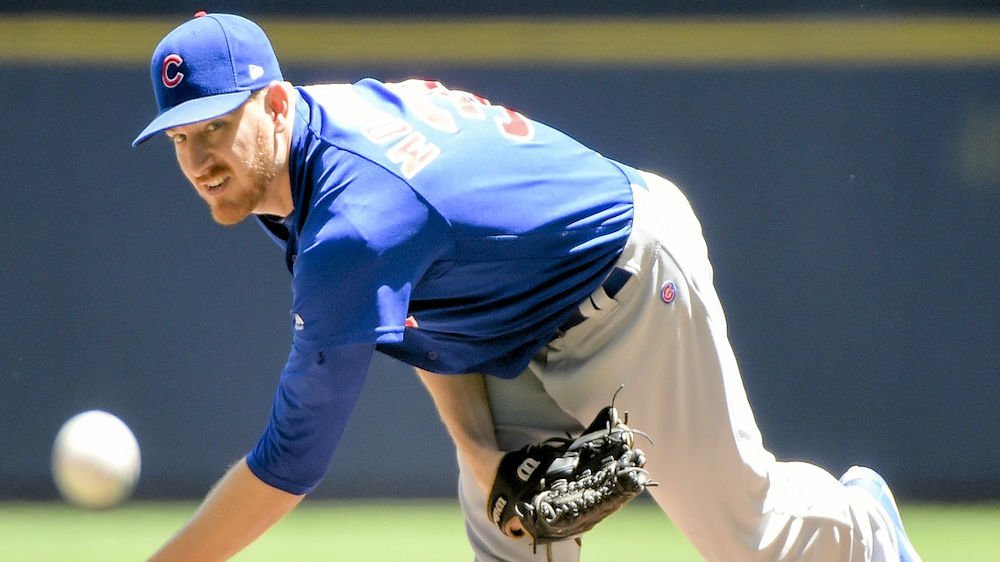 | | |
| --- | --- |
| Commentary: Keep Mike Montgomery in starting rotation | |
---
Joe Maddon has already said it: "No six-man starting rotation." With Darvish's impending return date looming ever closer, the question flooding social media is "What about Mike Montgomery?"
There is no denying the fact that Mike Montgomery has risen above and beyond all expectations, since he was pulled from the bullpen to fill in for a seemingly perpetually ill/injured Yu Darvish. His 2-2 record and 3.11 ERA over five starts this season are not truly indicative of the job that Monty has done since joining the rotation. An ailing offense that leaves runners stranded in multiples of ten as of late has failed to provide the necessary run support to cover those few runs per nine innings that Montgomery does give up.
Let's not forget, Montgomery has been a starter before- in fact; he has 42 starts dating back to the 2015 season- which means that just about one-third of his career appearances have been starts. If that's not enough, during his time with Seattle (2015), two of his 16 starts resulted in complete games.
With the wheels falling off of the starting rotation, the Cubs need to field their best nine, and even more importantly, their best starters. Lester has been a machine this year, and Hendricks is just now, somewhat recovering after a few rough starts. Quintana, while quietly consistent, has been somewhat lackluster. Meanwhile, by the time the All-Star break rolls around, Darvish will have been out more than he's been in, and probably most painful of all, are Chatwood's issues.
Without a doubt, Lester, Hendricks, and Quintana will remain fixtures in the starting rotation, leaving either Darvish or Chatwood out, if Montgomery is going to stay in. I've yet to see a start out of Monty this season that hasn't outshined Darvish's best effort, and Montgomery's worst start of the season (if you had to pick one) has looked exponentially better than Chatwood's best start. If the thought of removing Montgomery from the rotation after his performances as a starter this season isn't painful enough, take into consideration that the kid is only earning $611,000.00 this year (No typo there…six-hundred-eleven-thousand dollars & 00/100), compared to Darvish's 21M and Chatwood's 12.67M.
The bullpen isn't faring much better than the starting rotation these days, which is about the only argument that could be made for Montgomery returning to it. Thankfully Farrell, Bass, Cishek, Mazzoni, and Hancock (when he's invited to town) are holding their own. Rosario was hammered by the Reds on Friday, Saturday was Duensing's turn to get rocked in Cincinnati, followed by Strop getting blasted there on Sunday. With the sole exception of his diving catch on a pop-bunt the other day, Justin Wilson has struggled as of late, despite a modest 2.93 ERA. Edwards Jr. is on the DL for right shoulder inflammation, Zastryzny is now out with lower back tightness, and Brandon Morrow has somehow hurt himself while taking off a pair of pants (guess you could say that Morrow has joined the "bottomless" pit of injuries…). Not many high spots lately for a bullpen, that just a handful of weeks ago, boasted the lowest ERA in baseball. Back to the starters though.
While the Cubs are still nine games over .500 (for the time being), they better get the ambiguity surrounding the starting rotation in order. This isn't little-league; you don't get to play just because you're on the team. I'm not sure that Lester, Hendricks or Quintana would benefit from a six-day rotation as I'm quite confident that the Cubs will not benefit from the removal of Montgomery from the starting position.

Upgrade Your Account
Unlock premium boards and exclusive features (e.g. ad-free) by upgrading your account today.
Upgrade Now