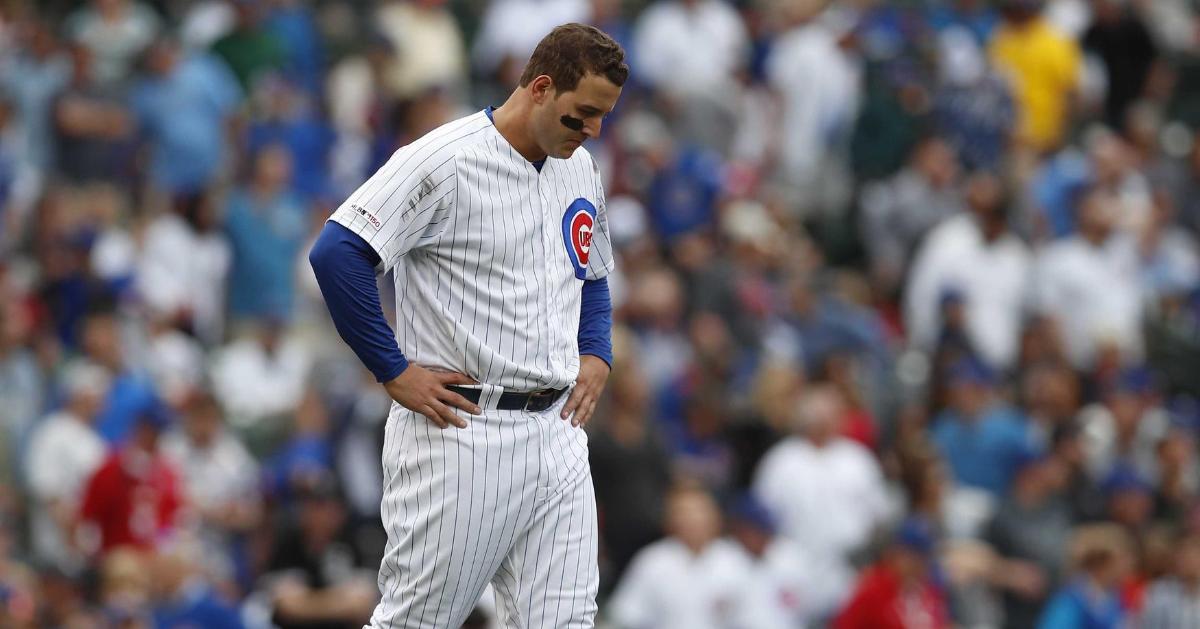 | | |
| --- | --- |
| Commentary: More excuses than wins | |
---
| | | |
| --- | --- | --- |
| Thursday, July 4, 2019, 10:12 AM | | |
As the Cubs are limping into the All-Star break, social media is aflame with reasons why the team is struggling and with a myriad of suggestions of what they should do to fix them. Both sides of this have been written about and analyzed ad nauseam here and elsewhere for weeks now.
The fans can see what is wrong just as clearly as the front office. You do not have to be baseball savant to know this team has a couple of severe flaws that need to be addressed during the break and before the trading deadline.
One of the more recent excuses is that the Cubs schedule so far this season has just taken too much out of them and they need the three days to get their wind back. Fans and media point out that the Cubs will have played 63 games in 68 days in May, June, and July up to the break. This schedule, they say, is just brutal for players.
For reference, I looked at the schedule of the first place teams in the national league for the same period. Milwaukee 60/68, Atlanta 62/68, Los Angeles 61/68, and for kicks Cleveland 60/68 and the New York Yankees 61/68 including a two-game series in London, England.
The bottom line here is that all teams have a crazy schedule, and, unlike other sports, most teams are flying all across the country to do so. More importantly, these are physically fit, prime of life athletes, that pride themselves in taking care of their bodies. They fly charter airplanes in first-class conditions. They are not the fat-bellied players of yesterday who traveled by train or bus to get around, smoking and drinking until all hours of the morning and playing all day games.
Among the other reasons mentioned are injuries to key players. Every team can say the same thing. The weak bullpen, again 29 other teams are looking for help here too. Poor hitting with RISP is a problem but not an excuse. I could go on and on, but you get the idea.
One fact that contributes to the situational hitting issues is, like most teams today, the Cubs have only three bench players because their pitching is so horrible they need as many arms as possible in the pen to keep running guys out there until they find one that can get someone out.
Here is a solution MLB, add another player to the major league roster and make him be a position player. I'm pretty sure the union will agree to this.
Look, it's up to each player to figure out how to get his job done. As Joe Maddon said before last night's game in Pittsburgh, "You talk, talk, talk, and then at some point they just have to start getting it done," Maddon said late Monday night after watching the Cubs give up 18 runs and 23 hits during an ugly loss to the Pittsburgh Pirates.
"Those have been very glaring, absolutely," he said. I absolutely agree with him on that.
We have heard a truckload of excuses every year since 2016 as to why the Cubs are underachieving, and you know what, enough is enough. I don't care about who has personal issues, or who is playing hurt, or why this guy can't bunt, or how his agent won't let us have him sacrifice a player over.
The paying fans deserve to see a better quality of baseball played by this overrated team. As highly paid professionals there is no reason you can't move players along, or get guys out, throw to the right base, or do the 500 hundred little things they aren't doing right now.
I'm holding the number one guy responsible for this mess to fix it. Theo, you better figure out fast who stays and who goes and be right, or you might be looking for a new job along with Jed and Joe.