| | |
| --- | --- |
| Commentary: My four Cubs players to start a team | |
---
| | | |
| --- | --- | --- |
| Saturday, October 27, 2018, 12:07 PM | | |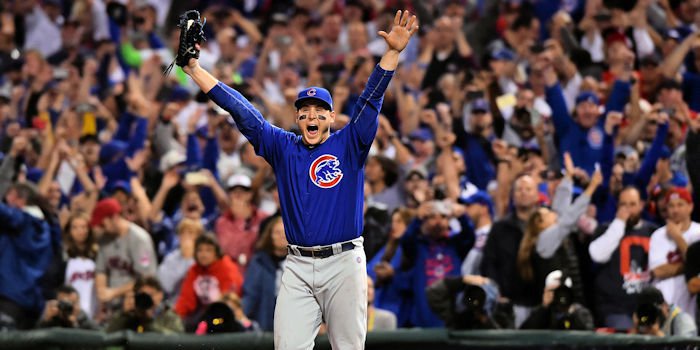 Recently we were asked, well that isn't precisely true, asked infers that we had a choice. Recently we were assigned the task of completely tearing apart the Cubs current roster and starting over from scratch with the caveat that you could keep four players as your core.
If I were doing this maybe ten years ago, I would have a completely different reference point for starting a team. The game was completely different then, and teams looked for a different type of ballplayer than they are looking for today.
Today it is all about launch angle, home runs, and power. For me, baseball is still baseball, and there are just some basic things that never change. You still have to score more runs than the other team. You still have to get 27 outs. And you still have to be able to spit. A lot. For no apparent reason.
With all that said, here is my core four and my reasons for selecting them.
Anthony Rizzo. Every team needs a leader, and there is no one on this team that has more leadership qualities than Rizzo. He is the first guy to defend other players and has shown that he can motivate others during the game, which is a real talent. He also knows when to lighten up and have fun and keeping a team loose and focused is a skill that few have, and he has it.
Talent wise he is as good as it gets. He is a yearly Gold Glove finalist at first base, and he saves his infield many errors each season with his skill at snagging errant throws. There are some games he makes Tony Esposito cry with his ability to block balls.
For me, his most significant contribution is his clutch hitting. There is no one on the team I would rather see come up in a big situation than him. He has consistently come through with a critical hit season after season and frankly, he has an approach at the plate that everyone else in baseball should emulate. Choke up and be short and compact to the ball. He easily leads my list.
Albert Almora Jr. I have said many times that when he is done playing he will be one of the top Cubs centerfielders of all time. Defensively he may be the best centerfielder in the National League. He has great speed, he has a strong arm, and he is accurate with his throws, but it is his path to the baseball that makes him a standout outfielder. Having the innate ability to go to where the ball is going cannot be taught, it is god given, and there are only a few that have it. His Statcast metrics on highlight catches is crazy good. He has more 95%+ angles than anyone I've seen in quite a while.
Until Joe Maddon benched him for a month to play his wine tasting pal, Ian Happ, Almora was one of the best hitters on the team. As it was, he finished with a .286 BA and had the fifth most at-bats this season. He can hit when he gets to play every day. The knock against him is he doesn't have the power of others and I say so what. This team had plenty of guys who can hit home runs. You play him for his defense and his ability to get on base which by the way was seventh on the team for guys with at least 400 AB's.
Willson Contreras. One of the oldest sayings in baseball is teams need to be strong up the middle, and that is why Almora and Contreras are on this list. Teams have to change their game plans when playing the Cubs when he is behind the plate. He easily has the strongest arm in baseball for catchers, and when he figures out how to control his hair on fire playing, he will be an exceptional catcher. He helps his pitchers so much by picking guys off base that it has almost come to be expected when a guy gets on.
Many catchers see their hitting suffer as the season goes along because of injury or soreness or just being plain old tired and he is no different. If the Cubs could find someone that could help out by catching 50 games, it would help Contreras a ton. Having said that he still has power and speed, for now, and when he figures out how to situationally hit he will be an offensive force.
His most significant contribution though is his passion. He gets everyone fired up, and he clearly loves to play baseball more than anyone else on the team, and maybe in baseball. Again, once he learns to use that to his advantage instead of it robbing him of energy, he will be one of the best ever.
Kris Bryant. I mean how could you have this list and not have the best player on it. He is a no doubt future Hall of Fame player. There are just certain guys that you watch, and they look better than everybody else, and he is that guy. His defense is way better then many predicted when he came into the league. He needs to play more at third base and not be moved to the outfield, mainly because no one plays third base better than he does on the team.
While his hitting suffered this year because of hand and shoulder injuries, you know he will be back at 100% for 2019, and everyone expects him to be the Bryant of old. He is the king of launch angle and when he connects his home runs are prodigious and loud. He needs to get back to hitting to the opposite field as he did in 2016. It makes the defense harder to position themselves, and he still has the power to hit it out of right field easily.
So, there are my four core guys. I'll be curious to see who the others have picked, and you should make a list yourself and compare.