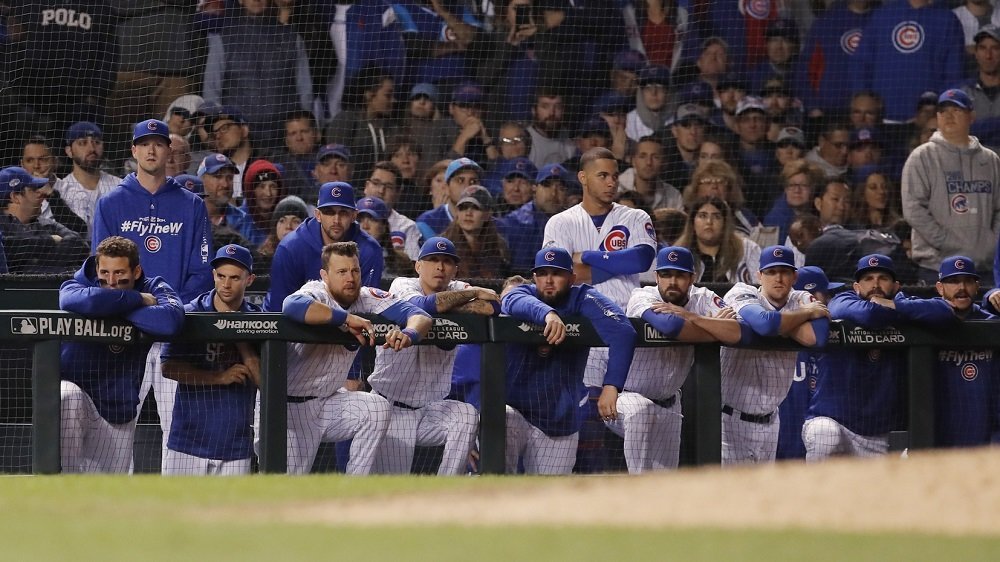 | | |
| --- | --- |
| Commentary: My proposal for the 2020 MLB season | |
---
Earlier this week, I wrote about a possible MLB contingency plan which would have teams playing the 2020 season at spring training facilities in Arizona. The plan included more doubleheaders than physically or mentally feasible, but it would have ensured that the maximum amount of games would be played.
MLB's latest proposal
Although seemingly crazy, MLB's brain trust is at it again.
According to an article by MLB Trade Rumors, MLB is now considering abandoning the American League and National League this year, instead of using the Cactus and Grapefruit Leagues. This will never work.
First of all, the entire idea behind not using regular stadiums was to keep players, coaches, staff, and other necessary personnel safe. Florida is currently infested with victims of COVID-19, and they're far from hitting their apex. The entire idea of using spring training facilities (and possibly other venues) in Arizona was predicated on the fact that they have a relatively low infection rate with a flattening curve.
MLB is exploring some wild possibilities to enable a 2020 season ... https://t.co/vvFVyvHR9h pic.twitter.com/sdIKlu6Z6i

— MLB Trade Rumors (@mlbtraderumors) April 11, 2020
In their latest proposal, there would be no divisions, only the two leagues, with teams' opponents consisting of whoever they play in spring training. For the Cubs, that would mean facing the A's, Padres, Rangers, White Sox, Dodgers, Brewers, Rockies, Royals, Giants, Reds, Diamondbacks, Angels, Indians, and Mariners. Under this plan, interleague play (Cactus vs. Grapefruit) wouldn't happen.
If there would be just one bright side to this, it would be that David Ross' Cubs would face Joe Maddon's Angels several times.
How would the Cubs fare with that schedule?
So, if MLB was to institute the Grapefruit and Cactus League proposal, how would the Cubs fare? Short answer: Not very good.
Although the Cards would be eliminated from the Cubs' schedule, they would end up inheriting the Dodgers. LA finished with 105 wins last year, and I don't see them falling from their pedestal any time soon. Near the top of the heap in the AL last year, were the 97-65 Athletics and the 93-89 Indians. Some credit has to be given to the Reds, who signed anyone and everyone they could this season, including sluggers Nicholas Castellanos, Shogo Akiyama, and Mike Moustakas.
The Cubs and Brewers would likely be competing for a fifth-place run in that format, with the loser placing sixth. In terms of last year's standings, the next closest team to the Cubs 87-78 record would be the Rangers, who finished 78-84.
The White Sox also made some massive improvements this winter, but in my opinion, not enough to knock the Cubs down another notch in the standings. If the Sox new roster finds the cohesion that Cincinnati failed to find last year, they could factor into a three-way race for fifth with the North Siders and Milwaukee.
If PECOTA's algorithm suits you fancy, the Cubs don't come out much better. Granted, those predictions are based on the regular schedules for each team, but for every quality AL team the Cubs would face in Grapefruit League play, there are also some pretty bad ones, making the team swaps about equal to the Cubs' "normal" schedule.
Updated on March 6th, 2020, PECOTA thinks the Dodgers will again be the cat's meow, finishing with 102.9 wins, which would have them blowing out the rest of the Grapefruit League by 16 games—placing second, the Indians clock in with 86.5 wins, followed by the Reds (86.2 wins), Angels (85.7 wins) and A's (85.1 wins). Finishing in sixth, the Cubs would have the 84.9 wins. The White Sox (82.8 wins) would be barking up their tree, with the 79.3-win Brewers and Diamondbacks praying for miracles.
If 2020 somehow became miraculously normal again, PECOTA's predictions have the Cubs finishing second In the NL Central behind the 86.2-win Reds, but only fifth-best in the National League. The Dodgers would boast the best record in the league with 102.9 wins, followed by the Mets (88.4 wins), the Nationals (87.2 wins), and the Reds (86.2 wins). The good news is that 84.9 wins would be good enough for a Wild Card berth for Chicago. Do you believe in miracles?
My proposal for 2020
Since everyone seems to have a proposal for MLB, I may as well get my two cents worth. Personally, here's what I think MLB should do. This could be a little rough on the players' families, but it isn't forever. In the first phase of this plan, family members, scouts, and other nonessential people would have to be banned from traveling with the teams and attending games.
Start by getting all 30 teams to Arizona. Secure motels for use only by MLB, then quarantine players for 14 days. After the quarantine period, test every player, manager, coach, medical staff member, umpire, the TV crews, and other essential personnel to ensure nobody is infected. Family members could eventually be tested through third-party testing sites, who now offer testing for anyone (symptomatic or not) for the cost of $250 per test – an out of pocket cost.
Once everyone directly involved with MLB is given the all-clear, players would remain quarantined in their respective motels for safety but would be allowed to travel to and from the motel for practices and games.
MLB could then begin utilizing the 10 MLB spring training facilities in Arizona. After a second "spring training" period of 3-4 weeks, followed by the regular season. If MLB were to test everyone by May 1st, spring training could resume by May 15th, with the season starting as early as June 7th.
Because MLB would only have access to 10 stadiums, each stadium would have to host two games per day, but not necessarily featuring the same two teams. For example, they could have the Cubs play the Brewers at Sloan Park at 1:00 PM, then have the Yankees and the Red Sox playing an evening game at Sloan Park the same day. Some doubleheaders would be necessary for each team, but due to the heat, all games would be limited to seven innings.
The entire MLB regular season consists of 2,430 games. At the rate of two games per day per stadium, MLB could schedule 140 games per week, making the entire 162 game schedule possible.
Basing this theory on June 7th being Opening Day, teams could engage in regular-season play through the end of October, making the season 146 days long.
Teams would play seven days straight, followed by a day off. A doubleheader would need to be played every tenth game day. If the Cubs played Sunday (June 7th), they'd play a game each day for seven days, ending on Saturday, June 13th. Next, they'd have Sunday, June 14th off, then resume play on Monday the 15th, for the next seven days, while playing a doubleheader on Wednesday, June 17th. At that rate, they'd be playing 11 games every ten days (33 games per month), making the entire schedule playable in 4.87 months or – wait for it – the equivalent of 146 days.
Let's do this.

Upgrade Your Account
Unlock premium boards and exclusive features (e.g. ad-free) by upgrading your account today.
Upgrade Now