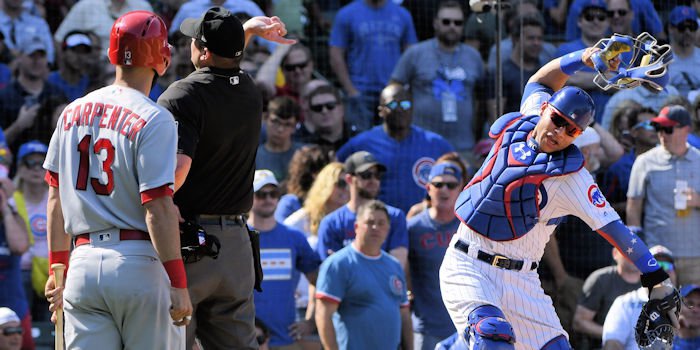 | | |
| --- | --- |
| Commentary: New mound visit rule is dumb | |
---
CHICAGO -- Everyone who's interested in baseball by now, probably knows about the new rule handed down by MLB's Commissioner Rob Manfred; it's a six visit limit to the mound. So what happens after that, well the manager MUST change pitchers and/or receive a fine. According to MLB's chief baseball officer Joe Torre, if a catcher tries to visit the mound after his team's sixth mound visit, the home plate umpire has been told to stop the catcher. The catcher can be ejected if he argues.
A lot of people are saying what's the big deal? For some clubs, it can be.
Anyone who has watched or been to a Cubs game in the last few years, know Joe Maddon is a hands-on manager. He is one of the many reasons, is why the Cubs won the World Series in 2016. He likes to make changes in pitching, later in the game depending on who's coming up to bat, and that doesn't mean he hadn't already been out to the mound, checking on his pitcher. There are times Wilson Contreras or Anthony Rizzo goes out to the mound depending on the play that's coming up. If the Cubs were to play as usual, disregarding this new rule, which in my opinion is dumb, the team would probably end up burn some of the bullpen on a regular basis.
Contreras does not approve of the MLB's new mound visit rule and is willing to pay the price for the team.
"I don't even care," Contreras said to the media on Tuesday. "If I have to go [out there] again and pay the price for my team I will. "What about a tight game or an extra-inning game and you have to go out there?" he asked. "They cannot say anything about that. That's my team. If they are going to fine me for mound visit No. 7, I'll pay the price."
It's a good thing the Cubs have great pitching this year, so they won't have to go to the mound as often. Plus, you know the guys are working on their hitting and fielding. Sometimes rules are meant to be broken though!