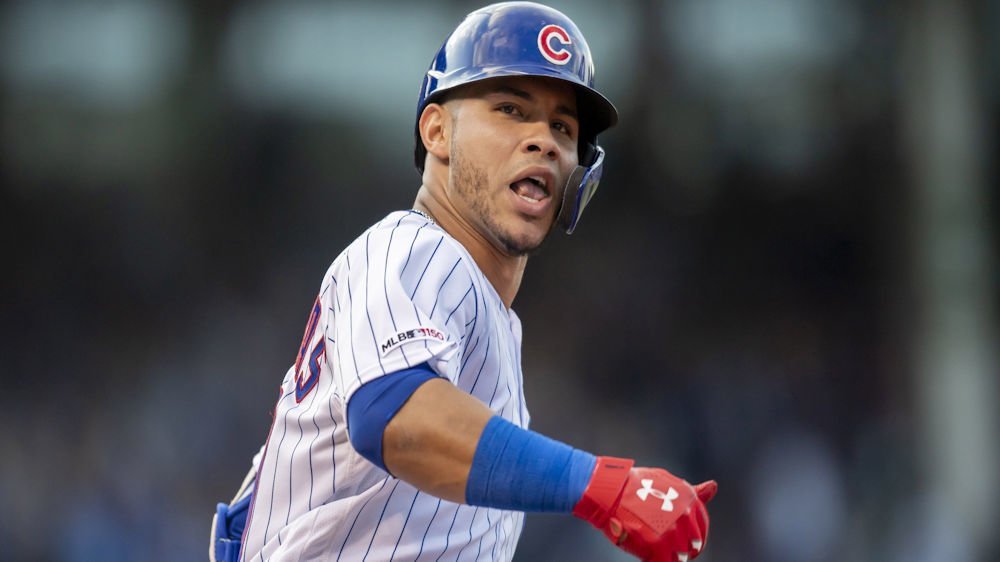 | | |
| --- | --- |
| Commentary: Potential Cubs moves this winter | |
---
| | | |
| --- | --- | --- |
| Friday, November 15, 2019, 11:19 AM | | |
Change is coming whether we want to admit to it or not, but the current roster that we have grown so accustomed to loving is about to undergo major shakeups this winter. We have already seen a complete overhaul of not only the coaching staff but down through the minor league systems in terms of scouting and other player personnel.
Theo isn't messing around right now, and he is fully living up to what he said about change coming to this organization. I know I am not alone when I say at least one member from the core will be dealt this offseason. However, pinpointing who that might be is a whole different story as the Cubs will have to look at every offer before making the ultimate decision who to part ways with.
As much as I would like to think Javy Baez, Anthony Rizzo, and Nico Hoerner are safe to this point, I honestly do not feel anyone on this roster is untouchable given a fantastic offer they couldn't refuse. As of now, three names continue to stand out the most, but here is a list of who could find their names on the block and with new organizations this season.
Willson Contreras appears to be the front runner and most likely player to be dealt now. With Victor Caratini proving he could not only be an everyday catcher but a solid hitter, the Cubs could send Contreras packing despite him having three years of team control remaining. Should his name go on the block, he will have no trouble finding a suitor as Atlanta, Houston, and the White Sox have all expressed interest in the Cubs slugging catcher.
With rumors now swirling that the Cubs may go after Yasmani Grandal in free agency, one of the Cubs two catchers will be out of Chicago this season. As much as it would pain to see him go, his lack of development in terms of pitch framing continues to be an issue, which is why down the stretch, a lot of the Cubs starters preferred to throw to Caratini.
Kris Bryant continues to be the center of the trading world among the owners, but finding a trade partner for him won't be simple. Any team would love to have a player of Bryant's caliber, but it comes down to what do the Cubs get in return for him. I don't see them sending him just anywhere as they are going to want top-line prospects coming back. Not only prospects either, but pitching prospects who are ready to step up now.
The same thing could be said about Baez, although I feel he may be untouchable at this point if the Cubs do have one. We have seen what Javy can do both in the field and at the plate, but have we seen his ceiling? With Nico Hoerner looking to make the MLB roster out of spring this year, which direction would allow the Cubs to lean long term at both the second base and SS position, especially if they traded for someone like Whit Merrifield. Either way, if Bryant and or Baez find their names available, the only way something would get done is if a team blows the Cubs away with an offer they can't pass up.
Just last season, Kyle Schwarber seemed like the most prominent trade chip for the Cubs, given his constant comparison to a DH player. Fast forward one year, and his market now seems extremely limited in terms of who would want him.
Don't get me wrong, Schwarber is uber-talented and provides a ton of power that would help him last a long time in the middle of any lineup. Despite making incredible strides defensively, he remains a liability in left, which is why some teams shy away from going after him. Given that the most obvious spot for him would be an AL team with his lack of fielding, parting ways with him may not be wise as the Cubs wouldn't get enough in return to make up for that power.
Now is where things get interesting as Albert Almora, Addison Russell, and Tyler Chatwood will probably come up in talks. Just two seasons ago, Almora looked to be the center fielder of the future who gave you gold glove defense and a reliable approach at the plate against lefties. Hoping to find his groove against righties, Almora not only put together the worst offensive season of his career but struggled in center field, also eventually losing the starting job to Jason Heyward and spending a few weeks in AAA.
Much like Almora, Russell was the future for this team at SS following a breakout 2016 campaign. Since then, it has been a nightmare for Russell, who has not only struggled to stay healthy but has dealt with a domestic violence feud for multiple seasons that eventually got him suspended 40 games. When he returned from that suspension this season, Russell never appeared to be himself as he made countless mental errors both on the bases and in the field. Mix that with a struggling bat that has never reached the level expected, and you're stuck with a player that may need a new change of scenery.
Finally, Tyler Chatwood is the biggest mystery this offseason as to what the Cubs plans are moving forward. After a forgettable 2018 as a starter, Chatwood moved to the pen this year and may have been the MVP in the Cubs bullpen this season. Not only that, he reinvented his career by learning to become a swingman instead of a back of the rotation arm.
Now in the final year of his deal, Chatwood is owed 13 million dollars this season, which is not a bad price for a back of the rotation starter. The only question is, where do the Cubs see him in 2020. Should they go out and sign a rotation arm, I look for Chatwood to be back in the pen even though 13 million is high for a swingman type of player.
Should the Cubs give Chatwood a shot at the rotation once again, they have a reasonably priced number 5 starter that they could try and flip later in the year, depending on the situation. Regardless of what happens, should these three names come up or become available, the Cubs will be in a tough spot. They would like to get something for everyone, but given the production, some of them have shown over the last few seasons, the return on them may be limited at best.
Other names to keep an eye on as potential winter deals or even mid-season deals would be David Bote and Jose Quintana. Both are very affordable, both provide value in their respective positions, and both would bring something back in return to another team depending on circumstances.

Tags: Cubs Baseball
,
Anthony Rizzo
,
Willson Contreras
,
Victor Caratini
,
,
Kyle Schwarber
,
Addison Russell
,
Tyler Chatwood
,
Jason Heyward
,
David Bote
,
Jose Quintana