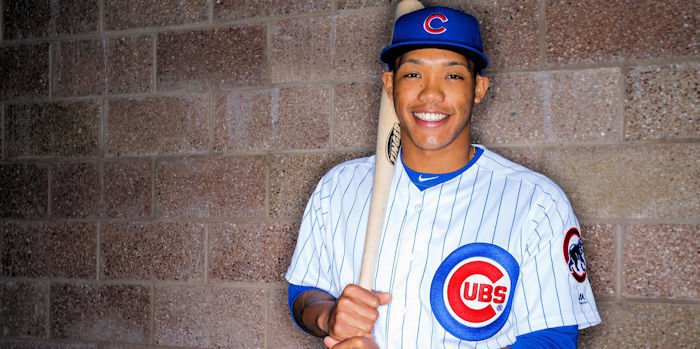 | | |
| --- | --- |
| Commentary: Should Cubs re-sign Addison Russell on cheaper contract? | |
---
With the non-tender deadline officially over the Cubs parting ways with Addison Russell seemed like a done deal as that could have been done before last season. Ideally, the Cubs would have like to have gotten something in return for him, but given what he was set to make in salary arbitration this season and his role on the team parting ways with him was the best option for both sides.
I still think the man is immensely talented and that he could be a game-changer for some franchise given a change of scenery. However, I just think given how much he has declined in recent seasons, the Cubs did the right thing by letting him the market to see if he can earn money and or a starting spot elsewhere. The one question I continue to ask myself today is, do the Cubs have intentions on bringing Russell back for less money?
If you look at the quote from Theo Epstein following his release of Russell, it clearly states that Russell was in line to make starter money or close to starter money for a non-starter role on this team. That is something the Cubs were not going to dish out, especially for a player who has struggled to find his groove in recent seasons. Yes, injuries have slowed him down, and that is not his fault, but his off the field issues took a toll on not only him but the team itself, which is a big reason why this move was also made.
Going back to my thoughts about whether the Cubs would bring him back for less money. Well, for starters, if they can get him for a reasonable amount, why wouldn't you want to bring him in to at least help your infield. The guy is a wizard with the glove at SS and has played near 100 games at 2B since arriving to the Majors in 2015. Ideally, SS is his best position, but having him as a defensive sub late in games or just an added depth piece for the infield would be a considerable upgrade from anything they would generally find in the free-agent pool.
Offensively speaking, Russell has been both sporadic and very inconsistent at the plate since he came into the league, but he has shown flashes of major potential. 2016 was a primary example of what could happen when things go right as he hit a career-high 21 homers to go with 95 RBI's that season despite just a 237-batting average. The batting average has always been an issue with him, but those kind of power numbers were exactly what the Cubs were hoping for from him going forward.
An injury-riddled 2017 followed by a season-ending suspension in 18 that carried over to 19 really effected Russell's growth as a player, and it clearly showed at the plate and in the field. His batting did go up ever so slightly each of the past three seasons, but the power numbers continued to decline in the process. Defensively, he had the worst season of his career this year as you could tell he had so many other things on his mind.
With all that going into play, why would the Cubs think of bringing him back even if for just one season? Well, for starters, a clear head could do wonders for this kid, and the Cubs have seen what he can do with a clear mind. I don't expect a 2016 season again unless he is starting, but even if he puts up 2015 type numbers as a reserve player, that would be something the Cubs wouldn't pass up.
In continuing with that situation, should Russell not only show up but produce off the bench, he would undoubtedly make an intriguing trade piece for both contenders and even non-contenders for that matter. Should a contending team suffer an infield injury, Russell could easily be a starter for their team and would bring back something in the process. The same can be said about a rebuilding team. Not only would he fit the perfect mold of a rebuilding franchise, but he would bring back at least one top prospect in return should he show he can perform at his old self.
Non-tendering players don't always mean teams are done with them all together. Sometimes they feel they are not worth what they will be earning this season, so they non-tender them and try to get them on cheaper deals. I don't know if the Cubs have discussed that or have had any talks regarding that with Russell, especially everything that has transpired with him over the past few seasons. However, this topic shouldn't be off the table as the Cubs know they have many needs on this roster.

Upgrade Your Account
Unlock premium boards and exclusive features (e.g. ad-free) by upgrading your account today.
Upgrade Now