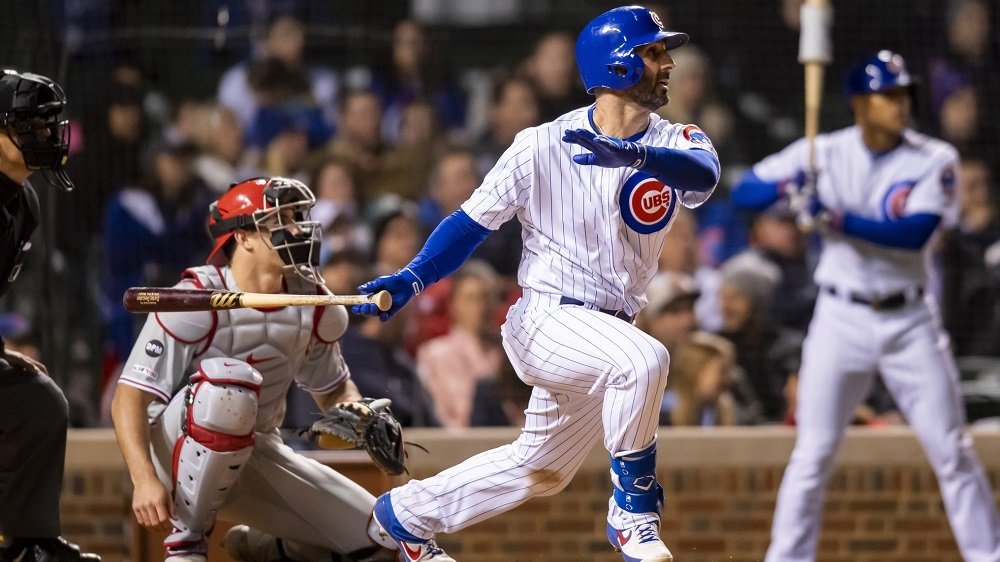 | | |
| --- | --- |
| Commentary: Time to Move on | |
---
| | | |
| --- | --- | --- |
| Saturday, June 22, 2019, 2:01 PM | | |
We are closing in on the All-Star break, the unofficial half-way point of each season and some things are becoming crystal clear on this team. This is the time to reset and get the team in position to make a strong run at another World Series.
Let's start with the positive things so far.
The starting pitching has been very good for the most part all season. There is no doubt the Cubs have the deepest and strongest starting five in the central division. Adbert Azolay was terrific last night and brings hope for the future. Getting Kyle Hendricks back quickly will be the key to a sustained run in the second half.
If "chicks still dig the long ball," then this team is being swarmed by them. Other than the Milwaukee Brewers and the LA Dodgers, nobody in the national league hits more home runs than this team, 117 in 73 games so far. A sweeping trend this year as the ball seems to be juiced for maximum flight time.
Where it starts to go off the rails for the beloved is the bullpen. Signing Craig Kimbrel should solidify the closer slot and likely get everyone else in the right place for maximizing their skills. That is if he comes back as the pitcher he has been in his prime. Will he instead be the guy who has struggled the past couple of seasons? Time will tell. One more dependable arm would not hurt for the second half.
The other concern, which I have pointed out all season, is their inability to drive in guys in scoring position. Sometimes a sacrifice bunt and a single up the middle is more important than hitting Waveland Avenue. Joe Maddon, if he is still the manager after the break, needs to start runners, sacrifice more, and get this team playing some small ball or it will be another long off season.
The final troubling piece to this puzzle is the aforementioned Joe Maddon. I understand that he can only play the guys he has, but he falls in love with certain things and is unwilling to make changes when they aren't working.
He continues to run Carlos Gonzalez out there night after night, and the guy can't hit his weight. He is batting .167 in his last seven games, .163 in his previous fifteen, and a whopping .210 for the season. I've seen enough. He should not start another game this year.
By playing him, it causes Maddon to do two additional stupid things. Move Jason Heyward to center, which he has proven he can't play as well as right field, and sitting Albert Almora when he is your best center fielder and stunting his growth as a big leaguer. He did the same thing last year after Almora got off to a great start he sat him for ten games and Almora was never the same. Somebody, please stop him, Theo Epstein. Release CarGo and let's move on.
Additionally, and this one I don't get, is why does he keep trying Daniel Descalso at second base? I know Addison Russell has been hurt recently, but David Bote will do just fine until he comes back. Descalso has an embarrassing line of batting .167 in his last seven games, .095 in his previous fifteen, and only .189 for the season. How much do you need to see before you say enough? Descalso and Gonzalez should be released, and anybody not named Ian Happ should be brought up from Iowa. How much worse could they possibly be?
The fact that this team cannot sustain winning baseball on the road may be the end for Uncle Joe as manager of the Cubs. Team Theo has seen enough, I'm sure, to understand that this team is too talented to be playing so bad away from the friendly confines. I personally believe it is the blue uniforms, but that will be for another column.
The Cubs need to get through this next ten days by growing their central division lead and then come back from the All-Star break by putting the pedal to the metal and crushing the opposition the rest of the way.