| | |
| --- | --- |
| Commentary: Tyler Chatwood has earned himself a fresh "Start" | |
---
| | | |
| --- | --- | --- |
| Sunday, April 14, 2019, 3:47 PM | | |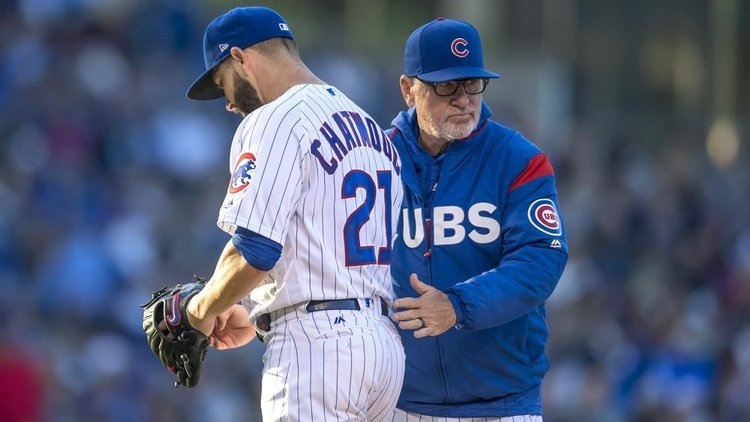 Most of the Cubs' fan base never thought they'd see the day when Tyler Chatwood was allowed to start another game for Chicago. Brace yourselves; it could happen one day soon.
Chatwood has said that he believes he is good enough to still be a starter.
I was hypercritical of Chatwood last year (as most were), based on his control issues, walk rate, and well… his overall inability to pitch- at least with any effectiveness. I'd already vowed to give Chatwood a new look with the dawn of the new season, but when I was told by a player back in January, that if anyone could turn Tyler Chatwood around, it would be Tommy Hottovy, my ears perked with curiosity and maybe a little skepticism.
Chatwood looked decent in spring training this year, and I was even able to disregard the runs, hits and walks that he'd allowed, based on his new-found ability to control his pitches. He wasn't bad- in 14 innings of work he gave up ten hits, four earned runs, a homer, and four walks, but hey, that was against a total of 55 batters. Last season he led MLB with walks (95), and he walked just over one out of every five batters that he faced. This spring, that rate dropped to about one out of every 14 batters; certainly an improvement. He didn't bean anyone this spring, and he only threw one wild pitch out of nearly 200 tosses that he sent to the plate.
His performance has been a little shaky so far this season, but no worse than the majority of his teammates. In 4 appearances (6.0 innings) Chatty has given up four earned runs and a home run on six hits, while walking 5, but he's also managed to strike out 6 of the 29 men that he's faced. Of the 13 men who've reached based off of Chatwood this season, only four have been able to score, so he's been pitching himself out of jams as well.
For those of you that have read my stats column, you know that I've developed a system to rate and rank players on "like-terms." Curious as to how Chatwood was doing this season as opposed to last season at this same point, I decided to compare Chatwood against himself.


Ironically, if you look at the final scores in the chart above, Chatwood is statistically worse than he was last year at this point, though the difference in his control seems to make him look a lot better. We're working with a small sample size here (6 innings this year as compared to 11 IP at this point in the season last year), but everything is calculated to be proportionate between the two seasons.
Because Chatty got progressively worse as the season wore on in 2018, I then decided to compare his stats for 2019 against his stats for the entire 2018 season. Remember (and I can't stress this enough), because everything is in proportion, his 2019 stats to date would be a projection of what this entire year should look like (kind of like how ERA averages runs per 9 innings).

To my surprise, Chatwood still came out slightly worse for 2019 than he did in 2018, but I'm not ready to give up hope on him just yet. I'm a guy who believes firmly in numbers and stats, though I have a strong feeling that things will continue to improve for Tyler, despite a bit of a rough start. If you saw my article from yesterday (link above), Chatwood was ranked against both the starters and the bullpen.
Although Chatwood ranked 7th among the relievers, his stats ranked 3rd when he was averaged against the starting rotation. Although ERA doesn't factor into my equations, Chatwood's ERA (6.00) is currently better than Jose Quintana's (10.29), Kyle Hendricks' (6.48) and Yu Darvish's (8.10).
I don't think Chatwood has a realistic chance of becoming a permanent starter this season (barring a catastrophic injury to someone), but if Cole Hamels fails to return next year, there's a chance that Chatty might be able to earn his spot back for the final year of his contract.
In the meantime, all we can do for this season is wait and see, but I think (OK… I hope) that Tyler Chatwood has finally turned that corner.
Cubs skipping Chatwood. He's back in the bullpen tomorrow. Darvish will start as scheduled

— Jesse Rogers (@ESPNChiCubs) April 14, 2019