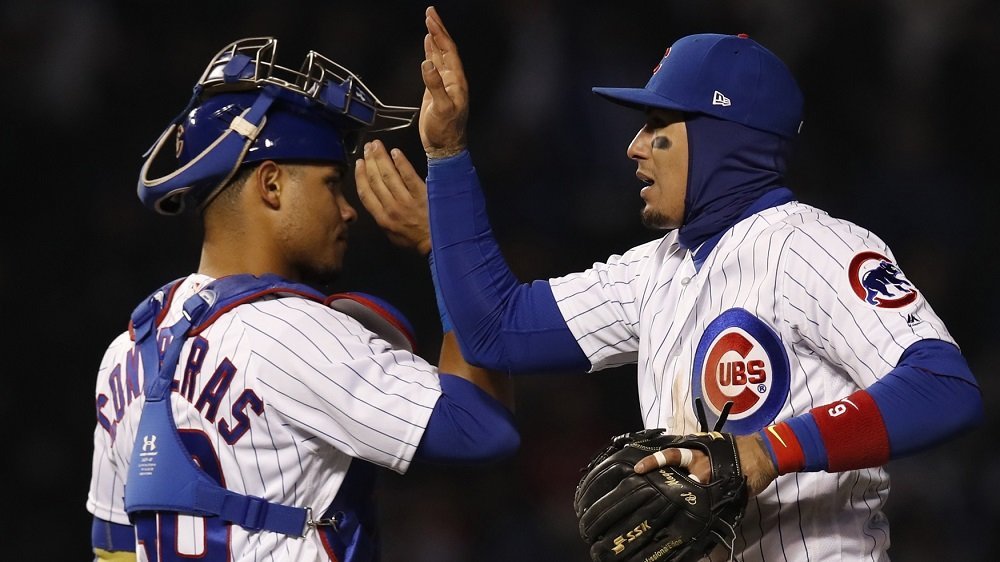 | | |
| --- | --- |
| Commentary: What's it going to take? | |
---
| | | |
| --- | --- | --- |
| Thursday, September 13, 2018, 6:02 PM | | |
Last night was ugly, to say the least. The Cubs had a chance to extend their lead against the charging Brewers, and they failed to capitalize… again.
A couple of weeks ago, CubsHQ columnist, Dan Marich, wrote an article outlining just what the Cubs needed to do to ensure winning the division. In short, they merely needed to tie or win each of their remaining series, but even this has proven to be a difficult task as of late.
Earlier this month Milwaukee stole two out of three from Chicago, then Washington did the same in a weather-shortened series last week. Returning home, the Cubs again dropped two of three to the Brew Crew, who now trail Chicago by just one game. The Cubs will try to even the series at two apiece with the Nationals later this afternoon as they make up Sunday's postponement.
I was asked two questions this morning: First, as if the Cubs even needed to worry about winning this rubber-match game against the Nats, and my answer was unequivocal, "YES," for a number of reasons. There is the standings factor, but I think what's even more important, is what a win would do for team morale.
The second question, a two-parter, wasn't so easy to answer: "What do YOU think would make all the difference for an about-face for the Cubs? What one or two things would change things right this minute?"
After putting in some thought, I think I'd have to say that the keys are: (1) for the offense to start generating traffic on the base paths, and (2) for the bullpen to tighten up.
At this point, the list of who's hitting is much shorter than the list of who isn't. Murphy and Bote have inexplicably grown cold, as have Rizzo and Schwarber. Happ and Russell continue to strike out, and it seems that when the two do put the ball in play, it either results in weak contact, or in balls hit directly at defenders. While I'd much rather see Russell (or anyone for that matter) retired on a hard hit, line drive to center as opposed to a strikeout, the Cubs have got to find a way to keep the ball down.
The defensive shifts have undoubtedly robbed Chicago of countless hits in the last two weeks, but it would appear as though shifting is here to stay. About the only thing that will beat the shift is hitting to the opposite field, and that isn't such an easy task to accomplish. Jason Heyward seems to have mastered that skill, capitalizing on low, outside pitches, but he seems to be about the only one who has been able to do so.
Concerning the bullpen, I think keeping ahead of the batters in the counts is crucial. Walks have been plentiful, as have hit-batsmen, and I'd be hard-pressed to name a reliever who hasn't plunked someone in the last week. It appears as though the bullpen is spending way too much time trying to paint corners, rather than to challenge batters within the strike zone, and while getting a batter to chase is nice, spiked curveballs with runners aboard are helping nobody.
While the problems seem painfully obvious after a little bit of thought, curing them is another issue. If you or I as fans can see these things, one would have to think that Joe Maddon, Jim Hickey and Chili Davis were also aware, yet the struggles continue. I've defended the coaching staff throughout the year, but maybe it will be time for a change after this season.
While Milwaukee is enjoying an off-day today, the Cubs have the opportunity to gain a half-game with a win in DC. While a half-game doesn't seem like much, it would mean that Cubs would have a game to blow without having to worry about a tie for first.
Upon returning from DC, the Cubs will face Cincinnati for three games, while the Brewers are hosting Pittsburgh. With just 17 games remaining, the Cubs need to identify and address the problems at hand, or it's liable to be a very short post-season.