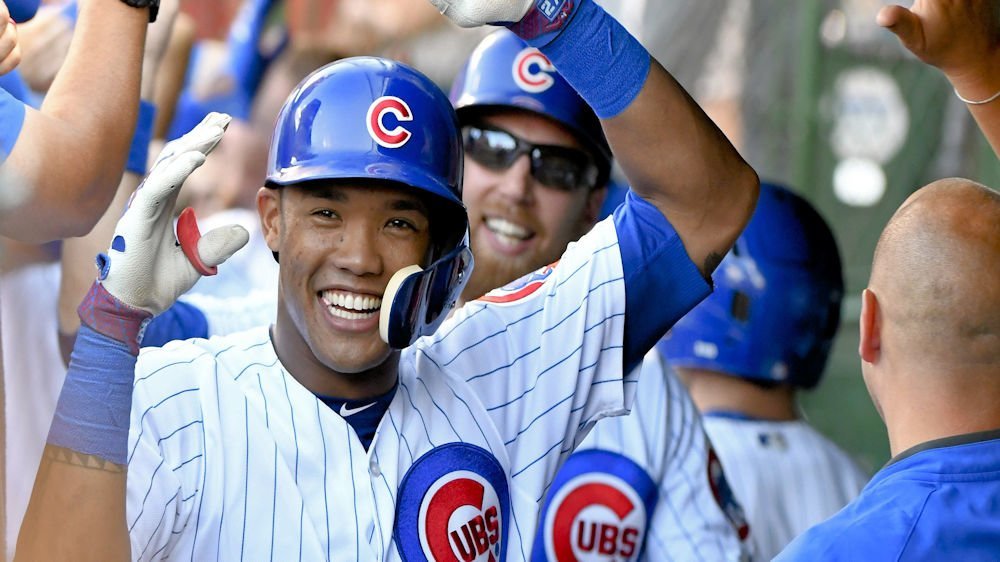 | | |
| --- | --- |
| Commentary: Which Cubs superstar gets benched? | |
---
There is indeed nothing wrong with having depth throughout your roster, and Cubs' manager, Joe Maddon, has exploited it well. With the recent acquisition of Daniel Murphy, and now with Kris Bryant attempting to return to the lineup this week, the juggling act is only going to get tougher for Maddon.
Speculation has been going on for over a month since Bryant was injured, as to just what the Cubs' skipper would do with his lineup upon Bryant's return. He is an established All-Star and MVP, but David Bote certainly has made a name for himself in Bryant's absence.
The solution might be as simple as plugging Bryant back in at third base.
Maddon would still have to consider what to do with Murphy's bat, Russell's injured finger, Baez's magic, an overstocked outfield, a rookie third-baseman who doesn't seem to know how to do anything at the plate other than smack game-tying (or game-winning) home runs, and so on.
The Cubs have unarguably suffered another huge, offensive slump until just recently, so to deny Bote and Murphy playing time would almost be irrational. Then there's the issue of the Cubs going 5-0 with the addition of Murphy. My colleague, Dan Marich, contends that the Cubs should have beat Detroit and Cincinnati with or without Murphy's help, which may be true, but the fact remains that since Murphy came along, the Cubs have generated substantial offensive numbers, now outscoring their opponents 37-11 with Murphy in the lineup.
So what do the Cubs do when Bryant returns? I think that has to be a two-part answer, broken down into what they should do for the remainder of this year, followed by what they do to begin next year.
For the remainder of this year, I'd undoubtedly nurse Bryant's shoulder, giving him no more than 60-70% playing time, split between either left or right-field, platooning with the other outfielders. By dedicating Bryant almost solely to the outfield, Maddon could enjoy a total platoon advantage, as he'd have Bryant and Almora batting right-handed, Schwarber and Heyward batting from the left, with Happ and Zobrist able to switch hit. Furthermore, I would use Bryant for spot-starts at third base.
Bote would continue to play third, and would fill in at second when Murphy needs to be rested- these would be the days that Bryant starts at third. In Russell's continued absence, Baez remains at shortstop, and as per the usual, Rizzo plays first with Contreras catching, both relieved by Caratini for rest-days.
Next year's lineup will depend a lot on trades and both free-agency signings and retention. The Cubs would be foolish not to try to re-sign Hamels, Murphy and Chavez, as each has contributed in a big way to the team in a short amount of time, and all seem to be very enthusiastic about playing in Chicago.
Several starting pitchers around the league will be scrubbed over the off-season, as teams like the Mets, the Reds, and Kansas City all attempt to rebuild, placing the Cubs in a favorable position to revamp the rotation. Just as Yu Darvish had kept the team wondering in 2018 only to disappoint, I think the Cubs need to play it safe and hedge their bets in 2019, by signing two starters over the off-season. I can't seem to shake the feeling that Darvish is done for good, and I'm sure that the Cubs' management and ownership are equally pessimistic.
I've been saying for months that Ian Happ and Addison Russell would be traded for pitching, and I will stand by my position as we near the off-season.
While Happ's offense has improved dramatically since Daniel Murphy came along, he still seems to be struggling some defensively. Not that he's been committing errors, but he has appeared to be misplaying a lot of balls recently, all of which could have spelled serious trouble had Happ not readjusted to make the plays.
What Happ lacks in defense, Addison Russell lacks in offense. While his .259 batting average is only slightly below league average, his OBP and SLG percentages (.326/.359, respectively) leave a lot to be desired. Russell seemed to perk up when it was rumored that the Cubs were pursuing Manny Machado, but as soon as Machado landed in Los Angeles, he started slumping again.
While trading Russell (and/or Happ) for pitching seems almost logical, this would leave a void at shortstop for Chicago. Baez plays a good game at short, and he will only improve over time, but I think he's better suited at second. By re-signing Murphy, Baez would almost be forced to become a full-time shortstop, but who would play short on Javy's off days, or if (God-forbid), he should become injured? Bote? Maybe, but time will tell.
In the interim, we need to see how Bryant plays when he returns, as that will be key to designing the Cubs' lineups moving forward. No matter how you slice it, a successful return by Bryant means that either a super-star or a rising-star is going to have to be benched, at least part-time. Bryant makes his first rehab start for Iowa this evening (@ Omaha), as the big-league version of the Cubs try to extend their winning streak to six games, as they host the Mets.

Upgrade Your Account
Unlock premium boards and exclusive features (e.g. ad-free) by upgrading your account today.
Upgrade Now