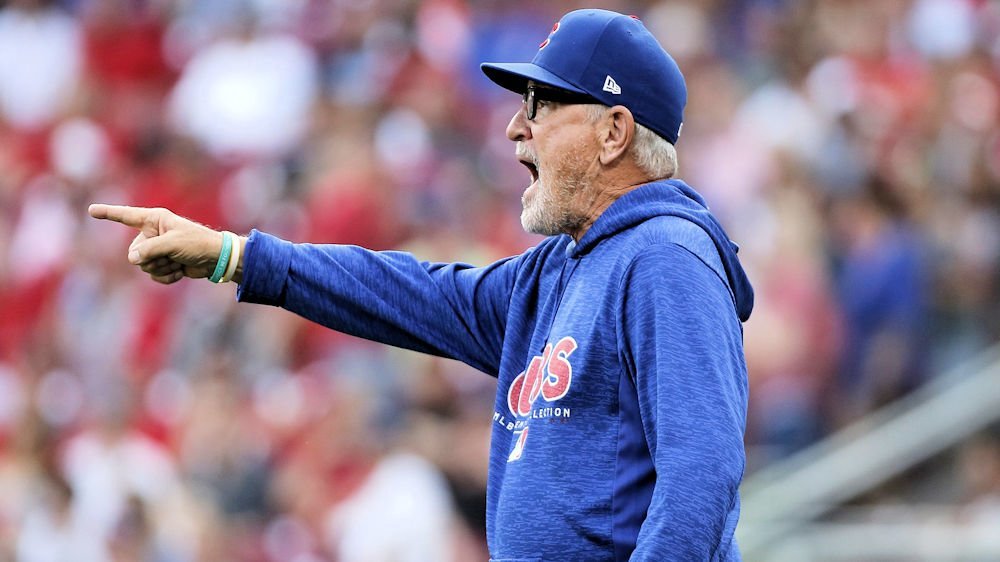 | | |
| --- | --- |
| Commentary: Why is it always Joe Maddon's fault? | |
---
| | | |
| --- | --- | --- |
| Saturday, July 21, 2018, 7:51 PM | | |
I'm not sure why I keep seeing people comment on social media, that every time the Cubs lose, it's Joe Maddon's fault. The naysayers contend that the Cubs are full of talent, except for the manager's spot, so any loss must be a "Joe" issue. Seriously? Yes, the Cubs are an exceptionally talented team, but players have bad games, folks, and no manager in the world is going to prevent it from happening. Look at yesterday's loss to St. Louis, did Maddon somehow counterprogram an entire team for the day?
Now in his fifteenth year as a big-league manager, Maddon has gone 1129-961 (.540), with two pennants (Tampa Rays, 2008 and Cubs, 2016) and a World Series Championship (Cubs, 2016). Never mind the fact that ALL other current MLB managers combined have only a .516 winning percentage. To be fair, I even factored in the now-defunct Mike Matheny (.555) and his successor, Mike Shildt (now .667).
Looking only at 2018, Maddon (.589) ranks fifth, behind Alex Cora (Boston, 69-30, .697), the Yankees, Aaron Boone (62-34, .646), AJ Hinch (Astros, 65-35, .650), and the Mariners, Scott Servais (59-39, .602). Maddon places sixth if you want to count Shildt, with his vast experience of three games as the Cardinals manager.
Anyone who hates Joe, apparently has some personal issue with him, as you cannot possibly argue that he doesn't know what he's doing. Maybe you don't like the way he flips the batting orders around. Perhaps you're just annoyed that Almora and Happ have to share center-field. I can't even begin to speculate why anyone would hate a guy that brought the Cubs their first World Series Championship in 108 years. For the haters, I'll ask one simple question: What does your managerial record look like?