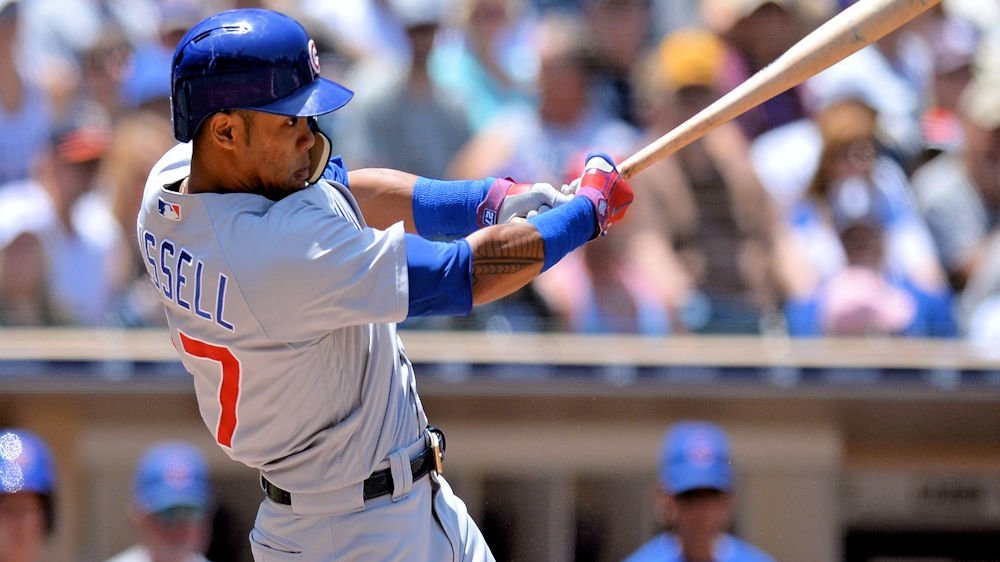 | | |
| --- | --- |
| Commentary: Yes, it really is time to dump Russell | |
---
| | | |
| --- | --- | --- |
| Wednesday, September 5, 2018, 5:25 PM | | |
CubsHQ columnist, Dan Marich, sent me an interesting tweet this morning: "I really don't understand the venom with which you all hate [Addison] Russell and love [Daniel] Murphy and [Javier] Baez, although I feel the same way about those two that you do about Russell. I guess I'm watching a different team than you." Dan went on to say, "I'm starting to question your eyesight. I respect your opinion but I think you are dead wrong on this."
I told Dan, that while my eyesight was admittedly hosed (my bifocals are starting to need their own set of bifocals), my insight and foresight were fine: Russell has become dead-weight to that team, and as I told Dan, I don't care if he hits three grand slams tonight, I'd trade him tomorrow if an opportunity presented itself. Unfortunately though, I'm sure he's there through the end of the season.
As you may recall, recently I wrote an article entitled, "Is it time to trade Addison Russell?" and true to form, Dan wrote a rebuttal entitled, "It is not time to trade Addison Russell." Like two presidential candidates, back and forth we go, each with a different opinion, each with a different vision of what we think is best for the Cubs. Just like a presidential race, somewhere around 50% will stand behind me, the other half will rally in Dan's camp. Not that our opinions will affect the decisions made by Theo Epstein, Jed Hoyer or Joe Maddon, but boy, is it nice to know whether you've earned bragging rights, or are stuck eating crow…
I digress.
Please, don't try to sell me your bill of goods by telling me, "…but Ken, he's only been back for a few games and he needs time to get back into his rhythm;" I don't want to hear it. The Cubs have plenty of farm teams and if Russell needed rehab time, he could have made a couple of starts in the minors before their season ended, before returning to Chicago.
The following are indisputable facts:
1. Cubs are 10-4 since Daniel Murphy joined the club.
2. Cubs are 10-2 with Murphy in the lineup.
3. Cubs are 2-2 since Addison Russell's return.
4. Cubs are 0-2 with Russell in the starting lineup (since his return).
5. Murphy has committed one error in 12 games at second base with Cubs (91.1 innings), and committed four errors in 287 innings at second base for Washington.
6. Javier Baez has committed a total of four errors in 325.2 innings at shortstop, six errors in 665.2 innings at second base, and one error in 108.2 innings at third.
7. Davis Bote has committed a total of one error in a combined 324 innings at first, second, shortstop and third.
8. Kris Bryant has committed a total of ten errors in 774 innings, spanning all three outfield positions, first and third base. (eight of those at third base)
9. Addison Russell, playing only one position, now has 15 errors in 917.2 innings at short, with two of those coming last night.
10. Combined, Murphy, Baez, Bote and Bryant are committing errors at a rate of one error per 95.4 innings played; Russell is now committing errors at a rate of one error per 61.2 inning played. (I can break down the error rate for Baez, Murphy, Bryant and Bote individually if you'd like, but that's only going to make Russell look even worse…)
Before I go on to lull you to sleep with batting statistics (further showing why Addison Russell is the undisputed weak link in an otherwise strong organization), all you need to do is watch him hit. His swings are weak, his ground balls are weak, and he seems to know very little about how to lift a ball to advance base runners. He looks nothing short of scared in the batter's box, and that presumed intimidation shows with every weak swing that he takes.
In 390 at-bats this season, Russell has only managed 27 extra-base hits (including his paltry, five home runs), while striking out 89 times and grounding into seven double plays. His chances of batting himself into at least one out are now 1 in 2.87 chances, while his strikeout rate has increased to 1 in every 4.38 at-bats.
It's no secret- I haven't been fond of Russell since he joined the organization in 2015. I will concede that he's still young, but I refuse to change my opinion that he is a very overrated shortstop who brings very little to the Cubs. While Russell may eventually grow into a world-class shortstop, I think it's time to let his growing pains occur elsewhere.