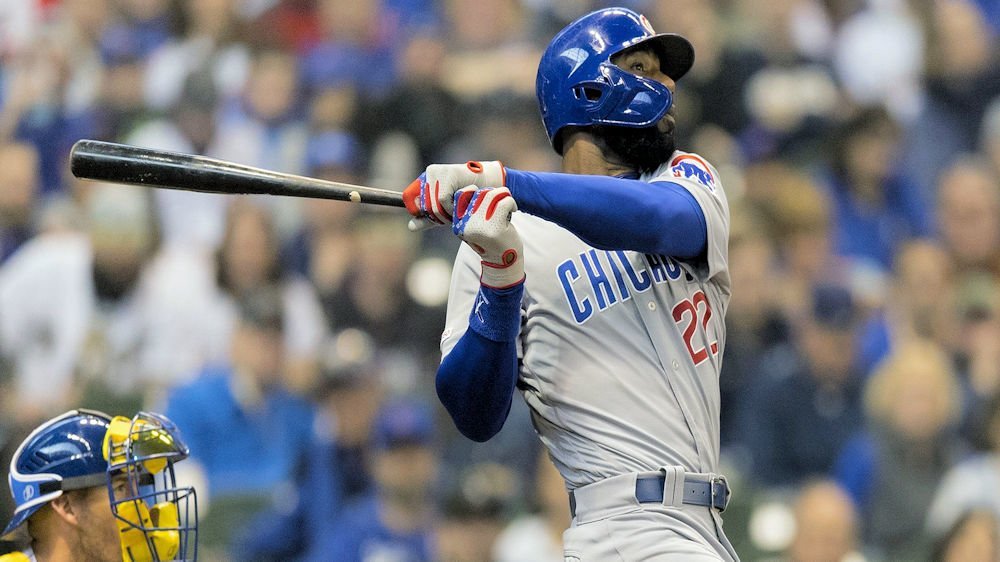 | | |
| --- | --- |
| Cubs-Marlins Preview, J-Hey stepping up, Craig Kimbrel cheaper, standings, MLB News | |
---
| | | |
| --- | --- | --- |
| Monday, April 15, 2019, 7:58 AM | | |
Next Game: Today: 6:10 PM, Cubs vs Marlins. RHP Yu Darvish (0-2, 7.50 ERA) vs RHP Trevor Richards (0-1, 2.00).
CUBS NEWS AND NOTES:
Monday's Game Preview: The Cubs, now 5-9, travel to Miami to meet the Marlins (4-11) tonight for the first of a three-game set. Yu Darvish has struggled a bit in his first few outings, but he has made improvements with each start. For Darvish, the keys will be keeping the ball within the strike zone and going deeper into the game. For the Marlins, it'll be RHP Trevor Richards, who is a stranger to the Cubs offense, facing only Daniel Descalso one time in the past.
Except for the Rockies (3-12), Chicago and Miami currently share the two worst records in the NL. The Cubs currently hold a +3 run differential, while the Marines sit at a -32, so if the Cubs offense shows up and the pitching holds, the Cubs could be looking at a much-needed sweep, or the very least, their second series win of the season.
Looking ahead to Tuesday and Wednesday, no Cub has ever faced RHP Pablo Lopez (1-2, 6.60 ERA) and only Javier Baez, Jason Heyward and Ben Zobrist have ever batted against Sandy Alacantra (1-1, 4.24 ERA), who has held the trio to a .250 batting average in five official at-bats between them.
Cubs/Marlins Probable Pitchers: The Cubs have announced that they are skipping Tyler Chatwood's scheduled start.
Monday: RHP Yu Darvish (0-2, 7.50 ERA) vs RHP Trevor Richards (0-1, 2.00 ERA). Tuesday: LHP Jose Quintana (1-1, 5.14 ERA) vs RHP Pablo Lopez (1-2, 6.60 ERA). Wednesday: LHP Cole Hamels (2-0, 3.79 ERA) vs RHP Sandy Alcantara (1-1, 4.24 ERA).
Kyle Hendricks: I wouldn't think that I'm the only who's noticed, but the Professor has been on the decline ever since he got his extension. Certainly, I'm not suggesting that the extension has anything to do with his struggles, but still, I found some irony in it. Averaging only 4.4 innings per start, Hendricks leads the pitching staff in hits allowed (24). Despite just walking five this year, Kyle's strikeouts are way down, striking out only one of every seven batters faced. Hendricks has maintained control, throwing no wild pitches and hitting nobody, but he seems to be having trouble painting the corners for strikes, as everything seems to be hanging right in the center of the plate.
The first inning is usually his Achilles heel, but after getting through it on just five pitches in his last start, Hendricks found himself at 28 pitches with the bases loaded and nobody out in the second, leading to the three runs he gave up.
Jason Heyward: Props to J-Hey on stepping up for the Cubs' offense. After a dismal 2018, Heyward now finds himself slashing .375/.460/.700 with four homers (he only hit 8 in all of 2018), 15 hits, a double and 10 RBI. He's already swiped three bases, and he's drawn eight walks while striking out only four times in 50 plate appearances.
Craig Kimbrel: For those still holding out hope, Kimbrel's asking price has reportedly dropped from an AAV of $20M to somewhere in the range of $13M to $17.5M, but this is still most likely out of the Cubs' price range.
Cub Birthdays: Birthday wishes (yesterday) to ex-Cubs Kyle Farnsworth (43), Greg Maddux (53), Marty Keough (85), and posthumously, Ben Tincup (126).
NL CENTRAL SCHEDULE (April 14 – April 20, 2019)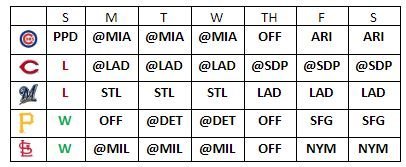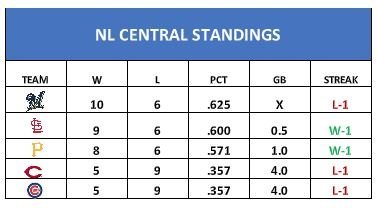 MLB News:
Braves: Ozzie Albies: "I love hitting in the leadoff role. For me, I love hitting there, but anywhere they put me in the lineup I'm gonna go out there and do what I need to do."
Brewers: The Brewers have acquired catcher, David Freitas, from the Mariners in exchange for minor league pitcher, Sal Biasi. Freitas will be sent to Triple-A.
Indians: Cleveland has selected the contract of OF Carlos González from Triple-A Columbus; optioned RHP Jefry Rodríguez to Triple-A; and transferred RHP Mike Clevinger to the 60-day IL.
Tigers Detroit has announced that RHP Matt Moore will be undergoing knee surgery on his right knee. It is unclear how long he will be out.
Yankees: The Yanks seem to have found a golden ticket with the signing of DJ LeMahieu: LeMahieu has reached in 25-of-51 plate appearances this season, batting .432/.490/.545 (19-for-44) with nine runs, five doubles, 7 RBI, 5 BB, and 1 HBP.
YESTERDAY'S MLB SCOREBOARD