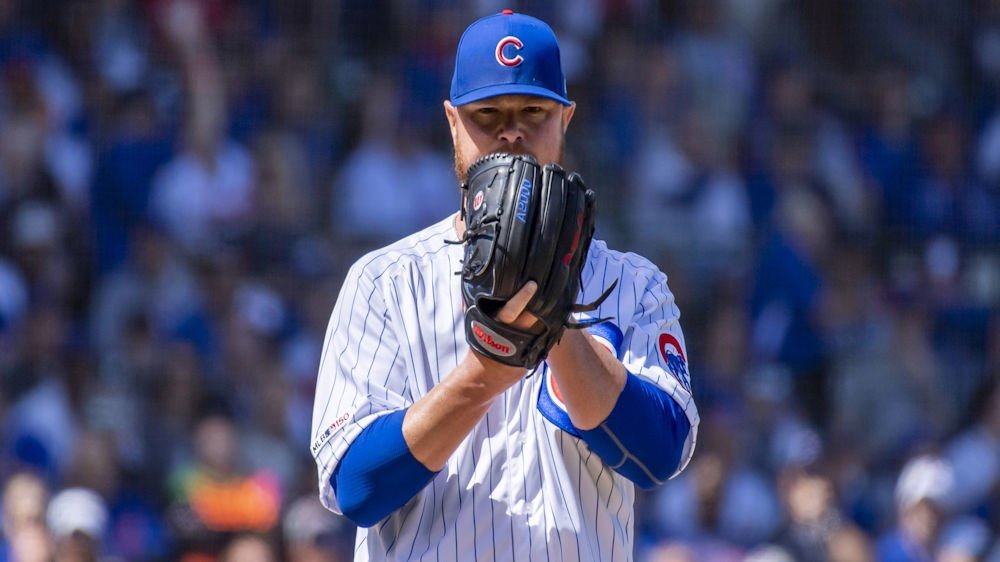 | | |
| --- | --- |
| Cubs News and Notes: 2020 Cubs rotation, Bryant talk, former Cub passes away, more | |
---
CUBS NEWS AND NOTES
Next Game: Next Game: 12 days – Saturday, February 22, 2020: Athletics vs Cubs (Sloan Park).
Opening Day: 45 days – Thursday, March 26, 2020: Cubs vs. Brewers (Miller Park).
Cubs' rotation: As pitchers and catchers start rolling into Mesa, the Cubs still have questions surrounding their rotation. First, they'll need to figure out who will take the fifth spot in the starting rotation; next will be what the rotation order will look like.
Jon Lester has served as the Cubs #1 starter for the last few years, but after a dismal 2019 season, barring a huge turnaround, don't be surprised to see Big Jon drop in the rotation – my guess would be either second or third.
As I see it, if Yu Darvish comes out firing half as good as he did after the All-Star break, David Ross would be foolish not to use him as the Cubs' frontman. Without Cole Hamels, the Cubs have become a right-handed heavy rotation (assuming that either Tyler Chatwood or Alec Mills claim the fifth spot), so it would make sense to have Lester in the #2 spot, sandwiched between Darvish and Hendricks.
Will @faridyu's 2020 be as good as or better than his 2019 season?

?? https://t.co/7ashoqtoYd pic.twitter.com/7GTb5o4eBm

— Cubs Talk (@NBCSCubs) February 9, 2020
If Lester does struggle, it's not inconceivable to see him drop to third in the rotation, assuming Hendricks is on his game. The next question that arises surrounds Jose Quintana and (presumably) Tyler Chatwood. With Q having an off-kilter 2019, Chatwood could take the number-four spot in the rotation if he continues to exhibit the control that he did last year.
Should Lester have to drop back in the rotation, this could very well be David Ross' first real test at having to manage his friends. Ross has said that he's not intimidated by those conversations – including those with Lester – and Lester has stated that Ross can be tough when necessary.
Also, on the line, this season will be Lester's 2021 contract status. The Cubs have a $25M option on Jon for next year, while Lester is vested for $10M. That would be an expensive parting of the ways, but could shed a ton of money, should Lester underperform again.
Here we go again: After what looked to be a totally botched trade for Mookie Betts, I wrote a commentary yesterday about a Cubs-Dodgers trade scenario, that could involve Kris Bryant, if the Betts deal fell completely through.
Well, hours after that article posted, the Red Sox, Dodgers, and Twins have again reached a potential deal- physicals pending.
BREAKING: The trade that will send Mookie Betts to the Los Angeles Dodgers has been agreed upon, sources tell ESPN. Outfielder Alex Verdugo and shortstop Jeter Downs are among those who will go to the Boston Red Sox.

— Jeff Passan (@JeffPassan) February 9, 2020
This will undoubtedly spawn the next flurry of rumors surrounding Kris Bryant, including an article in the St. Louis Post Dispatch on Sunday, which called KB "disgruntled." Bryant and the Cubs maintain that the relationship is still well, but no one could blame Bryant if it weren't. Despite that one comment, the article itself is a pretty good piece, reiterating what I've been saying for three months now about the likelihood that Bryant could be going to Atlanta or possibly Washington.
Of course, moving Bryant would favor the Cardinals, depending on who the Cubs got in return and what kind of season Bryant has in 2020. Ironically, despite Mark Feinsand's article yesterday, which named the Cards as a possible suitor for KB, the article from St. Louis mentions nothing about a Cubs-Cards deal. Even in St. Louis, they know better.
Angel Echevarria: Sad news to report, as it's been announced that former Cubs' outfielder Angel Echevarria died Friday. As per his girlfriend (Jazmine Cox), Echeverria (age 48) had felt ill during the week, then fell, striking his head. No official cause of death has been named.
We at CubsHQ would like to extend our condolences to Angel's family and friends.
Former #Cubs outfielder passes away at 48: https://t.co/Y0LUdpsUpl pic.twitter.com/n0Su5ZvPUo

— CubsHQ.com (@ChicagoCubsHQ) February 9, 2020
Directionally challenged? The Cubs tweeted a funny TikTok video of Jason Heyward doing the Cha-Cha Slide. Just one problem, J-Hey – you're sliding in the wrong direction!
Ready for ?? and ?? https://t.co/Zncf06QfnY pic.twitter.com/lDPoo6P24w

— Chicago Cubs (@Cubs) February 9, 2020
Cubs' Birthdays: Celebrating yesterday, were ex-Cubs Dioner Navarro (36), Todd Pratt (53), and posthumously, Eddie Solomon (69), Freddy Schmidt (104), C.L. Taylor (122), and Heinie Zimmerman (133).
Baseball Quotes: "I felt that I'd rather be lucky than good. That's the aspect I kept bringing to baseball. The more superstitions I had, the better off I'd have of finding more luck." -Wade Boggs
1988 - President Ronald Reagan spends time in the Chicago #Cubs dugout after throwing out the game's ceremonial first pitch pic.twitter.com/K23LcuZlaH

— OldTimeHardball (@OldTimeHardball) February 5, 2020
MLB News and Notes:
Padres: SD has acquired reliever Emilio Pagan from the Rays in exchange for CF Manuel Margot and RF/C Prospect Logan Driscoll.
Giants: After signing Billy Hamilton and Hunter Pence the other day, the Giants have "all but stopped" negotiations with Yasiel Puig.