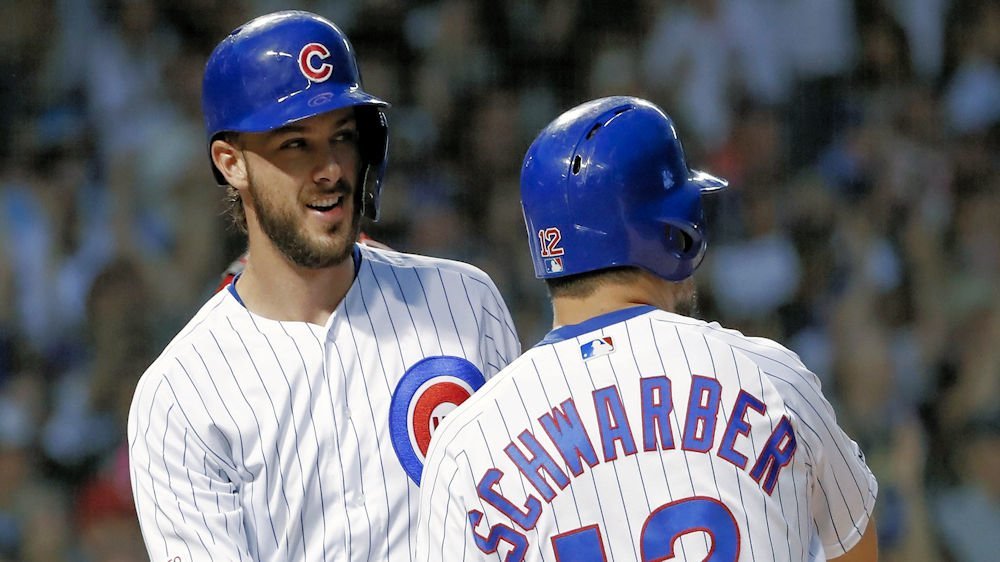 | | |
| --- | --- |
| Cubs News and Notes: Analyst on KB situation, Lindor and El Mago, Hot Stove, more | |
---
CUBS NEWS AND NOTES
Reminder: No matter who wins the WS (I do believe it'll now be the Astros), the clock for the free-agent season is about to wind down. Non-tenders are announced three days after the conclusion of the WS, with free agency beginning five days after. No business will be conducted on the weekend, so Monday should be the day for both. Get your seatbelts on. This is going to get moving quickly. (At least I hope it will, I can't take another offseason like last year!)
Bryant's grievance: Jon Heyman (MLB) was on 670 The Score this morning, and he touched on Kris Bryant's situation. Heyman maintains that winning this will be almost impossible for Bryant and Scott Boras, as the Cubs maintain that the only reason Bryant was brought up when he was, was because of injuries to Mike Olt and Tommy La Stella.
Heyman says that if Bryant does somehow win this, he'll be awarded free agency one year earlier, which would make 2020 his walk year. Let me grab my stump and repeat this: The Cubs need to trade Bryant this winter. With this cloud now circling his service time, his value is starting to decrease by the day. Teams are going to be skeptical about dealing for Bryant, as a decision on his grievance isn't expected for months, leaving a prospective buyer to have to wonder about when his free agency starts.
Maddon's pipe dream: Last week, Joe Maddon offered up this little gem: "I could not be more proud of that group. I wish them nothing but the best," Maddon said of the Cubs. "The ultimate goal [is that] we play them in the World Series and beat 'em. That would be my pipe dream right there."
Theo Epstein weighed in on that comment: "I wouldn't sign up for that entire thing, but maybe if we find a way to win those four games, that'd be nice," Epstein said, drawing laughter from the media who were present. "Lots of work ahead on both sides before we can start talking that way. Look forward to the process of working and then playing our way into that conversation."
Theo went on to say, "If David can be as successful as Joe was, we'll have made a great decision. [I'm] happy for Joe and what he has in front of him in Los Angeles and also thrilled that David's here."
Theo on Ross' coaching staff: "Ultimately, it's his decision, and that's the way it was for Joe, too, and everybody before him — the manager's gotta have his coaches. Rossy knows a lot of these guys having been around, and I know he plans on keeping a number of coaches. But there are also some guys outside the organization that he feels will make him better and make us better, so it will be a combination."
A lesson to be learned: Usually I stick the baseball quotes at the bottom (and there are a couple more there, too. This one deserved to be in the Cubs section, as there's a lesson to be learned in Clemente's words:
"I am more valuable to my team hitting .330 than swinging for home runs." -Roberto Clemente
Do something, Theo: I want to see Nico Hoerner continue in Chicago, but I couldn't think of a much better middle infield than Javier Baez and Francisco Lindor. Reports say that the Indians want to deal Lindor this winter and that the Dodgers are already very interested. This would be a pretty damn good way to kick off the trading season for Chicago.
Mr. Smile to the #Dodgers? https://t.co/Oa6ybT9co6 pic.twitter.com/xS249UpZPf

— MLB Trade Rumors (@mlbtraderumors) October 29, 2019
Sam Hughes: Most people know who Cubs' scout Gary Hughes is, but his son Sam (not to be confused with the Son of Sam) also works for the Cubs; well, he used to anyway. Sam Hughes has now set sail for New York, where he'll be replacing Brian Barber as National crosschecker.
First Responder Day: Kyle Schwarber and his Neighborhood Heroes foundation support first responders in several different ways. As a former paramedic, I'm always glad to see that Kyle never forgets these men and women. Thanks, Schwarbs.
Happy #NationalFirstRespondersDay and thank you to all of our #NeighborhoodHeroes for your courage and sacrifice! pic.twitter.com/Pz5KnS2rq3

— Kyle Schwarber (@kschwarb12) October 29, 2019
Cubs' Birthdays: Celebrating today, were ex-Cubs Arismendy Alcantara (28), Richie Barker (47), and posthumously, Arthur "Solly" Hofman (137) and Mark Baldwin (156).
World Series Schedule & Results
Astros lead the Series 3-2
GAME-1: Nationals -5; Astros -4 (W-Scherzer; L- Cole);
GAME-2: Nationals -12; Astros -3 (W-Strasburg; L- Verlander);
GAME-3: Astros-4; Nationals-1 (W-Greinke; L- Sanchez)
GAME-4: Astros-8; Nationals-1 (W-Urquidy; L- Corbin)
GAME-5: Astros-7; Nationals-1 (W-Cole; L- Ross)
GAME-6: Tuesday, Oct. 29: WSH at HOU; 7 p.m., FOX (Strasburg vs. Verlander)
GAME-7: Wednesday, Oct. 30: WSH at HOU, (if necessary), 7 p.m., FOX (Pitchers TBD; Scherzer will pitch if healthy)
Max Scherzer just threw in outfield. Told reporters afterward, "I'm good."

— Ken Rosenthal (@Ken_Rosenthal) October 29, 2019
MLB and the Hot Stove
Yankees: For the first time in nearly a decade, the Yanks will be seeking a new pitching coach, as Larry Rothschild has been relieved of his duties.
Yankees' GM Brian Cashman said, "Larry cares deeply about his craft and the pitchers under his tutelage, and he played a significant role in our successes over the past nine seasons. There's a reason why Larry has had the type of distinguished baseball career he's had, and it starts with experience and dedication that is difficult to emulate."
Mets: NY is scheduling the third round of interviews to find their new manager. Still in the running: Carlos Beltran, Tim Bogar, Derek Shelton, and the frontrunner, Eduardo Perez.
Mariners: Seattle outrighted three players on Monday: Infielder Ryan Healy and righty relievers Chasen Bradford and Connor Sadzeck. Broxton and Healy have both elected free agency.
Japanese posting: Jeff Passan (ESPN) tweets: Add another name to this winter's free-agent crop: Japanese star Yoshitomo Tsutsugo will be posted in November, sources tell ESPN. The 27-year-old left-handed hitter is a 1B/LF. Perhaps best comp: Kyle Schwarber. With Yokohama, he consistently has posted near-.400 OBP with power."
Phillies: Bryan Price turned down the D-Backs for another shot as their pitching coach, but he is in the mix to do the same for Philly.
Royals: KC "will be as aggressive as payroll will allow" when it comes to revamping their bullpen this winter; the team has also said they were looking for "a substantial upgrade" at third base.
Name to keep in mind out of Korea: LHP Kwang-Hyun Kim, who wants to play in the majors next season, sources tell The Athletic. His club, SK Wyverns, is currently weighing its options. Kim, 31, had a 2.51 ERA, 180 strikeouts and 38 walks in 190 1/3 innings last season in the KBO.

— Ken Rosenthal (@Ken_Rosenthal) October 29, 2019
Blue Jays: Congrats to my buddy (former Cubs' reliever) Anthony Bass. I wasn't at liberty to say anything, but I knew last week that the Mariners did not intend on tendering him this year. That's OK though, the Toronto Blue Jays have claimed him.
A bullpen upgrade for the #BlueJays:https://t.co/xwxr1tQU2F pic.twitter.com/IYwx38jfHx

— MLB Trade Rumors (@mlbtraderumors) October 29, 2019
Best of luck, my friend, you deserve to be somewhere they want and need you. In a corresponding move, the Jays have designated Ryan Dull.
North of the border? Lets do it!

— Anthony Bass (@AnthonyBass52) October 29, 2019
Twins: Minnesota has claimed RHP Matt Wisler off waivers from Seattle.
Baseball Quotes: "I don't think anybody's goal is to be mediocre. I think everybody should want to be the best. I've always felt that way. I want to be at the best at everything I do.' -Justin Verlander
Haywood leads the league in most offensive categories, including nose hair. When this guy sneezes, he looks like a party favor -Major League pic.twitter.com/0zDXfp20km

— Baseball Quotes (@BaseballQuotes1) October 28, 2019