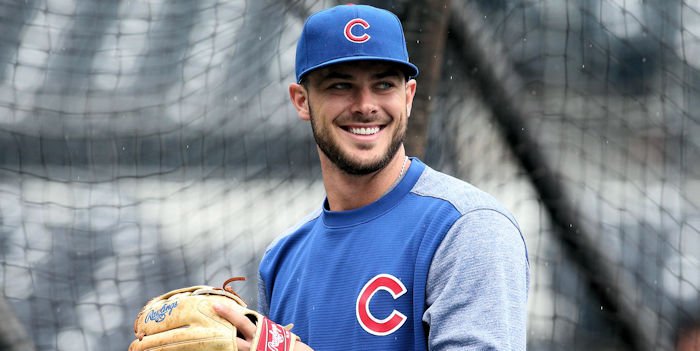 | | |
| --- | --- |
| Cubs News and Notes: Boras on Bryant, Epstein on change, David Ross, Hot Stove, more | |
---
CUBS NEWS AND NOTES
Scott Boras: Boras made his annual appearance at the Winter Meetings yesterday, and discussed his current climate with Cubs, with regard to Kris Bryant, Nicholas Castellanos, and Addison Russell.
Boras says that he communicates with Theo regularly and that he and Kris Bryant are "more than willing to discuss anything they'd like right now on a multi-year basis."
Boras on Bryant's trade speculation: pic.twitter.com/lP2MuXLDsV

— Mark Gonzales (@MDGonzales) December 10, 2019
Of course, that sounds great on the surface, but Bryant is going to be the next version of MLB's $300M man, and the Cubs won't be able to afford him. Theo knows this, which is why the focus has shifted to signing Javier Baez to a long-term deal.
Asked several times if the Cubs and Bryant have had serious talks about an extension, Scott Boras sidestepped the question: "We communicate with the Cubs constantly. Our doors are open…and more than willing to discuss anything like that on a long term basis."

— Jesse Rogers (@ESPNChiCubs) December 10, 2019
Although Boras seems to want to downplay the idea of KB being traded, teams continue to be tied to him. Texas is now reporting their desire to land a big bat, whether at third or in the outfield, and Kris Bryant's name continues to surface in rumors regarding a deal with the Braves.
For those who are dead set against trading Bryant, there's this – undoubtedly one of the best parody songs that I've heard in quite some time…
"KB, KB, KB, KB, KBeeeee, I'm begging of you please don't trade that man." New #Cubs parody song for yall.... pic.twitter.com/3bqHaryxkJ

— Danny Rockett (@SonRanto) December 10, 2019
According to Boras, he also fully expects that Addison Russell will get picked up by a major league team.
Nick Castellanos: As the Winter Meetings move on, the market for Nicholas Castellanos is starting to heat up. According to Ken Rosenthal, the Giants now appear to be the frontrunners to land him.
I got offered a job at a brewery today and Nick is still unemployed ???? don't worry bro I'll take care of u

— Ryan Castellanos (@ryan_cast_) December 10, 2019
Theo Epstein "At the same time, we can't just pretend that we can keep putting off making some important decisions for the future. If there's an opportunity to strike and help ensure a better future, we have to do that. But we also have to be very mindful of what's on our roster right now, how we can complement it, and put ourselves in the best possible position for 2020. So, both things are important."
#Cubs' Kris Bryant has replaced Joe Maddon as head of the dead-man-walking department: https://t.co/cUQ5iAtIeH pic.twitter.com/ev3q6Vt2r6

— Steve Greenberg (@SLGreenberg) December 10, 2019
Willson Contreras: It's not always possible to connect the dots, but this one is worth noting. The Angels are heavily engaged in the catcher market and are reported to have six to eight options available. Although no one was mentioned by name, Angels' GM, Billy Epler, says that his team is having "active conversations with two teams" regarding a trade which would send a catcher to Anaheim.
There's a lot of catchers out there, but the timing of Epler's comments is a little strange, considering that Joe Maddon was quick to say, "No comment" yesterday, when asked if he'd like to have either Willson Contreras or Kris Bryant on his squad in Anaheim. Maddon was able to make his remark sound humorous, adding, "I like them both."
While I'm not suggesting that this is some red flag to indicate that Contreras is being dealt to the Halos, I can't help but think that it's a possibility – then there's that picture of Joe Maddon and Willson Contreras hugging during Maddon's last game in Chicago. Not that Contreras would have any say about where he could be traded, but if Theo does decide to deal him, it would be nice to see him back with Joe.
David Ross: Making his appearance at the meetings, Ross says that all of the former catchers on his coaching staff are due to Rossy being a former catcher, as he feels they'll speak the same language. Stresses that it wasn't to help Contreras.
David Ross, asked if there's a hope players are "shocked" by the Spring Training culture:

"I hope so. I hope there's a little bit of shock for the players."

Said he wants to keep some of what Maddon created, but also plans on having more structure from Day 1.

— Jordan Bastian (@MLBastian) December 10, 2019
Ross also says that while he intends to incorporate some of Joe Maddon's tactics, there will be "more structure from day-1" when Spring Training rolls around.
David Ross saw several Cubs players at Kyle Schwarber's wedding over the weekend: "There will be a change. There will be obviously some boundaries, but I also don't want to change who I am as a person. That's why I got this job. That's why those guys respected me."

— Patrick Mooney (@PJ_Mooney) December 10, 2019
Ross also said that he hopes players are a little shocked by how different things are going to be.
Cubs' Birthdays Celebrating yesterday were ex-Cubs Mel Rojas (53), Rick Wrona (56), Paul Assenmacher (59), Steve Renko (75), and posthumously, Ed Donnelly (87) and Jimmy Johnston (130).
Baseball Quotes: "I try to keep it real simple. I try not to add a lot of frosting on what I'm doing. Just take the swing and don't muscle the swing, because if you get in the hitting position and you take the swing, I generate a lot more bat speed, and that works for me." -Tony Gwynn
The triple is the most exciting play in baseball. Home runs win a lot of games, but I never understood why fans are so obsessed with them. -Hank Aaron pic.twitter.com/vO7riZ8wOh

— Baseball Quotes (@BaseballQuotes1) December 3, 2019
MLB and the Hot Stove
NL Central News:
Brewers: Milwaukee has avoided arbitration with RHP Corey Knebel, signing him to a one-year deal. No salary details were available, but Knevbel was projected to earn $5.1M in arbitration.
Cardinals: David Price to St. Louis?
The #STLCards have long-standing interest in David Price and are one potential suitor if #RedSox trade him. The Cardinals were runners up when Price signed with Boston four years ago. @JeffPassan reported today multiple teams are targeting Price in trade talks. @MLBNetwork @MLB

— Jon Morosi (@jonmorosi) December 11, 2019
Pirates: According to Ben Cherington (the Pirates' new GM), the team is open to discussing trades on any players. Starling Marté remains the most likely candidate to be traded, but with as toxic as this team had become, a complete teardown and overhaul may be what's best in Pittsburgh.
The Pirates have also signed RHP Hector Noesi to a minor league deal.
Reds: The Reds are still in on Marcell Ozuna and have reportedly been in touch with Ozuna's camp within the last 24 hours.
From the Rest of MLB:
Cole signs: The other day, Stephen Strasburg earned himself a seven-year/$245M deal from the Nationals. Yesterday, it was Gerrit Cole's turn to get paid. As predicted, Cole went to the Yanks, earning himself the second-highest professional sports contract ever (just behind Bryce Harper).
Source confirms: Cole to #Yankees, nine years, $324M. First reported: @JonHeyman.

— Ken Rosenthal (@Ken_Rosenthal) December 11, 2019
Yankees are paying how much for Gerrit Cole? pic.twitter.com/AYOILPZcQt

— Cubs Talk (@NBCSCubs) December 11, 2019
Phillies: Take another big name off the board: The Phillies have signed shortstop Didi Gregorius to a one-year/$14M deal.
White Sox: the Sox have landed Rangers' OF Nomar Mazara.
White Sox To Acquire Nomar Mazara https://t.co/fb19KYOEPZ pic.twitter.com/Gu7lV7pW9N

— MLB Trade Rumors (@mlbtraderumors) December 11, 2019
Angels: Joe Maddon and the Angels' upper management are certainly shooting for the moon for Joe's first year in Anaheim; they're now in on the Anthony Rendon sweepstakes.
Rangers: According to reports, KC is exploring "outfield trades," while also pursuing Robinson Chirinos (Also tied to Chirinos: Astros, Tigers, Rays and Pirates).
Brett Gardner: As teams now start searching for players to fill outfield voids, Yankees' free-agent Brett Gardner is developing quite the following. Several teams are in pursuit, and Gardner has "multiple multi-year deals" to choose from.
Craig Stammen: Free agent reliever Craig Stammen is also developing a market. Now in the running: White Sox, Blue Jays, Cards, Padres and others.
Big news in @MLB's international development: The @Padres and @Dbacks will play the first-ever regular season games in Mexico City, at the new Alfredo Harp Helú Stadium on April 18-19, 2020. @MLBNetwork @MexicoBeis @MLB_Mexico

— Jon Morosi (@jonmorosi) December 10, 2019
Nationals: Washington has signed catcher Yan Gomes to a two-year deal.
Giants: SF has acquired infielder Zack Cozart and shortstop prospect Will Wilson from the Angels for cash. San Francisco will pay all of Cozart's $12.167M salary for 2020. SF has also signed RHP Kevin Gausman to a one-year/$9M deal; Gausman was non-tendered by the Reds.
Astros: Also facing payroll issues, the Astros are now reportedly offering Carlos Correa for trade.