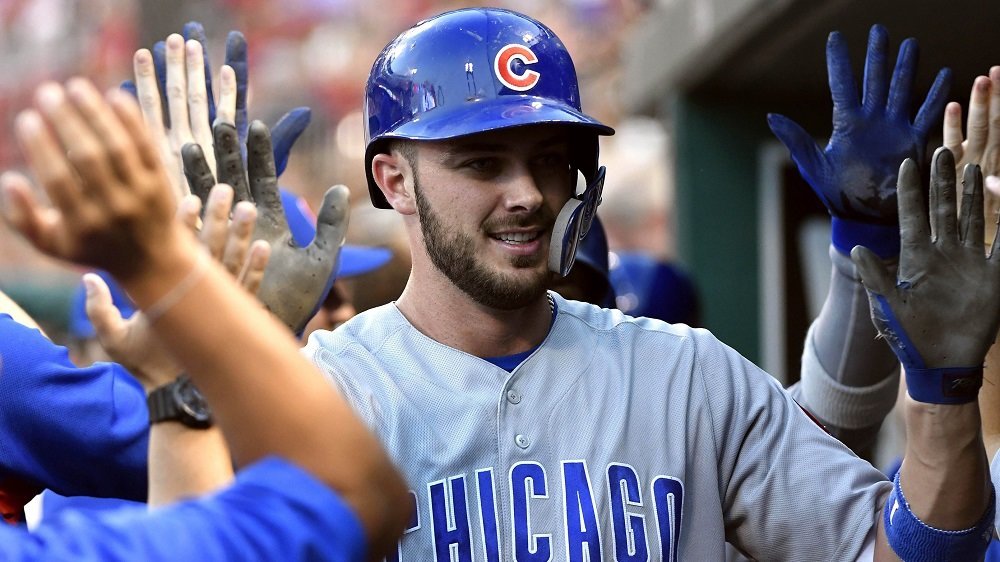 | | |
| --- | --- |
| Cubs News and Notes: Braves interest in Bryant, Winter meetings, Schwarber's wedding | |
---
CUBS NEWS AND NOTES
Braves looking at Bryant: New rumors out of Atlanta say that Kris Bryant could be joining former teammate Cole Hamels on the Braves roster. The Braves seem determined to recapture the NL East in 2020 and their next step may be securing a high-dollar, high profile corner infielder like KB to replace Josh Donaldson.
KB to Atlanta could make sense from the Braves' standpoint, especially with the Braves acknowledging that Rendon isn't a possibility with the money that they've already spent this winter. According to David O'Brien of The Athletic, the Braves may be able to offer up some high-end pitching prospects (no names mentioned), but I would think that dealing KB would also most likely require the acquisition of an MLB ready player. Also mentioned as possibilities were 1B/3B/OF Austin Riley and OF Drew Waters. Stay tuned.
Winter Meetings: The 2019 Winter Meetings kick off tonight (although they officially begin tomorrow), with team representatives getting themselves situated in San Diego. If you have MLB Network, they will be televising the meetings, beginning tonight.
Many teams getting to the winter meetings early . Cubs could have upwards of 25 people working as support staff during the four days.

— Bruce Levine (@MLBBruceLevine) December 7, 2019
Time for Theo to get busy. I respect that man, but if he signs one more recovering Tommy John pitcher, I'm going to throw up. Talk is cheap and Epstein seems determined to trade someone big for a huge return. If we're going to do this, then let's get it done, as once again the NL Central opponents seem to be working hard to improve.
Last year around this time, I was laughed at for writing that the Cubs could wind up in third place if they didn't get something done. This year, I'm suggesting that David Ross could do better than Joe Maddon did in 2019, but Theo has to connect the dots and fill some voids, if Ross is to have the tools that he needs in order to win.
More promising Hot Stove? According to Pete Abraham of The Boston Globe, at this point in the offseason last year, teams had only combined to spend roughly $286M – nearly half of which was chipped in from the Nationals for Patrick Corbin. This year (through this past Friday), MLB teams have already doled out nearly $475M on free agents and the trade market seems to be sizzling, as well.
Schwarbs ties the knot: Kyle Schwarber and his longtime girlfriend, Paige Hartman, took the plunge on Saturday.
The Schwarbers' first dance officially married. ?? pic.twitter.com/mAVLddgBBL

— Cubs Zone ™? (@CubsZone) December 7, 2019
And what good wedding could occur without at least a little parody?
*dramatization of Kyle Schwarber's wedding*

Kyle: "I do."
Paige: "I do."

Theo Epstein in the front row: pic.twitter.com/Mrue3jihFE

— Corey Freedman (@CFCubsRelated) December 7, 2019
Offseason dreamin': At this point, most have come to the realization that any big acquisitions for Chicago this winter will be coming by way of trade; you can still dream though.
How do you like the idea of adding the 2019 NL ERA leader to the Cubs rotation?

On Hyun-Jin Ryu's fit with the Cubs: https://t.co/uluHrmfIU9#FAFocus pic.twitter.com/jMeuR38P8A

— Cubs Talk (@NBCSCubs) December 7, 2019
The good news is that it looks like the Cubs primary goal is to get in under the luxury tax threshold for a year, before daring to cross over it again (perhaps as early as 2021).
Cubs' Birthdays Celebrating yesterday, were Kyle Hendricks (30) and ex-Cubs Mike Baxter (35), Ryan Theriot (40), Scot Thompson (64); and posthumously, Don Cardwell (84), Mark Freeman (89), Jorge Comellas (103), Don Johnson (108), and Ed Morris (120).
Kyle Hendricks turns 30 today ??

As you can see, he's super pumped about it. ?? pic.twitter.com/l8pxetYZn4

— Cubs Talk (@NBCSCubs) December 7, 2019
Also celebrating, was Cubs' GM, Jed Hoyer –
Happy birthday, Jed! pic.twitter.com/TT0XqPtnWQ

— Chicago Cubs (@Cubs) December 7, 2019
Baseball Quotes: "Sliding headfirst is the safest way to get to the next base, I think, and the fastest. You don't lose your momentum, and there's one more important reason I slide headfirst, it gets my picture in the paper." -Pete Rose
Hitting is like swimming. Once you learn the stroke, you never forget it.
-Stan Musial pic.twitter.com/2s0SCHaZ7R

— Baseball Quotes (@BaseballQuotes1) November 26, 2019
MLB and the Hot Stove
NL Central News:
Brewers: MLB Trade Rumors suggests that after missing out on re-signing key free agents (Lyles, Moustakas and Grandal), Milwaukee GM David Stern may on a tight financial leash this winter. Between free agents and non-tenders, the Brewers have let a ton of talent walk away this winter and I don't see how they can possibly contend for a pennant in 2020 at this point.
Cardinals: According to Derrick Goold of the St. Louis post-Dispatch, even after re-signing Adam Wainwright, the Cards are keeping an eye on both Dallas Keuchel and Madison Bumgarner.
Pirates: The Pirates have announced that Don Kelly will be serving as Derek Shelton's bench coach for 2020.
OFFICIAL: Don Kelly will be joining Manager Derek Shelton's staff as the Bench Coach for the 2020 season.

Kelly, a native of Butler, PA, spent 16 seasons in pro baseball, including parts of nine in the Majors with the Pirates (2007), Tigers (2009-2014) and Marlins (2015-16). pic.twitter.com/wuq6vNC6W7

— Pirates (@Pirates) December 7, 2019
From the Rest of MLB:
Gerrit Cole: Is the race to sign former Astros' ace over already? In a "cryptic tweet," sportswriter Peter Gammons says that the Yankees have already reached a deal with the most coveted starter of the offseason.
Peter Gammons just set the internet on fire by implying the Yankees are about to sign Gerrit Cole.https://t.co/JJnzU6YMGE

— 12up (@12upSport) December 7, 2019
Despite the rumors, Jeff Passan says that both the Dodgers and Angels remain in the mix.
Rangers: If the Reds are the National League's version of a team who's trying hard to improve, then the Rangers get the AL honors. After quietly putting together a solid rotation, they've now set their sights on signing Anthony Rendon. According to reports, Texas feels that they're in a solid position to land the coveted third baseman.
Based on the history between Chicago and Texas, I still can't help but wonder if the Cubs might swing a trade with Texas involving Kris Bryant. The problem is, I'm not sure who Texas could offer in return to make such a deal possible.
Royals: The Royals have signed righty Trevor Rosenthal to a minor league deal.
White Sox: The Sox were rumored to have signed OF Marcell Ozuna, but a source close to the team says it isn't true.
Our @MLBBruceLevine asked a solid White Sox source if there was any truth to the Marcell Ozuna rumor. "No." Okay then.

— M@ (@MattSpiegel670) December 7, 2019
Mets: NY is now reportedly interested in RHP Rick Porcello.
Tigers: Detroit has signed OF Jorge Bonifacio to a minor league deal.

Upgrade Your Account
Unlock premium boards and exclusive features (e.g. ad-free) by upgrading your account today.
Upgrade Now