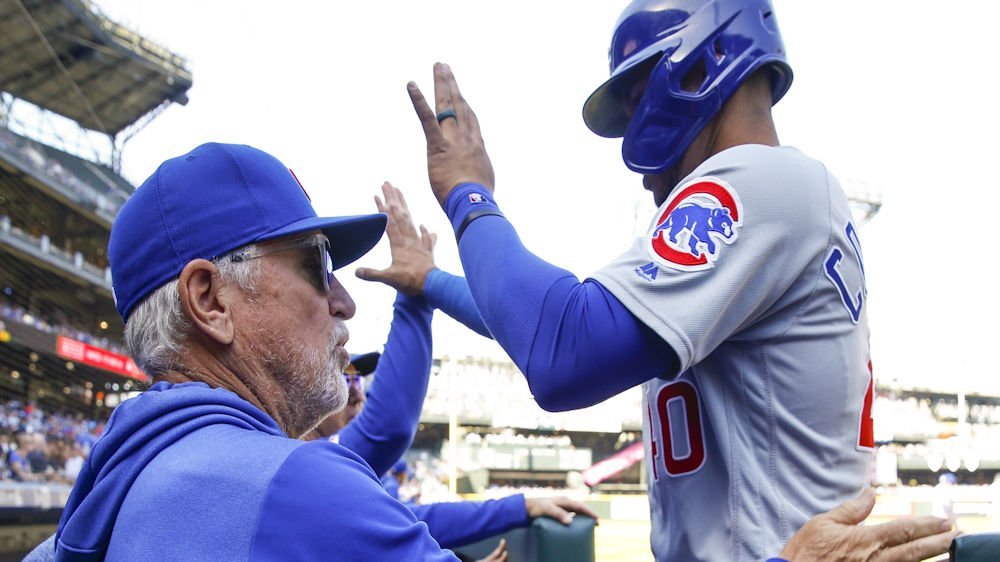 | | |
| --- | --- |
| Cubs News and Notes: Cubs/Sox set to clash, Cubs hot-stove, Maddon's future, more | |
---
| | | |
| --- | --- | --- |
| Saturday, July 6, 2019, 8:05 AM | | |
Next Game: Today, 6:15 PM CDT: Cubs @ White Sox LHP Jon Lester (7-6, 3.89 ERA), vs RHP Lucas Giolito (11-2, 2.72 ERA).
Saturday's Game Preview:
I'll have a full series preview for you today before the first pitch, but here are the basics.
Jon Lester has been very hot and cold over the last six weeks- just the minute he starts looking good again, something happens, and he crashes. His last outing was good, and he even grabbed a W two-outings ago, despite giving up some runs, because the Cubs' offense was lending support.
Lucas Giolito has been a beast this year, but while he beats the Cubs on paper, they managed to smash him back in June, driving him out of the game after just 4.1 innings while producing six runs.
This weekend may carry some serious implications for certain players, and, like it or not, for Joe Maddon. Theo Epstein's on the warpath, the Cubs are underperforming, and Joe Maddon may become the fall-guy. Is that completely fair? No, but that's the way things go.
CUBS NEWS AND NOTES:
Cubs/White Sox Probable Pitchers Sunday, 1:10 PM: RHP Kyle Hendricks (7-6, 3.45 ERA) vs RHP Ivan Nova (3-7, 5.92 ERA).
There was zero, zip, zilch, nada going on with the Cubs yesterday, partially because of the off-day, partly because the Cubs' offices were closed, and because of what I perceive to be the quiet before the storm. In the absence of news, I've elected to take a little artistic freedom (not sure if my contract allows that or not…) to forecast the storm that I see coming to Wrigleyville.
Robel Garcia is going to cause problems: Garcia made his first start on Thursday and he killed it. Granted, he struck out on both his first and fifth at-bats, but in between those, he clobbered a triple, a single and a smash to straight-away center field (by the way, his last strikeout came on a questionable call). Garcia did have a fielding error early, which inevitably cost the Cubs a run, but despite what you may say, I'm blowing that off as being nervous.
If this kid performs solidly this weekend, I'd be very nervous if my name was Daniel Descalso. Descalso's there on a very cheap, two-year, $5M deal with a team option for 2021, and while he doesn't have any trade value whatsoever, designating a guy who's only making a $2.5M a year, wouldn't hurt too badly, especially if you needed to clear some roster space.
Addison Russell: Russell may or may not be safe at this point. One thing in his favor is that his bat's been solid over the last handful of games, but then again, he never seems to do that consistently. I'm not sure this is a plus for him, but Russell also has minimal trade value, due in part to his off-field antics last summer.
If Garcia shows that he can play shortstop effectively enough to be a backup for Javier Baez, Russell could be in some serious trouble. With or without Garcia, I firmly believe that the Cubs will dump him in a hot second, so long as they can (A) find a partner who offers something worthwhile in trade and (B) figure out some solution for a backup shortstop.
Joe Maddon: The feelings on Joe Maddon's future are now as divisive as the mindsets of the Republicans and Democrats. Is Joe 100% at fault for the recent demise of the Cubs? No, but he was hired to manage, and he was hired to win. I haven't read his contract, but I'm pretty sure no clause read, "Cubs will provide Joe Maddon with nothing but current All-Stars and Cy Young winners." Joe has to manage the hand he's dealt, and I believe he could be getting far more out of the guys he has, if he'd manage the team and not the situations at hand (think pitching matchups).
It was suggested earlier this year that Maddon either won it all or that he'd be packing the mini-van. The writing has been on the wall for six-plus months now, and whether Joe's fault or not, he hasn't picked up the gauntlet.
Replacing Joe?: Sometimes it's easier to identify a problem than it is to offer a solution. Mark Loretta could theoretically be an interim manager, should the Cubs part ways with Maddon, but his experience is very limited.
Joe Girardi's name comes up frequently, but I'm not sure he's right for this team. Maddon is passive, Girardi aggressive, and I believe the Cubs need something in between. Girardi does have the experience and knows how to win, but managing the Yankees is night and day different from managing the Cubs. The Yankees will spend countless millions each year trying to buy a winning hand, while the Cubs have been more inclined to mix-and-match players already in the system. Yes, they'll purchase rentals and the occasional long-term player, but on nowhere near the scale in which NY does, and I'm not sure Girardi would like that set-up.
Then there's a man named David Ross. No management experience, but a former teammate and a favorite of ownership, players and fans alike. Ross is only three years removed from catching, and following his retirement in 2016, he headed right to the Cubs' front office. Experience be damned, Ross knows the players, the game, and most importantly, Theo's way.
Trade values: On any given day for the past 6 months. I've seen fans (and even some media members) suggest the same half-dozen names for trade: Kyle Schwarber, Albert Almora Jr., Jason Heyward, Yu Darvish, Tyler Chatwood and Mike Montgomery. STOP! It's hard to sell or trade something with limited trade value.
Not that the guys don't produce for the Cubs, if only sporadically, but let's take Schwarbs for example. The ongoing cry is, "Cubs need to trade Schwarber to an AL team as a designated hitter." Great idea, except designated hitters, are usually required to hit and Schwarber's batting only .231. Nice try.
I wouldn't be surprised to see Ian Happ go; I'm betting on it. Happ has things to offer and playing him every day may help, but then again, the same argument can be made for Almora. Carl Edwards Jr. may become a victim of circumstance in this whole mess, and it wouldn't surprise me to see them attempt to deal with Maddon's pet, Allen Webster.
The Cubs need lefty relievers! Yep. This is a problem. Mike Montgomery has been poor out of the pen, and his one shot at starting was disastrous. Kyle Ryan is much too sporadic, and Randy Rosario just came back up, so no telling how he'll be. No other lefty this season has exhibited a propensity for either consistency or control, and if the Cubs want to secure pitchers like Will Smith or Tony Watson to fix the problem, it's going to cost them.
The farm may become a zoo: The Cubs have some talent in their farm system but don't be surprised when you find out they may have to sell off the farm (again) if they wish to compete in October. With limited trade value on the 25-man roster (unless you want to trade Javier Baez or Kris Bryant ), the Cubs are going to have to come up with collateral from somewhere, and I'd imagine the phones in Des Moines, Eugene and South Bend will be ringing off the hook over the next couple of weeks.
I don't think Nico Hoerner will go anywhere, especially if he can stay healthy. If Garcia doesn't seal Russell's fate, Hoerner will. Adbert Alzolay is most likely safe, but beyond the pair of them, almost anything (or anyone) goes. The last thing the Cubs need to do is strip away their minor league pitching staff, but don't be surprised if, or when, Dakota Mekkes or Dillon Maples get plane tickets to points unknown- desperate times call for drastic measures, and make no mistake- Theo views this as a crisis.
Nico's back!

A day after coming off the IL, top #Cubs prospect @nico_hoerner clears the fences for @smokiesbaseball.
??? https://t.co/OT9VBEH4hb pic.twitter.com/bS60WJE7M5

— Minor League Baseball (@MiLB) July 6, 2019
Discuss, debate, or denounce, but rest assured, changes are coming.
Wait! Here is some Cubs' news!
Bryant on Bote: After David Bote took a fastball to the helmet on Thursday, Kris Bryant, who's been nailed 11 times this season, offered this: "No one should be getting hit in the head. I don't think [Bote's beaning] was on purpose, but it was frustrating. Balls keep going right in front of your face."
Pirates love to throw high and inside and David Bote catches one off the helmet. No warning to the Pirates. Bote is ok pic.twitter.com/5Da8WrPxJt

— Bears Barroom (@BearsBarroom) July 4, 2019
Baseball Quotes: "Why does everyone talk about the past? All that counts is tomorrow's game." -Roberto Clemente
Cub Birthdays: Celebrating yesterday, were ex-Cubs Bo Porter (47), Tim Worrell (52), Rich "Goose" Gossage (68), Gary Matthews (69), Dave Lemonds (71), and posthumously, Alex "Buck" Freeman (123), Ward Miller (135), and Pat Wright (151).
NL CENTRAL SCHEDULE (June 23 – June 29, 2019)
(Wins are in green, losses in red)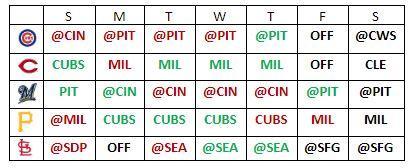 NL CENTRAL SCOREBOARD/STANDINGS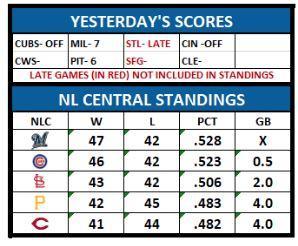 Tags: Cubs Baseball
,
,
Kyle Hendricks
,
Robel Garcia
,
Daniel Descalso
,
Addison Russell
,
,
David Ross
,
Kyle Schwarber
,
Albert Almora Jr
,
Jason Heyward
,
Yu Darvish
,
Tyler Chatwood
,
Mike Montgomery
,
,
Kyle Ryan
,
Randy Rosario
,
,
Adbert Alzolay
,
Dakota Mekkes
,
Dillon Maples
,
David Bote
,
Joe Maddon
,
Theo Epstein
,
Mark Loretta