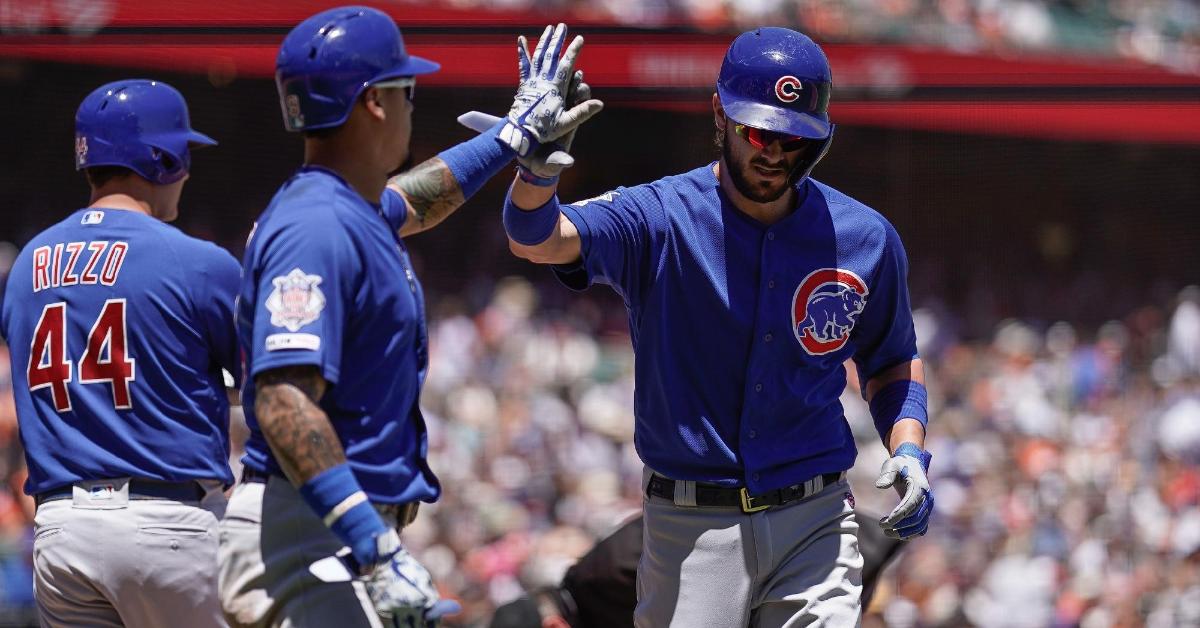 | | |
| --- | --- |
| Cubs News and Notes: Cubs sign six 2020 deals, latest with Kris Bryant, Hot Stove, more | |
---
CUBS NEWS AND NOTES
Next Game: Next Game: 42 days – Saturday, February 22, 2020: Athletics vs Cubs (Sloan Park)
Opening Day: 75 days – Thursday, March 26, 2020: Cubs vs Brewers (Miller Park)
Arbitration settlements: Yesterday, the Cubs settled with multiple players, so as to avoid arbitration.
Kris Bryant raked $18.6M ($100k more than predicted by MLB trade Rumors); Javier Baez got $10M ($700k more than predicted); Kyle Schwarber received $7.01M ($900k less than predicted); Willson Contreras settled for $4.5M (same as predicted); Albert Almora Jr. raked $1.575M ($225k less than predicted) and Kyle Ryan received $975k ($125k more than predicted.)
Cubs invest $42.66M in six arb guys: Bryant ($18.6M), Báez ($10M), Schwarber ($7.01M), Contreras ($4.5M), Almora ($1.575M) and Ryan ($975K).

Payroll in place for 2020 up to $177M+ (16 contracts), not including split deals added this winter, pre-arb players and other obligations.

— Jordan Bastian (@MLBastian) January 10, 2020
According to MLB Trade Rumors Projected Arbitration Salaries for 2020, RHP Jharel Cotton was also due for arbitration this year, but there's been no word on a settlement for him yet.
One month from today...#Cubs pitchers and catchers report! pic.twitter.com/6MGGig37Ht

— Cubs Talk (@NBCSCubs) January 11, 2020
"Does this mean KB stays?" Since the time that Kris Bryant's settlement was announced, I began seeing questions about what that means for Kris Bryant. The truth is, it means nothing.
The Cubs had to settle with KB yesterday or take their chances at an arbitration hearing next month. With a decision on Bryant's service time grievance still pending, the last thing Theo wants to do is go to arbitration with KB over salary. First of all, it would make the Cubs look bad, but even more importantly, Theo doesn't need to chance getting in front of a new arbitrator (over salary) who may be sympathetic to Bryant's original grievance. An arbitrator can award whatever he deems fair, and I guarantee that Scott Boras' number was a hell of a lot higher than $18.6M.
All this settlement has done, is to clarify what Bryant will make in 2020 – for whomever he plays for. By no means does it guarantee that he'll play for the Cubs this year, and it only serves as one more steppingstone on the path for teams interested in Kris. With his contract in place, there's no surprises and a prospective trade partners now know what Bryant will ultimately cost them in 2020 cost them. I believe once the decision on his grievance is rendered (expected sometime in the next couple of weeks) and once Josh Donaldson signs, you'll see the Kris Bryant market heat way up again.
Kris Bryant will have made $53 million with the Cubs since he was drafted in https://t.co/VICS2HwKgN season in fourth year of arbitration ( remember he was a super 2) he could easily make $30 million more.

— Bruce Levine (@MLBBruceLevine) January 10, 2020
"Kris Bryant's name will continue to spin through the tornado of trade rumors that has torn across the baseball world this offseason. Friday's one-year settlement with the Cubs -- while not an insignificant step for both sides -- will not calm that storm." -Jordan Bastian
Nick Castellanos: Ken Rosenthal shares an interesting, but scary, point about Nicholas Castellanos wearing a red uniform…
Rival exec makes interesting point: Would be smart for #STLCards to sign Castellanos without losing draft pick, then gain pick once Ozuna goes elsewhere. Castellanos was ineligible for qualifying offer because he was traded during season. STL gave Ozuna QO, tying him to pick.

— Ken Rosenthal (@Ken_Rosenthal) January 10, 2020
Ian Happ: Just bring that same, smooth swing to Mesa, Ian.
Think you can out drive me? Come try for real next week. Tag a golf buddy that bombs it and follow @firstteechicago for a chance to win two tickets to the event https://t.co/OCVFBKhacb pic.twitter.com/pmgOKCUkUH

— Ian Happ (@ihapp_1) January 10, 2020
Cubs Corner: Thanks to my friend and colleague, Anthony Pasquale, for allowing me to join his Cubs Corner podcast this week. Give it a listen – Topics include David Ross, Joe Maddon, the state of the 2020 Cubs, all things Kris Bryant and a ton more.
Cubs Corner with Ken Allison: Cubs offseason, David Ross, All things Kris Bryant https://t.co/FZUdMorLWc

— Ken Allison (@KenAllison18) January 10, 2020
Cubs' Birthdays: Celebrating yesterday, were ex-Cubs Rafael Dolis (32), Dan Rohn (64), and posthumously, Cliff Chambers (98), Ed Stauffer (122), George Pierce (132), Jack O'Neill (147), John Houseman (150), and Tom Dolan (165).
Baseball Quotes: "Is Coors Field a good park to hit in? Yeah. So are Wrigley Field and Camden Yards. I didn't design Coors Field—I just play there." -Todd Helton
Selfishness is the root of all evil in sports. When you're only looking out for yourself, bad things happen. It's about the team -David Ross pic.twitter.com/EGlpN8IccF

— Baseball Quotes (@BaseballQuotes1) January 8, 2020
MLB and the Arbitration Stove
With 155 players due for arbitration this winter, I couldn't possibly name them all in one column, but here's the highlights from some of the better-known names in baseball who settled yesterday.
MLB Arbitration process:

"We would like to pay you $4 million next season"

"I would like to earn $6 million next season"

"I think we may need a judge to sort through this complicated matter."

— Brad Robinson (@bradrobinson8) January 11, 2020
NL Central News:
Brewers: Omar Narvaez ($2.73M). The Brewers also reached a deal to sign free agent infielder Jedd Gyorko (former Cardinal). This will be a one-year contract worth $2M.
Cardinals: John Gant ($1.3M).
Pirates: Joe Musgrove ($2.8M); Keone Kela ($3.73M); Adam Frazier ($2.8M); Josh Bell ($.8M); Michael Feliz ($1.1M); Trevor Williams ($2.83M); Chad Kuhl ($840k); Jameson Taillon ($2.25M).
The Pirates also signed catcher John Ryan Murphy to a minor league deal yesterday.
Reds: Anthony DeSclafani ($5.9M); Curt Casali ($1.46M); Matt Bowman ($865k); Michael Lorenzen ($3.73M); Trevor Bauer ($17.5M).
Right-hander Trevor Bauer and the Cincinnati Reds are in agreement on a one-year, $17.5 million contract, a source familiar with the deal tells ESPN.

Bauer won arb cases each of the last two seasons vs. Cleveland but struck a deal with Cincinnati. @feinsand had the terms first.

— Jeff Passan (@JeffPassan) January 10, 2020
National League:
D-Backs: Arizona has signed OF David Peralta to a three-year/$22M extension. Arfbitration settlements: Jake Lamb ($5.52M); Robbie Ray ($9.43M).
Rockies: Jon Gray ($5.6M); Kyle freeland ($2.88M); David Dahl ($2.48M).
Padres: Tommy Pham ($7.9M); Zach Davies ($5.25M); Matt Strahm ($1.4M); Kirby Yates ($7.06M); Austin Hedges ($3M); Dinelson Lamet ($1.3M).
Nationals: Trea turner ($7.45M); Joe Ross ($1.5M).
Mets: Marcus Stroman ($12M); Noah Syndergaard ($9.7M); Edwin Diaz ($5.1M); Brandon Nimmo ($2.18M); Steven Matz ($5M); Robert Gsellman ($1.23M); Seth Lugo ($2M); Michael Conforto ($8M); Jake Marisnick ($3.7M).
Marlins: Jonathan Villar ($8.2M); Jose Urena ($3.75M); Adam Conley ($1.53M).
Phillies: Vince Velasquez ($3.6M); Jose Alvarez ($2.95M).
Catcher J.T. Realmuto and the Philadelphia Phillies are headed to arbitration over a $2.4 million gap, sources tell ESPN. Realmuto filed at $12.4 million while the Phillies filed at $10 million.

— Jeff Passan (@JeffPassan) January 11, 2020
Dodgers: Ross Stripling ($1.5M); Julio Urias ($1M); Cody Bellinger ($11.5M); Corey Seager ($7.6M).
Perhaps the most interesting story of today: The Los Angeles Dodgers haven't gone to an arbitration hearing since 2007. Today, they could not come to a settlement with four players, including Joc Pederson ($9.5M vs. $7.75M) and Max Muncy ($4.675M vs. $4M).

— Jeff Passan (@JeffPassan) January 11, 2020
Braves: Johan Camargo ($1.7M); Adam Duvall ($3.25M); Luke Jackson ($1.83M); Mike Foltynewicz ($6.43M).
American League:
Angels: Tommy La Stella ($3.25M – he was projected at just $2.9M); Andrew Heaney ($4.3M).
Yankees: Aaron Judge ($8.5M); Gary Sanchez ($5M); James Paxton $12.5M).
Astros: Carlos Correa ($8M); Brad Peacock ($3.9M); Roberto Osuna ($10M); Chris Devenski ($2M).
The biggest arbitration case in terms of both salary and the gap between sides: George Springer vs. the Astros. He's asking for $22.5 million and Houston is offering $17.5 million, sources tell ESPN.

— Jeff Passan (@JeffPassan) January 11, 2020
Royals: Jorge Soler ($7.3M).
Tigers: Matthew Boyd ($5.3M); Daniel Norris ($2.96M); Jacoby Jones ($1.575M).
White Sox: Carlos Rodon ($4.45M); Nomar Mazara ($5.56M); Leury Garcia ($3.25M); Evan Marshall ($1.1M); Alex Colome ($10.53M).
Indians: Franciso Lindor ($17.5M); Mike Clevinger ($4.1M);Delino DeShields Jr. ($1.875M).
Rangers: Joey Gallo ($4.4M).
BREAKING: Side-hander Tim Dillard &
the Texas Rangers avoid Minor League
arbitration with a 1 year contract, that
includes... free coffee in the clubhouse,
name on jersey must be spelled right,
a biweekly $15 Taco Bell gift card, and
exclusive access to ibuprofen per source.

— Tim Dillard (@DimTillard) January 10, 2020
Mariners: Mitch Hanniger ($3.01M); Mallex Smith ($2.35M); Sam Tuivailala ($800k).
Orioles: Hanser Alberto ($1.65M), Mychal Givens ($3.23M).
Blue Jays: Matt Shoemaker ($4.2M); Ken Giles ($9.6M).
Rays: Hunter Renfroe ($3.3M).
Red Sox: Matt Barnes ($3.1M); Heath Hembree ($1.61M); Jackie Bradley Jr. ($11M); Mookie Betts ($27M).

Upgrade Your Account
Unlock premium boards and exclusive features (e.g. ad-free) by upgrading your account today.
Upgrade Now

Tags: Cubs Baseball
,
,
,
Kyle Schwarber
,
Willson Contreras
,
Albert Almora Jr
,
Kyle Ryan
,
,
David Ross
,
Tommy La Stella
,
Jorge Soler
,
Joe Maddon