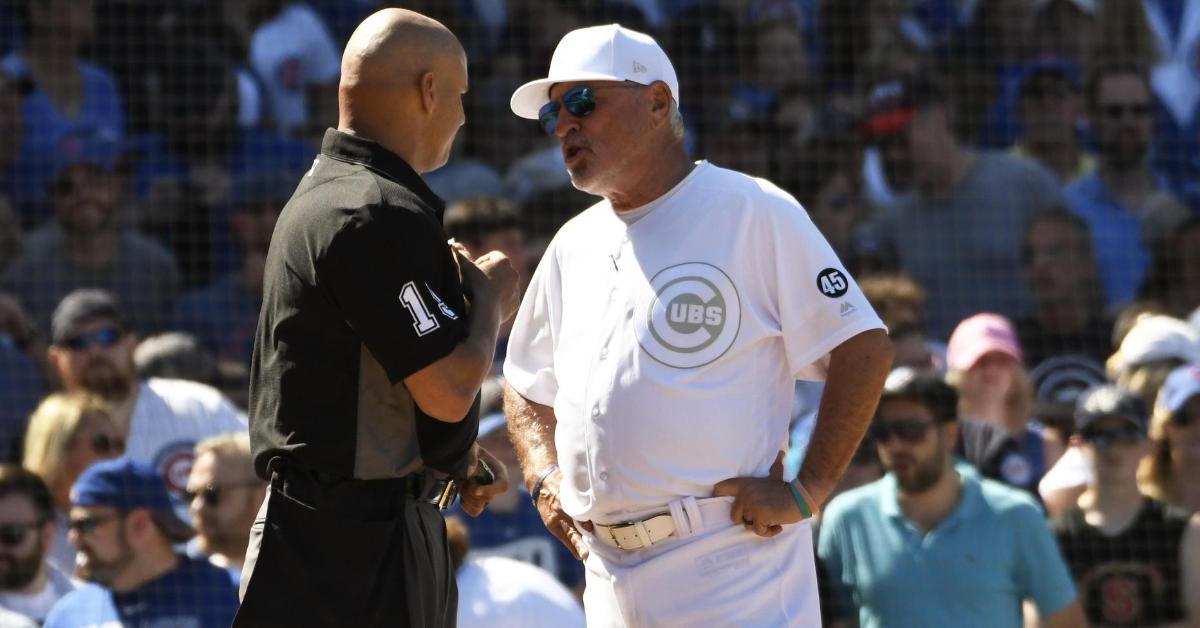 | | |
| --- | --- |
| Cubs News and Notes: Cubs suffer meltdown, Willson Contreras update, Zobrist poll, more | |
---
Next Game: Sunday: LHP Cole Hamels (7-4, 3.37 ERA) vs RHP Stephen Strasburg (15-5, 3.65 ERA). Game time 1:20 PM CDT; WGN, TBS (out of market only).
Saturday's Game Recap:
Jose Quintana took the hill yesterday, only to find himself in a jam from the get-go. After an infield hit, then a bunt single with a throwing error to second (charged to Anthony Rizzo), the Nats racked up their first run of the day on a sac-fly. Q would limit the damage though. 1-0, Nats. Another jam for Q in the third, and while I'll spare you the gory details, the score was 5-0 when the Nats were done.
The Cubs would get one run back in the third, when Nicholas Castellanos singled, scoring Caratini from second. Cubs trail 5-1.
The Cubs are on the board because of (who else?) Nick Castellanos. RBI single through the hole on the left side to score Caratini from second.

Castellanos has hit safely in 18 of his 22 games with the Cubs.

— Jordan Bastian (@MLBastian) August 24, 2019
The Cubs would threaten again in the fourth, beginning the inning with runners on second and third with nobody out. After loading the bases with two out, Ian Happ (pinch-hitting for Quintana) would be rung-up on an awful called third strike (resulting in Happ's ejection for arguing) before the Cubs could plate a run. Cubs trail 5-1.
Happ strikes out looking to end the inning and ejected from the game.

Ball was definitely off the plate, but end result is Cubs fail to score even 1 run in the 4th inning after starting with runners on 2B and 3B and 0 out. https://t.co/VCzVQIFWCQ

— Tony Andracki (@TonyAndracki23) August 24, 2019
Ian Happ was ejected from today's game for arguing this strike 3 call.

Feel free to sound off with your thoughts ?? pic.twitter.com/gPkCXAUkJM

— Cubs Talk (@NBCSCubs) August 24, 2019
If it's any consolation, the calls by were consistently bad all afternoon by home plate ump, Vic Carapazza. (Note- the following was posted at the beginning of the fifth inning.)
The called strikes have been rather generous today. pic.twitter.com/53s6vkC9xl

— Tim Stebbins (@tim_stebbins) August 24, 2019
Tyler Chatwood would assume the pitching duties to start the fifth after Quintana finished the day after 4.0 innings (7 hits, five runs, 4 ER, three walks and 3 Ks.). Chatty would hold the Nats at bay.
Castellanos (man, for as much as I type his name, I wish it was shorter) would single with one out in the fifth, followed by Kris Bryant who walked. Curiosity and concern loomed, as Jonathan Lucroy took Rizzo's at-bat (announced during his at-bat that Rizzo was pulled due to lower back tightness), but he made the most of it, hitting a ground-rule double to score Castellanos. The Cubs failed to push anything else across, leaving the score at 5-2, Nats.
Washington would help themselves to another run in the sixth, then another in the ninth, making it 7-2, which is how it would stay. Two ugly losses in two days and the Cubs lose their first home series in a while.

CUBS NEWS AND NOTES
Cubs/Mets Probable Pitchers: Tuesday: RHP Yu Darvish (4-6, 4.43 ERA) vs RHP Marcus Stroman (7-11, 3.18 ERA). Game information: 6:10 PM CDT; NBC Sports Chicago, MLB Network (out of market only). Wednesday: RHP Kyle Hendricks (9-9, 3.20 ERA) vs RHP Noah Syndergaard (9-6, 3.71 ERA). Game information: 6:10 PM CDT; NBC Sports Chicago. Thursday: LHP Jon Lester (10-9, 4.49 ERA) vs Jacob deGrom (8-7, 2.56 ERA). Game information: 6:10 PM CDT; ABC-7, MLB Network (out of market only).
Strong vs. stronger: While the Cubs are dominant at home, Washington has been dominant overall, for the last three months, no matter where they play. I felt the Cubs would win two out of three this weekend, but the loss on Friday may have been the signal that this would be a losing weekend. I didn't feel that Sanchez was unbeatable, and I had the utmost confidence that they'd beat Ross yesterday; Strasburg was who I saw as an obstacle. What the hell happened?
Nationals have now played .667 ball (52-26) since May 24. That's the best record in baseball during that span.

— Mark Zuckerman (@MarkZuckerman) August 24, 2019
While losing a home series isn't the end of the world for Chicago, it is troubling considering how they've played on the road. They'll have just a short, three-game road series against the Mets (starting Tuesday), then it's back to Wrigley to host the Brewers, while presumably welcoming Ben Zobrist back into the clubhouse and lineup.
Complete meltdown: I have no idea what's happened to the Cubs this weekend, but you can't blame only the bullpen this time.
The Cubs played some extremely sloppy defense during the first two games of this set, with things looking exceptionally gruesome yesterday. When Anthony Rizzo racks up two errors in one game (Saturday- one throwing, one catching), you know something's not right. Lester was also charged with a fielding error on Friday, though that's not particularly alarming.
"Not right in white" continues: I said on Friday that the all-white uniforms were hideously ugly, but the Cubs outdid themselves yesterday, by not only wearing the whites again, then adding white baseball caps. Jose Quintana was exempted from the white cap, as pitchers are prohibited from doing so (he wore a black cap). The reason being, the white hat may confuse a batter, as it matches the ball.
Cubs' weakest link: An ESPN 1000 poll yesterday, asked what fans felt was the going to be the one thing that tripped up the Cubs in September and October. Early in the voting (385 votes cast), 48% still felt the pen was going to cause the Cubs' demise, while 35% blamed the offense. Surprising, 15% actually think the starting rotation will be an issue, while only 3% think the leadoff spot will be a problem. (I vote "Bullpen.")
What can trip up the #Cubs most in Sept/Oct?

— ESPN 1000 (@ESPN1000) August 24, 2019
Up to Ben? A separate ESPN 1000 poll yesterday, asked whether or not fans thought Ben Zobrist "could save the leadoff slot." Two hours into the voting, 76% (out of 222 votes) felt there was no way Zo could fix the issue with the Cubs needing a solid and dedicated leadoff man, and I'd have to agree.
Do you think Ben Zobrist will save the leadoff slot?

— ESPN 1000 (@ESPN1000) August 24, 2019
Contreras cruisin': While the Cubs appear to be eagerly and anxiously awaiting Ben Zobrist, I'm more inclined to be watching Willson Contreras closely. Willy was going through throwing drills yesterday, catching pitches from his crouch, then throwing bullets from home plate to the edge of the outfield grass beyond second base. He looks comfortable in his crouch, but even better, he never appears to so much as flinch when he comes out of the crouch to throw. Anybody who's ever pulled a hamstring knows that squatting and standing will make you wish you'd have just stayed in bed.
Willson Contreras doing throwing drills. Actually throwing to edge of infield/grass behind second base. Another good step for the sidelined catcher. pic.twitter.com/IJyScB6FMq

— Jordan Bastian (@MLBastian) August 24, 2019
Willson Contreras gave his batting gloves away, signed a jersey and baseballs for a group of kids after his workout at Wrigley. pic.twitter.com/kRGqej69NN

— Jordan Bastian (@MLBastian) August 24, 2019
Cubs History 101: Today's vocabulary words: "Mr. Cub," "home runs," "Hall of Fame," and "iconic." Class dismissed.
On this day in Cubs' history....

August 24th, 1971, at Wrigley Field, Ernie Banks hits the final home run of his illustrious career against Cincinnati.

Mr. Cub's 512th round-tripper tied him for seventh-place on the all-time list with Eddie Mathews.

Simply the best. pic.twitter.com/ZDTgjqSIzu

— Andrew Belleson (@ChicagoCubsPA) August 24, 2019
Baseball Quotes: "The key to winning baseball games is pitching, fundamentals, and three run homers." -Earl Weaver
The thing I like about baseball is that it's one-on-one. You stand up there alone, and if you make a mistake, it's your mistake. If you hit a home run, it's your home run. -Hank Aaron pic.twitter.com/m5wi0I8svA

— Baseball Quotes (@BaseballQuotes1) August 24, 2019
Cubs Birthdays: Celebrating yesterday, were ex-Cubs Kurt Miller (47), Dean Wilkins (53), Alfred "Butch" Benton (62), and posthumously, Frank Secory (107), Beryl Richmond (112), Jimmy Cooney Jr. (125), Art Williams (142), Frank Quinn (143), and Lou Hardie (155).
THIS WEEK'S NL CENTRAL SCHEDULE:
(Wins in green, losses in red)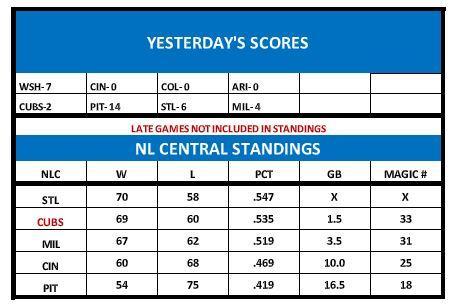 Tags: Cubs Baseball
,
Cole Hamels
,
Jose Quintana
,
Anthony Rizzo
,
,
Tyler Chatwood
,
,
Yu Darvish
,
Kyle Hendricks
,
,
Ben Zobrist
,
Willson Contreras