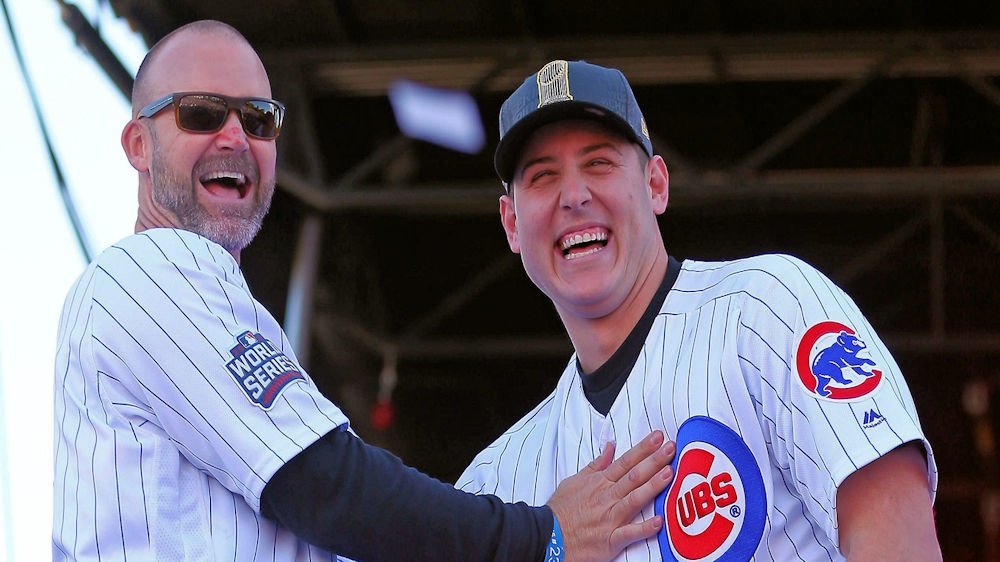 | | |
| --- | --- |
| Cubs News and Notes: David Ross vs. Joe Girardi, Playoff results, MLB Hot Stove, more | |
---
MLB Postseason
NLCS:
For six innings, Max Scherzer owned the Cardinals offense as he carried a no-no into the seventh. Paul Goldschmidt would end up singling in the inning to give St. Louis their first hit of the day.
Adam Wainwright lasted into the eighth, which may have been Mike Shildt's biggest mistake. The Nats already had a 1-0 lead (Taylor's home run in the third), but they got to Wainwright in the eighth, tallying another pair of runs, putting Washington up 3-0. St. Louis would finally get a run in the bottom of the eighth, but that was all. Nats win this one 3-1, putting themselves up 2-0 in the series.
Mad Max was lights out in Game 2 ??

Joe Girardi breaks down his outing on #MLBTonight. pic.twitter.com/LPi0FmNlKO

— MLB Network (@MLBNetwork) October 12, 2019
Game-3 of the NLCS is scheduled for Monday (6:38 PM Central), with TBS carrying the broadcast.
ALCS
The Yankees bought themselves a 1-0 lead in the ALCS, shutting out Houston by a final of 7-0. The Yanks offense dominated, racking up 13 hits to Houston's three. Definitely not Greinke's night, as he allowed three runs (2 homers) on seven hits in six innings (6 punchouts).
Game-2 of the ALCS will take place tonight at 7:08 Central (FS1),; Justin Verlander vs. James Paxton.
CUBS NEWS AND NOTES
David Ross: According to Andy Martino of the SNY Network, rival execs think David Ross will end up as the Cubs manager. I like Ross. I like his demeanor; his attitude and I like the rapport he has with members of the team. I was on the fence (a little) over his lack of coaching/managerial experience, but as time wears on, I think he's the best choice. Ross may not be the best man in terms of experience, but I think he may be the best man for what the Cubs are seeking in a manager. At this point, I think it's Ross's job to lose.
Rival executives continue to believe that Joe Maddon lands with Angels, David Ross with Cubs. Showalter linked to Phillies, but as reported before, his link to Andy MacPhail is complex, as ownership forces AM to hire him in Baltimore.

— Andy Martino (@martinonyc) October 12, 2019
When it comes to the fans, people are either absolutely for Ross, or they're dead set against him.
ESPN 1000 Poll: ESPN 1000 posted a poll this morning, asking if Theo Epstein would choose a guy that he's likely to "clash with" (Joe Girardi), or whether he'd choose a guy to be his "puppet;" David Ross.
Who do you want to be the next #Cubs manager?

— ESPN 1000 (@ESPN1000) October 12, 2019
While I do think Girardi could possibly clash with Epstein, Hoyer, and the players (which is why I don't think he's the right guy), I don't think Ross would be a "yes-man." Even if he was, would that be a bad thing for a first-time manager? Theo's objective is to win, and if he and Ross are on the same page, I don't see much harm that could come out of that situation.
Cubs History 10/11/2016: This is what the Cubs used to be made of. The talent is still there, but look at the confidence they used to demonstrate. I miss that look in their eyes, and I hope desperately that they can find it again in 2020.
Three years ago today, the Cubs rallied from behind in the top of the 9th inning scoring 4 runs to beat the Giants and clinch their NLCS ticket.

This was a resilient group of winners who never quit. Nothing will top the 2016 post season run from the Cubs. pic.twitter.com/iPTj9lcj1j

— Cubs Live (@Cubs_Live) October 11, 2019
J-Hey: Jason Heyward took to his Instagram account to prove that his body was ripped – even at age seven. Definitely cut for a kid that age, but when I first saw the picture at a glance, I swore he was wearing a sundress! I must ask this question: Had it been a dress of some sort, and I don't think I'd have asked him about it back then, come to think of it, I'm not sure it would be wise to ask him now.
LOOK: Jason Heyward posts Instagram photo proving he has always been ripped: https://t.co/pxmsDDvGU1 pic.twitter.com/okj1Gqr3bi

— CubsHQ.com (@ChicagoCubsHQ) October 12, 2019
Cubs' Birthdays: Celebrating yesterday, were ex-Cubs Casey McGehee (37), Tanyon Sturtze (49), Derrick White (50), Jorge Pedre (53), Glenn Beckert (79), and posthumously, Lou Novikoff (104), Walter Signer (109), Dick Cotter (130), and Malachi Kittridge (150).
Baseball Quotes: "It's the players' minds and their ability to use them. That's what makes the use of a bat, a ball and a glove, brilliant. Baseball is nothing more than another classroom in the educational process. Really, baseball is a metaphor for life." -Augie Garrido
Maximum effort and hustle on every play are two things that require zero athletic ability. -Wade Boggs pic.twitter.com/kbqV40mKSs

— Baseball Quotes (@BaseballQuotes1) October 9, 2019
MLB and the HOT STOVE
Giants: As San Francisco continues their search for a manager, reports say that they are now interested in Pedro Grifol. Currently, Grifol serves as a quality control and catching coach for the Royals. Grifol (age 50) had no major league experience as a player but spent some time catching in the minors (1991-1999).
Dodgers: Dodgers' 1B/3B David Freese is calling it quits after 11 seasons. While Los Angeles has other options for the corners, the team is likely to miss the veteran infielder's leadership.
October 12, 2019
Angels: According to T.J. Quinn (ESPN's investigative/enterprise unit), "Angels employee tells DEA about extensive opioid use with Tyler Skaggs, that he told two team officials about Skaggs' abuse and named other players as having used opioids, sources tell OTL." Not good.
An incredibly detailed report from @TJQuinnESPN that figures to be just the beginning of a massive story in baseball that includes allegations of widespread opioid use on the Angels, a team employee admitting to providing them and other team officials with alleged knowledge.

October 12, 2019
Giants: The Giants say that they'll be interviewing former Phillies' manager, Gabe Kaplan, for their manager spot.
Sad note: This isn't baseball-related, but I know that many of our readers also enjoy "Jeopardy."
Alex Trebek has announced that he is actively losing his fight with stage-4 pancreatic cancer. Trebek said in May that he was in near remission, but a setback had him undergoing therapy again last month. Trebek hs said his skills are starting to diminish and that he will not do the show if he's not 100%.