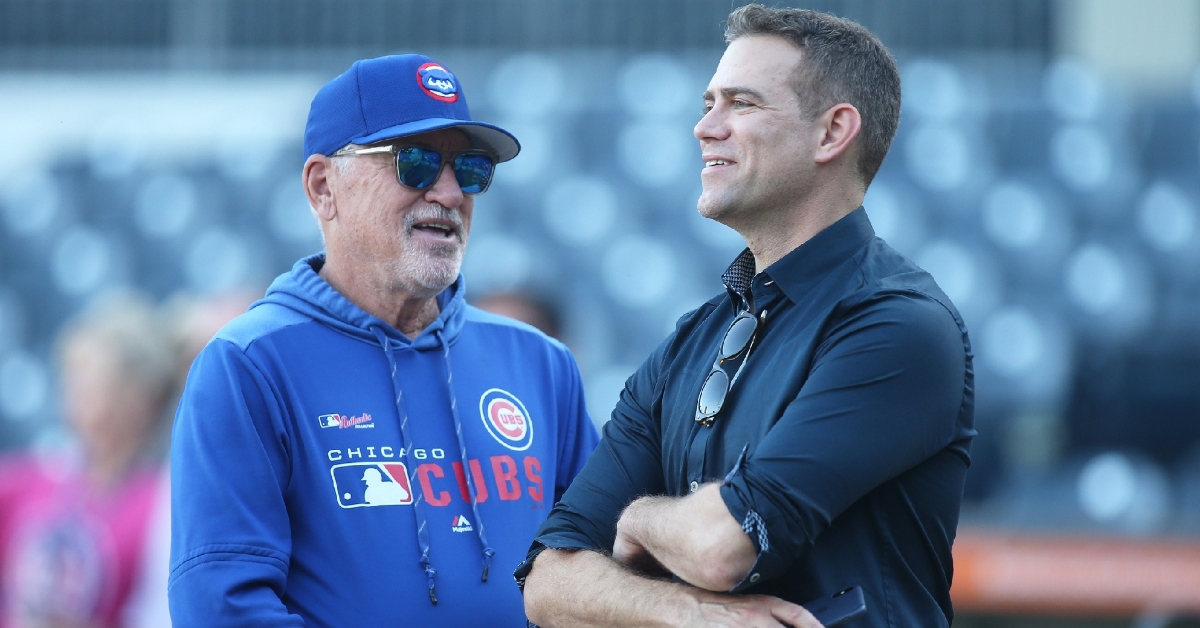 | | |
| --- | --- |
| Cubs News and Notes: Epstein's Press conference, Maddon's future, offseason is here, more | |
---
| | | |
| --- | --- | --- |
| Monday, September 30, 2019, 5:49 PM | | |
The season may be over, but the Cubs' new continues to flow as part of the fallout from the announcement that Joe Maddon won't return in 2020. The biggest news of the day would undoubtedly be the much anticipated "postmortem" press conference from Theo Epstein
THEO EPSTEIN'S PRESS CONFERENCE
Lots of info here, so forgive the erratic nature of the quotes and comments below- I wanted to give you as much as I could… Credit to Mark Gonzales (Tribune), Tony Andracki (NBC Sports Chicago) and Jordan Bastian (MLB)- those guys saved me a TON of typing…
"Joe was the best manager in Cubs' history" … "…changed the franchise forever."
"I'm not going to blow things up, but we're going to real changes at several levels in our organization."
"Athleticism is extremely important. ... certainly an area we can improve." "We want to be more baseball athletic, baseball smart." still want to dominate strike zone.

— Mark Gonzales (@MDGonzales) September 30, 2019
"Recognize that Joe is a Hall of Fame manager, and his methods work." … "He was the perfect guy at the perfect time for this team."
Theo takes the blame for this season and says the Cubs are planning to hire a director of hitting and a director of pitching as part of a larger restructuring: "You are likely to see change in this organization."

— Patrick Mooney (@PJ_Mooney) September 30, 2019
"I think the next manager will be a success, as long as he can get the most out of each player."
"A sense of grind from the first pitch of the season to the end."

— Mark Gonzales (@MDGonzales) September 30, 2019
Theo: Cubs want more of a *team* identity, where they work together as a team and come together more instead of doing a lot of individual work on their own.

— Tony Andracki (@TonyAndracki23) September 30, 2019
Theo says the Cubs' front office will NOT take an active role in lineups or baseball ops on the field.
Theo: any talk of new manager traits not a critique of Maddon.

"The next manager has to create an environment that turns [the talent in the room] into wins."

• Cultivate winning culture
• Culture of accountability
• Foster team identity
• More team, less individualism

— Jordan Bastian (@MLBastian) September 30, 2019
"We're looking on our list (of managers)." "We also want to be thorough." Haven't gotten permission to talk to any managers- meaning that at least one active manager is on the Cubs' list of potential replacements for Maddon. By process of elimination: Roberts, Martinez, Shildt, Counsell, Snitker, Hinch, Boone, Baldelli, Cash, and Melvin.
Epstein on Ross: "David Ross has a lot of great things going for him. His connection to players on the team and 2016 team are not necessarily assets that distinguish him." Still will be evaluated on merits.
Theo on David Ross: "He's on our list of broad candidates."

— Jesse Rogers (@ESPNChiCubs) September 30, 2019
Theo praises Daniel Descalso for having team presence, according to other vets. Sounds like Daniel may be packing. I said this would happen- now watch as the Cubs eat his 2.5M salary to clear a roster spot.
Theo says the Cubs have remained "stubborn" with this group.
"With regard to payroll, you shouldn't make any presumptions." … "It's not wise to tip your hand to the rest of the industry."
Theo: "We continue to get everything we need from ownership." refers to money saved from Zobrist leave poured back into the team with Kimbrel.

— Mark Gonzales (@MDGonzales) September 30, 2019
Adds team went over budget to get Castellanos.

— Mark Gonzales (@MDGonzales) September 30, 2019
"We're still a team that can be game-planned for."
Cubs see fewest fastballs in league, wants to address improvement on pitching staff in high leverage situations.

— Mark Gonzales (@MDGonzales) September 30, 2019
"Not determined yet where Nico is going to start next season."
Cubs see fewest fastballs in league, wants to address improvement on pitching staff in high leverage situations.

— Mark Gonzales (@MDGonzales) September 30, 2019
Leadoff results produced "unacceptable numbers this year."
No surgery planned for Kimbrel, Bryant, Baez.

— Mark Gonzales (@MDGonzales) September 30, 2019
"We have to do a better job of having more diverse offensive skill sets."
"We have high standards, and we want to win the World Series next year."
"We have to maximize this window while preparing to open a new one."
Theo says Cubs will be "extremely open-minded" about the roster. Doesn't believe in untouchables. Will discuss possibility of extensions with some, but if not possible, more open-mindedness to trades could follow.

— Jordan Bastian (@MLBastian) September 30, 2019
Theo: "We absolutely want to win the World Series next year. ... It's horrible around here when we don't make the playoffs, so we never want to feel this again."

— Tony Andracki (@TonyAndracki23) September 30, 2019
"We have to create a winning culture for now. Not what was a winning culture a few years ago."
Theo says Rizzo more mindful of being a proactive leader this year. Theo said, "…returning from a six-week injury in three days was amazing."
Theo on the bullpen: "Our inability to pitch in high leverage was a real problem."
Very complimentary of Willson Contreras. Says pitch framing has improved- especially during the second half. Also said he makes his pitchers better.
"We have no problem paying [an experienced] manager at the appropriate level." Says that Joe's high dollar contract was never an issue as to why he was released. (I still think the Cubs seek a cheaper route.)
The post-2019 Theo buzzword/phrase is definitely "winner's trap."

Has mentioned it several times now and has clearly stated the Cubs need to focus more on the future instead of looking back or relying on what *used to* work.

— Tony Andracki (@TonyAndracki23) September 30, 2019
"I'm up for everything that comes up with this role. I'm up for high expectations." … "I'm ready to build the Cubs' next championship team."
"I love everything about Nick Castellanos." Says no team could ask more from an in-season trade acquisition than what Nicholas Castellanos gave. "You'd love to have the guy back." … "He knows that we'd love to him back, but he knows it's not as simple as that."
Theo says in a different scenario, he'd hire Maddon back in a second, but says Joe just isn't right for this group anymore. "Joe's going to go somewhere else and dominate."
"Overall, we've been pretty aggressive" when moving talent for needs. "there are times we've done it artfully," and times we've been "dumb." "We've been aggressive in-season."
Manager search won't be made public, but interviews should start next week. "We have an open mind."
"I've been trying to use really boring language so that I didn't get anything thrown back at me for a year."
Theo on Baez/Bryant: "They're both guys we've had some level of discussion in past. ... We'll probably get around to having that discussion again." ... "But all these players we have to be mindful about."

— Mark Gonzales (@MDGonzales) September 30, 2019
Theo said he cut open a ball to try and figure out what's going on with it. No answer yet.

— Jesse Rogers (@ESPNChiCubs) September 30, 2019
That's it for another year, let's see if this becomes empty rhetoric, or his words and promises are made good. He said he never wanted to relive last year, and not only did they do so this year, but things also got even worse.
The window may still be open, but it won't be that way for long, and Theo needs to step up his assault on turning this team around. No one is "untouchable," though he did say that last year, so let's see what this year holds.
CUBS NEWS AND NOTES
Let's just start with this… Not only didn't it seem that it would take Joe Maddon long to find his next job, but it would appear that the Angels are clearing a path, hoping that they can lure Maddon back to Anaheim. According to the LA Times, Maddon has already expressed interest in the position.
Brad Ausmus' firing by the Los Angeles Angels, as @Buster_ESPN first reported, clears the way for Joe Maddon to return to the Angels, the team for whom he worked for 30 years. While it's not a fait accompli, a number of sources believe Maddon to the Angels is likely to happen.

— Jeff Passan (@JeffPassan) September 30, 2019
Angels GM Billy Eppler on Brad Ausmus: "He navigated this franchise through one of its most difficult seasons with class and professionalism. This was an incredibly difficult decision, but after significant consideration, we've decided it is necessary to go in another direction."
Way to go, Happ: Hard to believe- well, maybe not considering how he played over the last week- but Ian Happ was named the NL Player of the Week.
Ian Happ named NL Player of the Week. pic.twitter.com/CSCfYe1hAc

— Chicago Cubs (@Cubs) September 30, 2019
Zo on pitching: The eighth inning of yesterday's Cubs/Cards game marked the first time in Ben Zobrist's 14-year career that he ever took the mound. Ben said the best part was getting out there and playing like a kid again. (Note to self: I'm going to miss the hell out of Ben Zobrist.)
Zobrist on pitching the 8th pic.twitter.com/dLt12gGBuR

— Mark Gonzales (@MDGonzales) September 29, 2019
Zo fanned Yadier Molina to end his pitching debut and- quite possibly- his MLB career.
Zobrist K'ing Yadi. ?? pic.twitter.com/u3EeyjKZXK

— Rob Friedman (@PitchingNinja) September 29, 2019
Maddon's final thoughts: Joe Maddon shared his final thoughts as the Cubs' manager. The choice to replace him was a move that will be questioned for years, if his successor doesn't show immediate progress. No, that's not fair to David Ross, Mark Loretta or whomever else takes the helm, but baseball is a cruel and unforgiving sport.
Watch Joe Maddon discuss his final moments as Cubs manager. https://t.co/bWrkkblsG3 pic.twitter.com/uS73PsQIXZ

— Jesse Rogers (@ESPNChiCubs) September 29, 2019
The next three quotes are from Sahadev Sharma's article in The Athletic, entitled 'It's going to be a zoo': David Ross seems like the obvious choice to replace Joe Maddon as the Cubs manager (subscription required).
Theo Epstein: "It's just about looking forward to the next five years. Like Joe said, sometimes it's just time. We're in transition at different levels of the organization. Sometimes you're left with a choice between status quo or change, and you feel like change is necessary. This status quo was a great status quo. It's status quo with a Hall of Fame manager. Sometimes change can still beckon. And that's where we are."
"There's going to be rumors flying everywhere. "There's going to be sources. There's going to be no sources that say they're sources. It's going to be a zoo. Rightfully so."- Anthony Rizzo
Lester on David Ross as a manager: "If that happens, it's just something you have to learn as you go," Lester said. "I would like to think that Tito (Terry Francona) was a pretty good friend of mine, but still my manager. Obviously, the dynamic is different. I didn't play with Tito. But when it came down to it, he was my boss. So, if it is Rossy, I'm sure we'll butt heads just like I butted heads with Joe. But at the same time, I'll respect the hell out of him. He's my boss, so when he makes a decision, you have to respect that. At the end of the day, you want a genuine person who will shoot you straight and try to win every game."
To be, or not to be? David Ross, last night, on Baseball Tonight: "I think it's one of the best jobs in baseball. I've got a lot of close ties with those guys. I think the interest would be there. I think my heart is drawn to that dugout a little bit." Ross went on to say, "The rumors are flattering. It makes you think about a lot of things. I've got a nice job here at ESPN that I enjoy and gives me a lot of free time with my three kids."
Bryant on Rossy: "I've always looked at Rossy as a coach when he played here. Yeah, it was goofy, it was fun. It was energetic, but when he needed to tell you something, he let you hear it. From the very get-go, I felt like this guy will be a manager someday for sure."
Rizzo on Maddon: "He's a living legend in this game. He's a bridge to the old and to the new. Talking to him, and guys he's with and coached in his career and coming to this big market, breaking the curse and being the leader of the pack, it's not like he's being run out of town. He already is a legend. It's tough for me and the guys. Losing 100 games [before Maddon came along] to winning 100-plus, Joe's changed my life and changed my career. I love him like a dad. I'll be forever grateful for him."
Maddon's parting shot: To anyone that has ever questioned Joe's in-game decisions (guilty), Joe says, "I know what I believe, I know what I think, and I know why I do things. I promise you, for those that say those things, if you were in the other dugout, I would kick your ass. That's pretty much how this whole thing would work out. Just know that. Your ass would be kicked.
Javier Baez: "I think we have to do more adjustments as a team, not really the manager. The game is changing a lot. As a team, we have to make adjustments. You see a lot of teams playing different, getting better every day and doing the small things. That's a conversation that we've been having with the players. Trying to see what those changes are and make those adjustments for next year."
Four playoff appearances, two division titles, one pennant, and a World Series Championship.



Thank you for everything, Joe Maddon. pic.twitter.com/5plYxai5Kx

— Cubs Insider (@realcubsinsider) September 29, 2019
Longevity issue in the NL: Wow. It's bizarre to see the managerial landscape change so much over the last couple of years. Who'd have thought that Craig Counsell would be the most senior man on the job in the National League?
With Bruce Bochy retiring, Joe Maddon not returning and Clint Hurdle fired, the longest-tenured manager in the entire National League is the Brewers' Craig Counsell. He was hired on May 4, 2015.

— Adam Berry (@adamdberry) September 30, 2019
Baseball History: Roberto Clemente will be forever missed. I was only seven when he died in a plane crash (on New Year's Eve) in 1972, but I remember to this day, how stunned the baseball world was over his untimely death. You were among the best, Roberto.
Today In 1972: Pittsburgh #Pirates legend Roberto Clemente collects his 3,000th hit, which sadly would be the last official hit of his amazing baseball career. #MLB #History pic.twitter.com/nz91isbzD4

— Baseball by BSmile (@BSmile) September 30, 2019
Baseball Quotes: "It never ceases to amaze me how many of baseball's wounds are self-inflicted." -Bill Veeck
Ninety feet between home plate and first base may be the closest man has ever come to perfection. -Red Smith pic.twitter.com/trGb2DHpqF

— Baseball Quotes (@BaseballQuotes1) September 26, 2019
Cubs' Birthdays: Celebrating yesterday, were ex-Cubs Curtis Goodwin (47), Yorkis Pérez (52), Doug Jennings (55), David Magadan (57), Carlos Lezcano (64), and posthumously, Robin Roberts (93), Alex Hardy (143), and Patrick "Hal" O'Hagan (150).

Tags: Cubs Baseball
,
David Ross
,
Daniel Descalso
,
Willson Contreras
,
,
Ben Zobrist
,
Anthony Rizzo
,
,
Joe Maddon
,
Theo Epstein
,
Mark Loretta